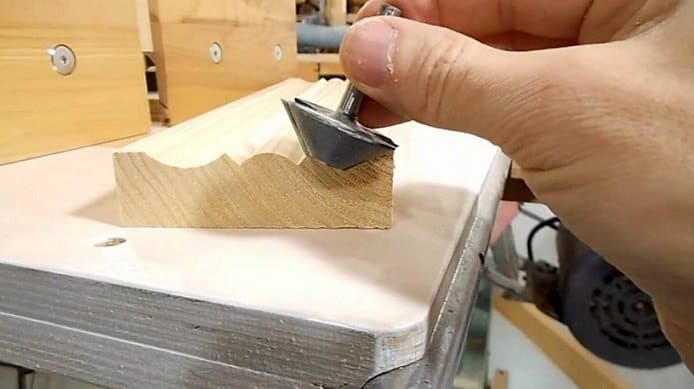 Top 10 Best Router Bits For The Money – Reviews And Buying Guide
Whether you're looking for the best router bits from companies which have a long history in tool manufacturing, or from a start-up brand, there are plenty of router bits to choose from. Your router is definitely a versatile and easy to use the power tool that is handy for a wide range of woodworking projects.
If you need to trim veneers and laminates, cut a variety of woodworking joints, rout hinge mortises, and shape decorative edges you'll need the correct bit in your router.
Our Top 10 Router Bits Picks:
The first thing you'll notice about the Yonico 17702 is how heavy the package really is. That's because you're actually getting seventy bits with half inch shanks. That's impressive! These top rated router bits also come with cutters. The bits are tipped with micro grain carbide for more durability. In addition, the high-quality bearings included are smooth and operate without trouble.
Yonico has come out with its 2017 version that features longer bits for easier work with router tables and hand held tools. There's plenty of room for you to adjust according to the woodworking project you're doing. Because Yonico produces its tools from its own facilities, there is continuous improvement going on with its tools. If you were to buy each of the 70 bits that Yonico provides, you'll be forced to fork out hundreds if not thousands of dollars.
Thankfully, you don't need to do that with this convenient router bit set. When you buy the Yonico router bit set you'll get limited lifetime warranties against defects. With good maintenance, though, this Yonico bit set will give you many years of useful life.
Imagine 80 high-quality bits all in one package. That's possible with this next option from the makers of the Tungsten. You might think that to buy all these bits will be a bank breaker. That's not so, as you can get all these various bits for a fraction of the cost charged by other brands. This best router bit set for the money carries so many bits in one package, including seventy two-blade bits and ten three-blade router bits.
You can work with 25-degree trimming and 30-degree trimming, as well as flush trim; cove, beading, corner round, Roman ogee; Ogee flute, and Classical cove. Great flexibility is expected from this wide variety of router bits that will also allow you to work with various angles using bits from the 15-degree chamfer to the 45-degree chamfer.
You can also do V-grooving, keyholes and straight cuts using the bits included in this 80-bit package. Users have found that the Tungsten carbide is very hard and can stand up to high temperatures. Some users have noticed that if the incorrect angle is used, some of the bits will wear down after only a few cuts. Where the Tungsten excels is the wide variety of bits available, something which has been an issue for other brands.
Trust the Freud brand for the most technologically advanced cutting blades on the market. This manufacturer operates its own facility in six locations in Western Europe. Freud is among few makers of woodworking tools globally that makes its own micrograin combination of titanium and Cobalt – known as TiCo. This means that Freud router bits are among the best quality router bitsin the world for maximum cutting life.
With any Freud bit, you can cut through boards with much ease and accuracy. Indeed, with Freud Hi-Density Carbide bits, high quality standards are guaranteed. Users all agree that the Freud 13-piece Hi-Density Carbide router bits are well made and are fantastic to use. Built to last, this is more resilient than many other router bits on the market. You really can't go wrong with Freud Hi-Density Carbide bit set.
You'll find that this selection of best router bit set for beginners is not complete without the MLCS 8377 15-piece router Carbide tipped bits which you can order online or at your favourite tool supplier. This bit set is made with top quality Carbide tips and you'll find bits of various sizes and styles. The flexibility of MLCS 15-piece router Carbide tipped bits makes them an ideal choice for any woodworking project, where strength, size and durability are the most important factors.
There are four straight bits in the MLCS 15-piece bit set. You'll also find one each of the rebating bit, V-groove bit, round over bit, roman ogee bit, 45-degree chamfer bit, hinge mortising bit, flushtrim bit, cove bit, panel pilot bit, dovetail bit, and round nose bit.
This kit also comes with an Allen Wrench as well as a bearing to allow users to convert round over bits into beading bits. Even at a low price, you'll receive your 15-piece router bits in a strong wooden storage box that protects them from damage. Some users have however noticed that the straight bits might not work as effectively as expected – they become dull easily. You'll need to carefully select te bit you need for the project you will be doing.
Here's a good option from the company who makes the best router bits for you if all you need is a bit set that will get you started in woodworking. It's also great for persons who need commercial grade bit sets. You might find the same set of bits being sold in certain well known tool catalogs for higher prices. It's therefore a good idea to shop around for the deal that's good for you.
The Stalwart multi-purpose 24 piece router bit set is a remarkable router bit for the money, offering great features and performance in an easy-to-use package. Not everyone is however impressed as there has been cases where the bit has not held up to the pressure as expected. This might be as a result of a defective bit or incorrect use by some users.
Whether you're a professional or a complete beginner, you'll appreciate the Hiltex 10100 Tungsten Carbide 15 Piece bits. The first thing you'll notice, as you might expect from the Hiltex brand, is excellent build quality. The Hiltex bits are so easy to use and versatile. If you're just getting to know woodworking, the Hiltex 10100 bits are a great starter kit for you. These top rated router bits are not expensive so you can get great deals from your hardware supplier or online.
These are also very sharp bits, which make working with different wood a joy to do. It might be a good idea to run your Hiltex bits at lower speeds in your router and feed it a little slower through your material to prevent your bit from becoming blunt too quickly. Overall, this is a great bit set to have.
​
You can count on Freud to produce best quality router bits that are unparalleled in the market. Expect maximum durability from these bits that are carefully made with the most suitable materials. Freud uses a sophisticated process to make each bit that it sells. Red Perma-SHIELD non-adhesive coat and TiCo high density carbide are familiar features of the Freud brand.
The great thing about the Freud 99-036 bits is that they can be adjusted. This means you can adjust to work with wood that is ½ inches up to 1 ¼ inches thick. It's easy to work with a wide variety of wood including the Zebra wood, Purple heart, Bloodwood – any hard or soft wood you choose. You can create grooves and tongues of various widths in .004 inch increments.
This you can do by inserting shims between your cutters. Notice that each bit carries its own set of shims to make such tasks easier. As long as you make sure to shim each bit by the same amount of space the groove and tongues you make will always match. That's great for tongue-and-groove joints for cabinet doors and other similar work. You'll be happy with the results as these bits will work well in giving clean and precise cuts. Of course, if you want your bits to last as long as possible, take good care of them by keeping them clean and not allowing them to get too hot.
If you love doing woodworking projects of any kind, the MLCS 6077 Woodworking Carbide tipped 15 piece bit set does a great job of making you work like an expert. These are the best quality router bits that are tipped with carbide. Your set contains one each of round over dit, dovetail bit, Roman Ogee bit, rebating bit, hinge mortising bit, 45 degree chamfer bit, round nose bit, flush trim cit, cove bit, V-Groove bit, panel pilot bit, and four straight bits.
This set also comes with an Allen Wrench and a bearing that you can use to convert round over bits into beading bits. You will also get a wood storage box for your bits. You might also be surprised that these bits are quite sharp – much sharper than you might expect. Not everyone may be impressed with this brand of bits, but you'll certainly get more for your money. As with all bits, make sure that you choose the correct bit for the task, and fit it properly in the router to prevent damage.
Most professionals recommend the Whiteside bits as the best router bits out there. They are also priced for someone on a budget. You will receive a variety of bits, including rabbiting bit; flush trim with 1" cutting length; straight bit; round over bit; a cove bit; 45 degree chamfer bit; and a straight double flute bit. Whiteside bits are built for the tough jobs they will be doing, so you don't need to worry about doing any sanding after routing.
The finished surface is very smooth. These bits also make routing painless and simple. Once you begin cutting, you'll be happy you had chosen the Whiteside bits for your project. Don't fall for cheap imitations out there. Take the time to check out the most durable and flexible bits that are right for the job. There's nothing worse than spending your money only to find yourself with worthless bits that can't do what you want. If you can afford a complete bit set that offers variety, then you're likely to be most pleased with these Whiteside bits.
You can bet the Dremel-692 6-Piece Router Bit is a great addition to your woodworker's tool kit. This router bit set carries six router bits that can be used on any high velocity router. It's also made with top quality steel. Expect your router bit set packaged in a plastic case that you can use again. You can use these bits for mortising wood, inlaying, routing (of course!), and working on any wood and soft materials.
Straight bits are so versatile, and the piloted edge bits will help you to make those personalized details in your mouldings, wood frames, and any craft you care to produce. You can do a wide variety of jobs with the Dremel-692 six piece bits – anything from light to heavy repairs, and renovation projects. With this tool from the manufacturer who makes the best router bits, you'll be rest assured that you have just the bit you'll need for the job. If all you want from a router bit is flexibility and durability, then the Dremel-692 6-Piece Router Bit should certainly be on your list.
Final Verdict
You don't need to be a complete professional to appreciate some of the best router bits that the market can offer. You have seen from our short list some of the top rated router bits any woodworker would enjoy. Many of the options are actually within most budgets and you can really get value for money. Certain well known brands are represented here, such as the Freud, Yonico, and MLCS. Users have been quite impressed with these router bits and have endorsed them for their strength, durability, and flexibility. Just take care to ensure that you choose your bits carefully to avoid frustration whenever you're working with wood.