As a woodworker you are always looking for a tool that can perform exceptionally and give the best work-piece for all your woodworking projects. Porter-Cable 690LR router is one of those versatile tools that win over all other routers when it comes to power delivery. It is an 11-amp fixed base power tool with excellent cutting ability and forms grooves quite easily. It comes with a 1-3/4 HP motor that surprisingly delivers 27500 RPM that effectively cuts any piece of work. It also comes with two ergonomically-designed handles that are easy and convenient to hold. The handles are also well-situated to enhance your routing experience.
At a glance, Porter-Cable 690LR may seem extremely heavy but when you pick it up you will be amazed by how light it is. It is so light due to its machined aluminium case and also the base design makes it so much lighter than similar routers. As a woodworker you will realize that heavier machines tend to emanate more force when in use and this extremely wears you out. However, with a lighter tool, you do not have to juggle between delivering a great piece and struggling with the weight of the tool. You will spend more energy instead to focus on your project and care less about the tool since it is easy and light to handle.
What Is Different About Porter-Cable 690LR
The product features the ¼ inch and ½ inch router bits and this is good for most woodworkers since they have these two bit sizes. It is also quite a breeze to set up these router bits in place. It has two wrenches that facilitate an easy adjustment of the collet. You can easily tighten or loosen it especially when you are working on a workbench.
This router also has an auto launch system that prevents the bits from freezing up in the tool. If you have ever experienced this then you can understand how annoying it is. With this model, you simply set up your router and the rest is a breeze. You can use the t-bolt to fix the router height and once your router is at the right height, you simply use the micrometer adjustment to fine tune it, allowing you to adjust it for even up to 1/128 inches.
The Good about the product
Porter-Cable 690LR is a must have for any woodrouter enthusiast whether an amateur or professional and the user reviews at Amazon can attest to this as we know numbers can never lie. This tool has received many positive reviews and it is described as exceptional for routing.
The most intriguing feature of this router is the fact that it is highly versatile. Most users love its ability to be used with several bases. With it you can use the d-handle, dive, and set the workbench foundation. With this router you can work perfectly on different kind of woodcarving foundations.
Another great feature of this tool is its bits. With the two wrenches in place, it is easy to shift the bits used by this router. It also has a motor that can be controlled easily. This router is also compatible with other routers in the market and thus it is easier to modify or enlarge the use of the router using other parts in the market. It terms of quality and standard, thus router also fairs well with other routers in the market.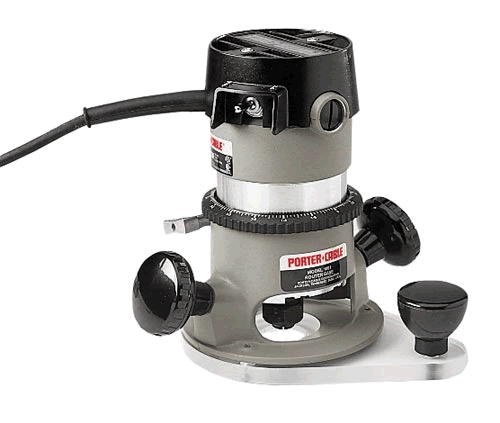 The Negatives about Porter-Cable 690LR
We all know for a fact that nothing worth buying is flawless. This router has received its share of negative reviews as well. Most woodworkers complained about this router's inability to function with stile or rail bits since the tool is too little for them. This complaint may be, in large part, due to their inability to understand that such an occupation requires a variable router speed and an ideal model for such a task is the 690 VSLR. But all-in-all it still is an issue.
The switch location is another feature that most users did not like. They say that they would rather prefer the layout of the previous models instead of the layout and switch location of this model. However, it is good to not that the location of the switch can never hamper your work.
Despite these negatives, the users of this tool have not seen anything of value to be regarded as a complaint about this woodworking jig.
Summary
If you are looking out for power and efficacy then the Porter-Cable 690LR router will be a perfect fit for you. All its key features such as the 1-3/4 HP motor with ability to generate a massive 27500 RPM and its ergonomic design make the tool an excellent fit for all your woodworking projects. The tool is even comparatively lighter with respect to other models. It weighs about 8.0 pounds and measures approximately 12.0×5.50×8.62 inches with respect to length, width and height. You will be intrigued by its user-friendly features such as its auto-release collet that facilitates easy bit removal. It also has an under-table stop that prevents its motor from rotating out of place. You will also find it comfortable to hold this router thanks to its ergonomically-designed grips.