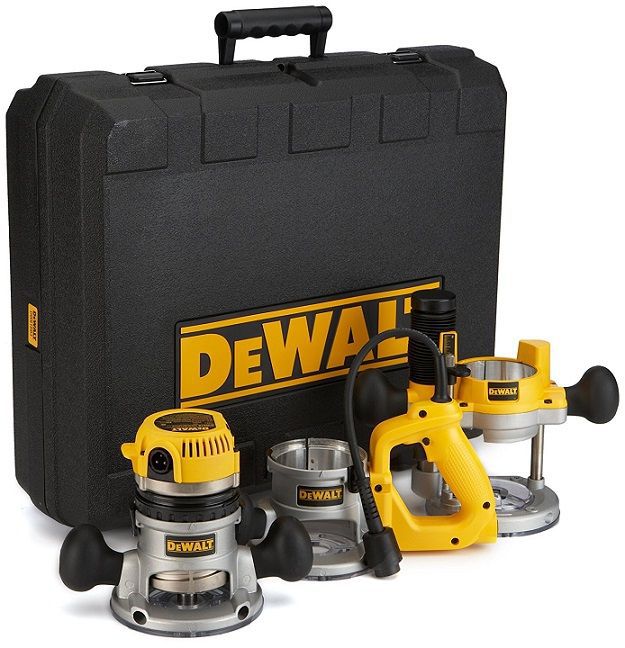 3-Base Router – Review of DEWALT DW618B3
Woodworking routers are the most versatile tools that come in many different sizes and set-ups to suit its designated task. Therefore, as a woodworker you are always looking for what you think fits best the project at hand. DEWALT DW618B3 is one classical example of a router that can be described as "one size for all" and comes at an affordable price. It boasts of all the key features of a fixed base router, plunge router, and D-handle router. What else could one possibly look out for?
Power Capabilities
The router features a 2-1/4 HP, 12 Amp, VS motor (variable speed) that has the ability to generate as from 8000 to 24000 rotations per minute. You can adjust its powering ability to suit the kind of materials and cutters being used. Its 2-1/4 HP motor performs extremely well and can handle even the toughest tasks. This router can easily cut a variety of materials such as southern yellow pine or even Brazillian cherry using several large bits. It is one of the best routers for handling challenging projects.
Versatility
You often hear that routers are versatile tools and DEWALT DW618B3 lives truly to that term. It is one of the most versatile routers with a motor that can easily be switched between its fixed, D-handle, and plunge bases. All its 3 bases have a simple locking lever that plays a key role of holding its motor firmly onto the base. It is therefore very easy to change the motor and no additional tools are required for the process. It is also compatible with ¼-inch and ½-inch collets thus it is a perfect fit for all routing situations. Furthermore, this router comes with a storage compartment that fits all its three bases and accessories. This makes it easy to transport the router from one task to the other.
Adjustment of Depth
One of the most important features to look out for when buying a router is the depth adjustment. The product is fitted with an easily adjustable depth of the cut feature, unlike its rivals. Both the fixed base and the D-handle bases feature a Depth Adjustment Ring that normally spins around the motor and regulates the depth of cuts. The plunge base on the other hand comes with an impressive depth adjustment rod that offers fine and simple adjustments. Most woodworkers prefer the plunge base feature of this router.
Value for Money
The fact that DEWALT DW618B3 comes with 3 bases automatically adds value to this router kit. You may choose to spend some more money to get an additional D-handle or opt for this router kit that has you covered. In terms of value for your money this router kit definitely wins the day. It comes with a powerful motor, plus 3 bases, collets, a conspicuous sub base, and a nice-looking carrying base that is affordable.
Why a D-handle Base?
A D-handle is simply a fixed base that has one D-handle and one knob. It is all a matter of an individual's taste and preference one may prefer a D-handle and another, two knob handles. Here are some benefits of D-handle:
Power switch: With this type of router base, the power switch is situated in the handle meaning the woodworker can keep both of his hands on the handles when switching the router on or off. With the normal 2-knob fixed base routers, the user has to take one hand off the handles so as to reach the motor unit's on and off switch. When both of your hands are on the handle, it is much safer and you get full control of the machine.
Grip Design: D-shaped base comes with a pistol grip design that gives you more control. The user simply pushes with the D-handle and uses the knob as a guide which makes the routing process more natural.
The Additional Features
This router kit combo comes with some other features that will intrigue you. If you have never used the dust extraction feature then this router comes with this feature. Its plunge router base has a built-in dust extraction port that enables the user to link it to a vacuum for dust removal. This router also comes with a built-in spindle lock which enables the user to use a single wrench when changing bits. It also has a centering tool which enables you to center the router base to the shaft easily.
Summary
DEWALT DW618B3 3-base router is an impressive router that has all the ideal router features. It comes at an affordable price and that means value for your money. DeWALT as a brand never disappoints when it comes to the quality of their machines. They have designed this router kit combo with easy-to-use features, impressive power capabilities, and other superb features. If you desire a multi-base router then this router is a perfect fit for your project.