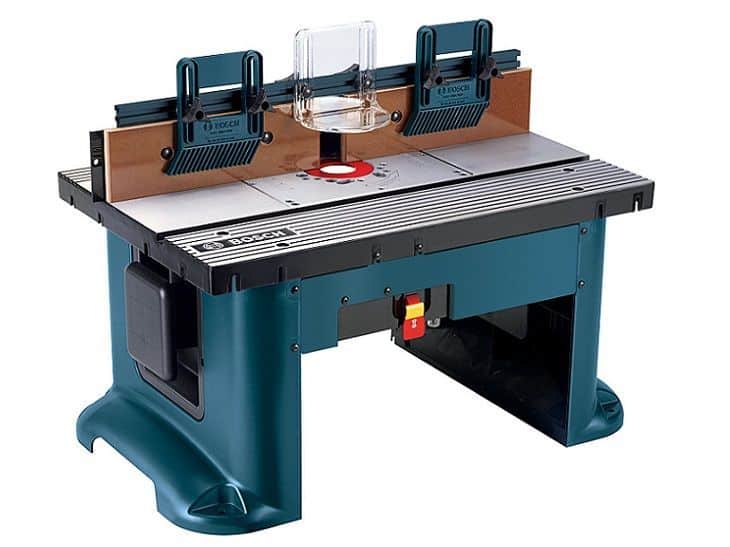 Best Router Table Reviews 2017 and Buyers Guides
The purchase of a wood router is generally the first step most amateurs take towards getting into some serious woodworking. The next step for most of us is the purchase of a router table, which allows for you to use a router as a stationary tool, and makes a whole lot of things possible that you'll never be able to do freehand.
With one of these vital tables at your disposal, you'll easily able to perform tasks you'd never dream of with the router held in your hands. Take your hobby to whole new levels with the addition of the best router table on the market.
A dedicated router table can be absolutely essential for some types of woodwork, including shaping the edges of wooden pieces and planning perfect edges and grooves into boards. Many people recommend building your own, but if you're not absolutely confident in your work , no need to take a risk. The cost of entry is pretty low, so why not keep reading and find the perfect table for you.
Our Picks: Top 3 Best Router Tables

Complete Guide to Choosing the Best Router Table
What Am I Looking For?
There's a lot to consider when looking into the purchase of a router table, so let's go over a short breakdown of what you'll need to determine which router table is the best suited for your own work.
Size
Always know the size of the table, this seems like something easy to keep track of, but compare it to the work you'll be doing. Smaller ones may be more portable, but they're not exactly ideal for particularly large pieces and it'd be a shame to have to resort to the freehand use of your router.
Fence
You want a sturdy fence that will offer you a sturdy edge to push your pieces against. A shoddy fence can lead to ruined projects and even serious injury.
Stability
You might find yourself exerting a lot of force on a workpiece at some point. If the router table you've chosen isn't quite stable you risk tipping the table over. It's important that both the legs and work surface aren't going to fail you with normal use.
Dust Collection
It's not quite essential, but it's very nice to have some dust collection capability. Routers pulverize a lot of wood at once and can produce massive amounts of fine sawdust in a very short amount of time.
Storage
Another non-essential quality, but some router tables offer storage underneath. This can be quite handy, as a job often requires multiple bits in order to be done properly. It can also save you some shelf space if your workshop is challenged in the size department.
Keeping this in mind, there are three main types of router tables that you'll need to decide between in order to make sure you get what you need.
Bench router tables are undoubtedly the most popular for hobbyists. These handy tables are of the right size to place on a bench for easy use. They'll take up less room and are usually quite portable. They are generally on the small side, for obvious reasons, and someone who works with larger pieces frequently will want to go with one of the other options.
Free-standing tables are exactly what they stand like. They'll lift the piece to a suitable height for working without the need for a bench or other stable platform on which to be placed. These are better for professionals and those who work with larger pieces.
There are also router table extensions, which can be added onto an existing table saw. These are generally quite high in quality and are a great option for someone with limited space. They can readily be removed and stowed somewhere that doesn't take up floor space.
What's Best for Me?
This depends on what you're choosing to do with the router table. A free-standing table is nearly always preferable, but they're not always ideal for the individual's space requirements. If you're a professional or working in a shop environment though, a free-standing table with all the bells and whistles is definitely what you're looking for.
For the amateur just getting into more serious woodworking, a bench router table is something to seriously consider. These handy, portable additions to your workshop add a ton of versatility to what you can do with your router. The limited space they take up is an easy sacrifice for the great amount of additional work you'll be able to get done.
For the more serious hobby woodworker, router extension tables are a great idea. They can be a bit trickier to setup than the others, but the ability to just attach them to your existing table saw is a temptation that's almost too good to give up. They're also useful in shop situations since you can cut and immediately route the wood you find yourself working on.
Whether or not you take a look at extras depends entirely on your budget. Storage and dust collection ports are the main things you'll be looking for here, and if you're careful about your selection you can end up with some pragmatic additional features for your day-to-day working. The ones with extensive features tend to be a bit more expensive, however, and a carpenter with a lesser budget won't be missing out on too much with a lack of storage space.
For the individual consumer there seems to be a bewildering variety of choices, but if you're careful about your selection you'll be able to find the best table for the price, and for you. All it takes is a little bit of study and it's probably the best investment for woodworking you'll ever make.
The 4 Best Router Table Reviews 2017
We're here to show you some of the great options available on the market today. One of these is sure to meet the need of every carpenter, professional or amateur.
The Bosch RA1181 is possibly the best portable router table for the money. It'll easily accept a Bosch router or a DeWalt router, or really pretty much anything. It's obviously best suited for Bosch products, but don't be discouraged if you own a different brand as you'll be able to fit almost anything.
Whatever you're working on, whether it's designing a frame or engaging in a niche hobby like guitar making, this router table will be a welcome addition to your workshop. There's definitely a reason why this is the best-rated router table around.
Suitable for Most Home Use​
It's a solid piece, there's no question about it. It also offers a pretty impressive work surface of 27" by 18" so it's suitable for most home use. The work surface itself is made of aluminum though, so be sure to periodically check it for spurs that may scratch the wood you're working on. A few seconds with a fine metal file will easily sort it out though and as long as you stay aware you're unlikely to do any serious damage.
High Quality Fence​
The fence was obviously well thought out and makes for a fairly unique look as well. The aluminum gate is high so you'll be able to easily finesse taller pieces of wood. The real draw here though is the MDF front to the fence, which will allow you to slide pieces along without even thinking of picking up a scratch.
Accept array of Accessories​
The RA1181 router table is simply a fantastic buy for the money. It even has some awesome extra features like dual-vacuum ports for the best dust removal you'll be able to get. If you're serious about your woodworking, you'll be glad to know that this router table also accepts a bewildering array of accessories to make your work easier.
Warranty​
Bosch offers a year warranty on this product as well, so you'll be able to rest assured that any manufacturer error is covered. There's also a 30-day money back guarantee for those who aren't sure it'll meet their needs.
The Bosch RA1181 really is one of the best bench top router tables you'll ever find. If you're looking for a router table for home, there's no excuse not to just order this one now. Once you have it in place in your home workshop you'll come to regard it as essential.
For those who are more serious about their work, but also want to save on some space, the Bench Dog Tools 40-102 is one of the best products you'll be able to find. This router table expansion hooks onto your existing table saw and provide a sturdy cast iron surface to work on.
Less Maintenance​ Required
While it's a bit heavier than the normal aluminum, the cast iron surface offers some surprising advantages. Aluminum has a tendency to burr, and if you're working on a piece that's already been sanded or stained these burrs can create unsightly scratches. You simply won't have to worry about the extra maintenance step of making sure aluminum is smooth with a cast iron top.
Fence​
The fence is also covered in wood, so you can slide without worrying about troublesome damage to your product. It's simply a well-engineered extension to the capabilities of your shop, and it's sure not to let you down.
Table Saw Connectivity​
The most attractive part of this table is definitely the ability to connect to a table saw. This makes it the best for a small shop without a doubt since you'll be able to take it off the saw and stow it away easily. Depending on your personal storage set-up, this may even save more working room than a bench router table. Attractive and low profile? Yes, please.
What's really great about this extension is that you can even get some extra space for your table saw. This table has the capability to increase the versatility of two of your power tools at once. It's made of the highest quality materials as well, leading this to be one of the best options.
Versatility
It might also be best for home use as well. A lot of people who are handy around the homework out of their garage, and the modular design recommend it. You can easily move it around depending on what you're working on. This one's sure not to let you down whatever you're doing.
The point is that the Bench Dog 40-102 is simply a fantastic expansion to two of your favorite tools. With one of these you'll be able to use both in a fashion that's much better than before, and the capabilities of your workshop can be greatly expanded with a single purchase. If that isn't a great argument for making this your choice of router table, I don't know what will!
Those of us who are familiar with Bosch will be pleased to know that there's a cheap and high quality router table they offer for the carpenter on a budget. The Bosch RA1171 isn't quite as awesome as its cousin but it's the best option for the amateur with a tight budget.
Cabinet Design​
This one has a cabinet design, which makes the surface a bit less steady than something with some good, strong legs like the Bosch RA1181. That's not to say that it's unsteady, but for heavier use it's generally preferable to have the contact area of the router table with the bench to be outside of the bench itself with outward leaning legs.
Lower Price​
The design of up-top is quite similar to the other offering from Bosch. The biggest problem here is that it simply isn't as durable. You're sure to receive use for years out of it, but it's not the kind of router table which is destined to last a lifetime. If you're not using it on a constant basis though, the lower price point may make it an attractive option.
The main draw here? The Bosch RA1171 comes in at under $200, which is a cheap price to pay for the amount of use you'll get out of it. It's perfectly suitable for cabinet making or any other task you set your mind on. For the woodworker on a budget this is the one to buy.
Dust Removal​
It's compatible with a few accessories as well as possessing twin vacuum ports which will allow you to remove the dust generated by your router quickly and efficiently from the surface and air. This is especially great for those who prefer to work indoors, as you'll be able to breathe and see a lot easier during longer jobs.
Even better, it might actually offer more dust collection capacity than the RA1181 due to the cabinet design which makes the whole process more efficient.
Finally
If you take care of this piece of equipment, though, it's sure to become a favored part of your tool kit. Only a professional should steer clear of this one, it's suited for almost any hobby or home use. If you're just starting, you're destined to go through a few tables over time anyways so why not get something high quality for cheap?
If you're looking to take your carpentry to the next level without putting a hole in your wallet, the Bosch RA1171 definitely has you covered.
The Kreg PRS2100 is probably the best small router table you'll find anywhere. It's sure to fit into all but the smallest budget as well, since it comes in at under $300. It is the priciest one on this list, but that's for good reason.
Work Surface Design​
The work surface of this one is composed of MDF, and so is the fence guard. What does this mean for the user? A smooth, burr free surface which will allow you to easily move your work piece over the router bit without fear of scratching. That alone would make up for the increased cost of entry, but there's a bit more.
What is the Drawback?​
Before we continue though, there is one drawback to this router table. The work surface is a bit smaller than the other options, measuring only 16"x 24". If this small size makes it unsuitable for your intended projects, you'll have to look elsewhere but for the vast majority of home carpenters this might just be one of the best options around.
High Quality Materials​
They didn't skimp on the materials here. The stand is made of high-quality steel, meaning there's pretty much no fear of structural damage here. The paint should also keep unsightly corrosion away from the table for a long time to come.
It also comes with a set of high-quality levels that will make sure that you get the perfect angle when you mount your router. If you're mounted level, you're sure to make the cleanest, most precise cuts which is especially valuable for joinery.
Smooth Performance​
This one might just be the best for beginners as well. Experienced craftsmen are often used to with the quirks that come with having a metal top and unconsciously compensate for them, but with the MDF surface, each and every piece will slide smoothly every time.
Dust Collection Port​
It also has a dust collection port, which can make the entire affair much more convenient. There is a lack of storage, however, but that's a small consideration in the grand scheme of creating your amazing home workshop.
It may be a bit more costly, but some of us don't consider our workshop's vital inhabitants as toys. Making the investment in a high-quality router table is… well, it's an investment. The dividends will pay you back in ease and amazing projects.
That alone is enough to make a bold argument for the Kreg PRS2100. Your workshop deserves only the best, and this is it. Don't hesitate.
Bench Dog 40-001 ProTop Contractor Benchtop Router Table is a very compact but absolutely universal type of bench top router table, which may easily deal with the full range of woodworks, not less effectively than the router table stations. The bench top type of router tables provides more safety and stability than the handholding routers.
Fence​ Included
Router tables are usually supplied with the fence which provides exact precision and control over the cutting process. You should always check that the working surface is clean and does not have any frictions. The router table is working in the way that the piece of wood is moving along the router surface.
Easy Setup​
​The setup of this router table is really easy. The accessory miter track made of aluminum provides compatibility and easy adjustment with most of miters. There are additional t-slots where you may mount switches, feather boards and much more. With this model you may deal both with large work pieces and with the precise and detailed tasks.
Portability
The bench-top router table is mounted on the working bench surface with legs' assemblies. And the feet of it are clamped on the table surface. In this case the router table may be portable. If you want it to be stationary, you can simply use the holes, which have been already pre drilled and screw the bench top to the working body.
Sophisticated Design
This unique Bench Dog 40-001 ProTop Contractor model has the modern design, its top surface is made of laminate plastic and the inserts are made of acrylic. This router table is compatible with most of the routers. It has the spacious working surface, double position of fence from both sides and the router is located in the offset forward place.
Heavy Duty Work​
This model of Bench dog router table may deal with heavy duties and from the other hand it does not occupy much space and can be easily moved. Machine is supplied with large number of additional slots, which makes it possible to organize the working surface in the best way.
Dust Collector​
​This bench top router table has the last generation type dust collector, which provides clean surface and healthy environment for woodworking. The power cord is long enough to make the working process easy. The machine is not very noisy due to the whole panel construction and it has the low vibration due to the rubber legs underneath. Using of the double steel rail provides extra stability and support.This router table has the light weight – something around 40 pounds. It has two years manufacturer's warranty; it deals with most of the routers.
This router table will satisfy the needs both of the professional woodworkers and the amateurs.
Final Verdict
You may spend an entire day cutting pieces of wood but if the edges are not perfect, they would be of little use in woodworking. Realizing this, we have endeavoured to provide you with as much information on router tables as could be fitted into a guide. We realize however that no amount of information can ever cover each and every cutting scenario in the country. Hence, while we would encourage you to carefully study the list of ideas and instructions we have provided here, we would also ask you to carefully study your environs.
Are you operating near a school and need to ensure a quiet cut ? Or is your cutting area cramped ? Such considerations would go a long way in deciding whether one or more of the features and instructions provided above are partially or completely inapplicable to your scenario, and to what extent you need to modify your procedure to obtain the perfect cut. However, we do believe that when our guide is read in conjunction with the best router table reviews, it can provide enough information for you to purchase and start working on your woodworking projects. Once you make this start, of course, you are free to improvise as you see fit and by doing so, constantly improve your ability to achieve the perfect cut every time.
We hope that we've helped guide you to the answer to "What is the best router table?" that suits you best. The ease and additional safety which comes from one of these valuable workshop additions is immense, and you'll wonder how you ever got by without one before.
If you're still on the fence about purchasing a router table, it's best to just buy one and get the wood against the fence. It won't take long to see why they come so highly recommended by professionals. Once you make the purchase, you'll have no idea why you even thought about hesitating before.