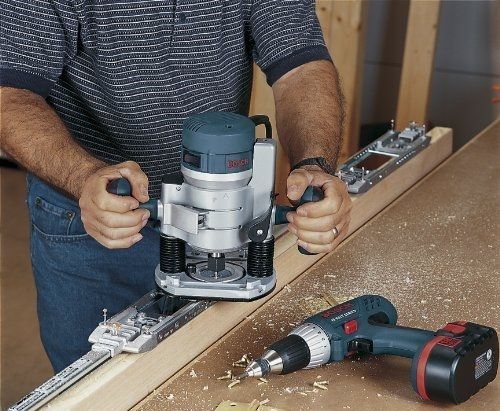 The Versatile Bosch 1617EVSPK Wood Router Review
Durability, accuracy, and power simply but not fully define the Bosch 1617EVSPK plunge and fixed base Router Kit. It comes with some of the highly sophisticated features that include a powerful motor, precision bases, soft, variable speed controls, and a couple of other advanced features. With its 2.25HP/12 Amp combined with 8000 to 25000 RPM you can handle all your routing jobs including the toughest routing gigs.
Bosch 1617EVSPK falls into the mid-size range of routers but is capable of handling any work load that is demanded of it by the wood worker. It is a router that is technically capable and durable.
What make Bosch 1617EVSPK high quality?
Plunge and Fixed Bases:

It comes with these two bases and it is quite easy to move the motor between the two bases. It takes seconds courtesy of its quick clamp systems.

¼ inch and ½ inch Collet and Bit Shank Size:

You can use both of these collets and bit sizes making it ideal for most routing operations. You can use a wide range of bits on this router which include ¼, 3/8, ½ and even 8mm bits.

Variable Speed:

It comes with a variable speed that delivers a speed range of 8000 to 25000 rotation per minute hence the tool can handle diverse operations. It also has a Constant Response Circuitry that monitors and adjusts power so as to maintain the desired RPM and achieve consistency in performance.

Soft Start Feature:

This mainly plays the crucial role of preventing electrical surges and reduce power load during start up. This helps achieve consistent performance and avoid sudden slowdowns or unexpected increase in speed during the operation.

Powerful Motor:

It has a

2.25 Horsepower

motor that is secured in durable aluminum housing. With this kind of power, the tool can handle even the toughest operations.
What make it easy to use?
Bosch Precision Centering Design:

Facilitates perfect centering of the bit with the sub-base of the template guides thus ensuring precise and accurate cuts.

Easy to switch

between the plunge and fixed bases. Requires no tools.
Plunge and fixed base comes with

ergonomic and easy-to-handle grips

for easier operation.
Micro-fine and coarse bit depth adjustments:

These are available on both bases and they come with re-settable indicators. They facilitate fast and accurate bit depth adjustment.

Quick-change Template Guide Adapter:

Holds the guides firmly in position.

Dust-proof switch:

Prevents dust build up and protects the tool.

Aluminum motor housing:

For maximum durability
The Bosch 1617EVSPK comes with a powerful Motor, which supports the variable speed ranges.
It has micro-fine depth adjustments that are on both the fixed and plunge bases.
There is a plunge lock mechanism, which will ensure that the results are precise and accurate.
Ergonomic handles which facilitate proper handling of the router.
Economical in that it incorporates two tools in one: The plunge and fixed bases.
Rugged design which is aimed at increasing the longevity of the router.
It has a Constant Response Circuitry, which maintains an invariable speed during routing.
The cons:
You need to have a special adapter to use with some external collars used by most dovetail jigs.
It needs two different wrenches for changing the bits.
The various components make it quite bulky.
Collects dust easily in the switch, which causes it to malfunction.
Does not include an adapter for the template guide.
The C-ring is loose and keeps falling and even breaking when in use.
Consumer Reviews
This router is ideally the best when it comes to tasks that require mounting on router table and those that require the use of the router separately. It is a perfect fit for the intermediate and advanced wood worker. You can handle a wide range of routing jobs with this wood router within your home workshop as well as on a construction site.
According to one of the users who had used the product for some months he loves the router and he says he has this router in addition to other routers he has. He mainly uses this one for free-hand routing, edge routing, template routing, and many other tasks.
Another user says that he has several other routers and that he uses it for unique purposes. He is quite impressed with this router and he says it is like owning two routers since he mounts the fixed base on the router table and uses the plunge base for handheld tasks. He is particularly very happy with the micro adjustment knob which gives the gross setting in order.
It has received its negative review as well. Most of the users complained about the fact that the C-ring kept falling off and that it breaks when used in router table. Others complained about the sawdust build-up in the bushings when using the router in router table.
Overall, users would recommend this router to others. If you need a router with plenty of horse power and which can handle heavy duty jobs then this is a definite option for you.
How to use it?
The router comes with a manual that will guide users on how to assemble and use it. However, you need to know how to use the different bases. With the fixed base, you can easily cut a round over radius on a piece of wood. All you need to do is apply the feed rates depending on the load and adjust the bit to your preferred dimensions. The same applies to the plunge base, where you will use the clamp-on guide fence to make T-slots. There are template guides for making different cuts on your wood. You can always refer to the manual in the event that you are stranded.
Maintenance and Minor Repairs
Waxing the housing and the bases should be done frequently. You should also find a cover for the switch area so as to prevent build-up of dust. It is also advisable to return the components to their compartments in the case for easy storage.
As far as repairs are concerned, you can use the manual or call the support team to try and troubleshoot. If it is a complex issue, you should use your warranty to get repairs done.
From all indications, having this router combo kit will be quite valuable. You will definitely get the value for your money with this router. The manufacturer has built a good reputation over the years, which is an added advantage. Buying the Bosch 1617EVSPK is certainly a worthwhile investment.
If D-Handle and T-Handle are not really comfortable and neat in your opinion, Bosch PR20EVSK Colt Palm Router should be a perfect tool, you can perform cutting easilly with one hand.