MLCS 9061 Daisy Pin Router Review
MLCS 9061 Daisy Pin Router now makes pin routing an inexpensive option for DIY woodworkers. You can use this pin router to make exact copies of any woodworking shape or design you want. The MLCS 9061 Daisy Pin Router attaches to any standard router table and performs operations that can be done by a machine costing hundreds of dollars. With this tool, you can make unlimited consistent copies of shapes from either outside or inside patterns. It also helps to make repetitive cuts error-free and easier. It includes 4-steel pin sizes ½-inch, 3/8-inch, 5/16-inch, and ¼-inch as well as instruction manual. It has a large 8-inch arm that reaches to the center of the 16-inch wide piece.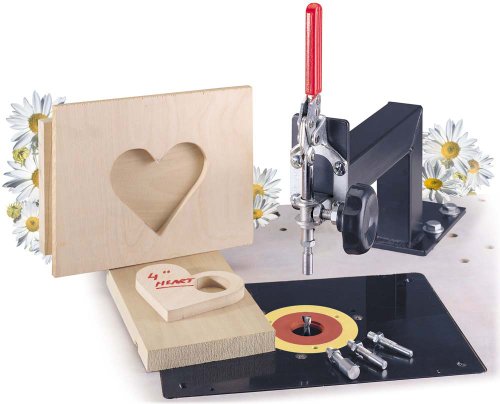 With the 8-inch arm suspended from an overhead arm and standard plunge router mounted under it, you will have an easier and safer time to use this too since the workpiece will shield your fingers from the cutting area. This design also helps one to follow a template since the guide pin is in view. You can copy items, make templates, make incised signs and also inlay work.
So, what makes this tool stand out from the market?
Features and Benefits of MLCS 9061 Daisy Pin Router
It Has a Large 8-Inch Arm That Can Help Draw Copy Shapes of Different Dimensions
Most of the pin routers have shorter arms and thus cannot draw copies of large shapes, but with MLCS 9061 Daisy Pin Router, you can draw copy shapes of both small and large items, especially those that need repeated decorative accents. This will help you preserve the original drawing as you will make an exact template from the original shape to use for your subsequent drawings. A pin router will make it easier for you to create a template to obtain consistent results while preserving the delicate original material.
Besides, it allows for usage of a small guide pin especially if you want to capture all the details in your template.
It Makes Inlay Routing Very Easy Such That You Can Use It To;
When making woodworking items, often you will need a template to act as your internal guide. This acts as a female of the shape you are inlaying, and it should have a contour that is offset ¼ inch larger than the final inlay size as the ¼ inch bit used followed the internal shape of the template leaving the inside routed section smaller in all dimensions.
With MLCS 9061 Daisy Pin Router it will be easier to make templates to use as your internal guides. If you already have templates for your shapes, you can use this Daisy Pin Router from MLCS. All you need to do is to respect the size difference between bushing and bit when converting the pin and bit method.
Secure your template with double-sided tape to the back of the workpiece. Use the guide pin to work your way through the shape you are drawing.
When cutting the inlay, the inlay material and template must be attached to a dividing spacer. This will help keep pieces from floating freely after cutting. After setting your pieces and cutting them, sand the edges to remove any whiskers and you will have a piece fitting perfectly in the cavity.
It Comes With a 3-Year Warranty
MLCS 9061 Daisy Pin Router comes with a three-year warranty to prove how quality it is. The makers of this pin router are confident that their tool will last and that's why they have offered such a lengthy warranty period because they believe in their router.
It Is Lightweight
Weighing at only 4.85 pounds, MLCS 9061 Daisy Pin Router is a relatively lighter tool as compared to most pin routers on the market and thus can be used for long without tiring you.
Wrap Up
MLCS 9061 Daisy Pin Router is a tool we can recommend to any woodworker who is looking to take their woodworking projects to another level. It is quality and will help you make unique designs that have all their areas fine-tuned.