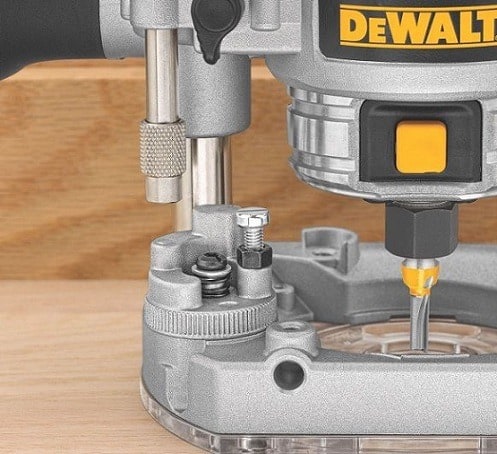 Why You Should Buy the DEWALT DWP611PK Compact Router Kit
Talk about power, ergonomics, easy-to-use features, combined with innovative features designed for visibility and there you got the DEWALT DWP611PK compact router. It comes with both Fixed and Plunge base designs and is ideal for almost any woodworking task; from small cuts to large edge trimming alike. Its outstanding fixed base's dual LED lights combined with a clear sub-base provide an ample illumination. It features a 1-1/4 HP, soft starting motor, and a variable speed control.
DEWALT DWP611PK is an easy-to-use and highly powerful router. It has both basic and advanced features that will suit the hobbyist as well as the professional wood worker.
What Makes DEWALT DWP611PK High Quality?
Variable Speed: Has a variable speed feature that goes from 1 to 6 steps and generates 16000 to 27000 RPM. This helps the user regulate the speed and determine the ideal speed for the type of project at hand. With the electronic speed control, speed is regulated so as to maintain speed and minimize start up twisting and avoid burning.
Fixed and Plunge base: The combo kit comes with both fixed and plunge bases that can easily be switched back and forth. The user can use the fixed base for trimming and edging and the plunge base helps the user turn this router into a fully capable plunge router. With these two bases, you can handle 90% of projects done in your shop or in the home workshop.
¼ and ½ Inch Collets and Bit Size: Though this router is ideal for small projects and fits well the hobbyist, it is capable of fitting both the ¼ and ½ inch router bits. It may be compatible with bits that work with heavy duty designs but it is recommended that you use it on lighter duties only (1/4 inch).
Soft Start: Helps in keeping check on motor torque. This reduces temporarily the load on the power train and helps regulate electrical current surge when the motor starts up. It therefore secures the motor from any power damages.
Horse Power: It has a 1.25 HP peak motor that delivers outstanding power for a small router. It is ideal for small projects within the home workshop or your shop. It also generates high torque.
What Makes It Easy To Use?
Ergonomic Features: Its ergonomic features and design make this wood router easy to use. They improve visibility, control and general performance of the router.
Variable speed feature: Using this feature the user can better manage the tool and choose the speed that is ideal for the project they are handling. It also helps in choosing the types of router bit and material to use in all speed ranges.
5 Position Adjustable Turret: Helps the user easily control the depth of the cuts for accurate and precise cuts.
Some other key features
Depth Ring and Clamping Mechanism: Locks the motor in position.
The combo kit or the router comes with a hex wrench for bit changes.
Switch is situated in front making it easy and safe to switch on and off the tool.
Has a 12 position spindle lock that facilitates easy changing of bits.
Its D-shape fixed base is stable and facilitates maximum visibility when routing.

The Pros And Cons
The Pros
The LED lighting provides illumination for the work surface.
There is a powerful soft-start motor, which helps in the maintenance of the variable speeds.
The router is compact and significantly lightweight.
It has the ability to handle both soft and hard woods due to the powerful features and settings.
The rubber-coated handles provide a non-slip grip, which generates accurate results.
It is relatively quiet during trimming.
It has an adjustable clamp design.
The process of changing bits is quite easy.
There is a clear sub base and precise marker.
The Cons
The router does not include an edge guide in the package. This is purchased separately.
The ¼ inch cullet is quite limiting.
It uses a cord, which may limit movement in the work area.
It only has a palm grip on the fixed base, which may be difficult to handle. The plunge base is only one that has side handles.
The base is limited in terms of taking bushings. One is forced to find the round base.
Reaching the cullet nut is a daunting task in case of repairs and maintenance.
How To Use It?
When you buy the DEWALT DWP611PK router, you should be keen to study the manual. This router is not ideal for heavy jobs like making miles on molding or excavating mortise on the hardwood. However, most routing jobs can be managed using this combo kit. You just need to identify the particular type of task so as to determine whether to use the fixed router or the plunge base router for your trimming. This router can handle any task done by a laminate trimmer, which is part of the great convenience it provides.
Maintenance and Minor Repairs
Just like any other machine or tool in your workshop, basic cleaning and waxing of the tool is required. You should always that the accessories are cleaned and completely dried after using them. Store the components in their specific casings to prevent any damage or loss.
Minor repairs can be done depending on the extent of the damage. Most people have a hard time reaching the cullet nut for repairs, but it can be done. In case you have problems with your router within three years, you should use your warranty to get repairs.