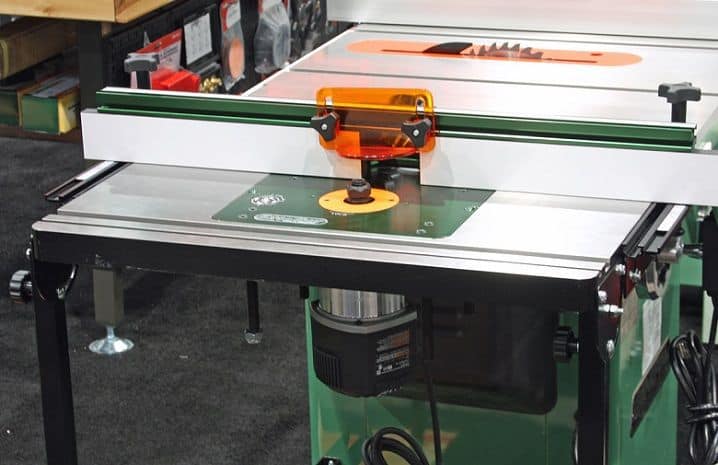 How to Build a Router Table for Woodworker
Perhaps you have heard of the wood router and its versatility but have never owned one. I guess one of the reasons you fear committing your hard-earned dime is that it is expensive. You may also think it is expensive to buy its other accessories including the router table. Well, to be sincere truth be told, wood routers do not come cheap. They are just like any other useful item in your workshop arsenal. The come in different sizes, models, shapes, and prices. You can get cheap ones and you can get the most expensive as well. They also have different capabilities.
As a beginner woodworker, you may not have access to a router table but is pretty easy to build own router table within minutes. We will therefore delve into how to make a router table in some simple step by step process.
Why Make Own Router Table?
A router table is an invaluable asset to any woodworker. However, the ready-built tables are extremely expensive. They are also too narrow and thus they may not be perfect projects that require wider router tables. When you build your own router table from scratch, you will be able to accommodate most routing jobs including those that require a huge space for routing.
Procedure
Requirements
The router

Sander

Drill

Jigsaw
Points to Note
In this simple guideline you will learn how to make a router table with ¾ inch MDF or plywood within an hour or two.
You should begin by making some 3-1/4 inch and 4 inch rips for the router table fence, legs, and frame. You should also make 1-1/2 inch rips for its top build-up. Cut approximately 24 by 36 inch piece for the top.
Step 1: Making the Router Table legs
Crosscut the materials to length. Glue and screw the router legs together. You can use one 3-1/4 inch piece and another 4 inch piece for each of the legs. You can then glue and screw the frames together then connect the legs to the two frames from the inside with the use of 1-1/4 inch screws and more glue. This is pretty simple and will take a very short time to finish.
Step 2: Attaching the Legs to the Frames
You can then take the top build-up and glue and screw it onto the underside of the top. Set it onto the frame. Use pocket screws or 1-brackets to attach the top to the frame.
Step 3: Linking the Top to the Frame
The only remaining task is to cut am notch at the middle of each of the piece of the fence so as to create a room for the router bit. You can then attach two pieces using glue and screws. When you want to use the router table, you simply clamp the fence. Additionally, you can laminate the router table top and fence if you desire a more outstanding outlook and minimum friction. Nonetheless, plywood and raw MDF are just fine.
Finally
Notch the two remaining pieces for the fence and attach them to the router table. Your routing table is now finished.
An Ideal Routing Table
Notwithstanding whether your routing table is homemade or ready-built, there are some special features which your routing table should meet for you to achieve the best results. Once your router is mounted securely in a table, you can be able to get maximum control of your workpiece.
The extra control you get makes it so much easier to manoeuvre certain operations such as edge profiling, groove routing, and many others. You will also be able to do some tasks that might be impossible to handle with a handheld router, for instance, routing narrow stock, making certain joineries such as cope-and-stick, and many others. For you to get the best out of a routing table it should have the following features:
Flat and Solid Top
The router table top should be rigid and should be as flat as possible. In tasks that require precision, minor irregularities in the surface may result in skewed joints, uneven edge profiles, and many other problems that ruin your piece of work. With a rigid surface you will be able to get accurate cuts and it will be able to support the weight of the router and plate without experiencing any deflection.
Flat, Rigid Base Plate
The quality and layout of the base plate highly affects the functioning of the router table. Since the base plate supports the router weight, it should be flat, solid and substantial. The best materials for an ideal base plate include aluminium or solid phenolic. The base plate chosen should also be compatible with your router. The base plate should also be such that it is perfectly on a level ground with the router table surface.
Accurate and User-friendly Fence
The router table should be accurate and easy to position. This due to the fact that in most of the routing operations you control the cut by keeping the piece of work pressed against the fence as you advance it through the bit. You should therefore get a fence that can work perfectly when handling such a task.
There are a number of fence types to choose from which vary in quality and functionality. You may get simple ones and the most complex ones.
Stable and Firm Base
For the woodworker to get clean, crisp cuts, they need the workpiece to be well-positioned and in sturdy contact with the cutter. This is only possible when the table is sturdy and stable. A wobbling and shifting table not only hinders the attainment of smooth and outstanding pieces of work, but it also poses a risk to the user. Remember you are handling a machine with sharp razor-bit rotating at a high speed. Any simple mistake can result in extreme damages.
Summary
A router table is an essential part of a woodworker's tools and accessories. Whether you make your own table or buy a ready-made one, ensure it is well secured and it is firm enough for all your operations.