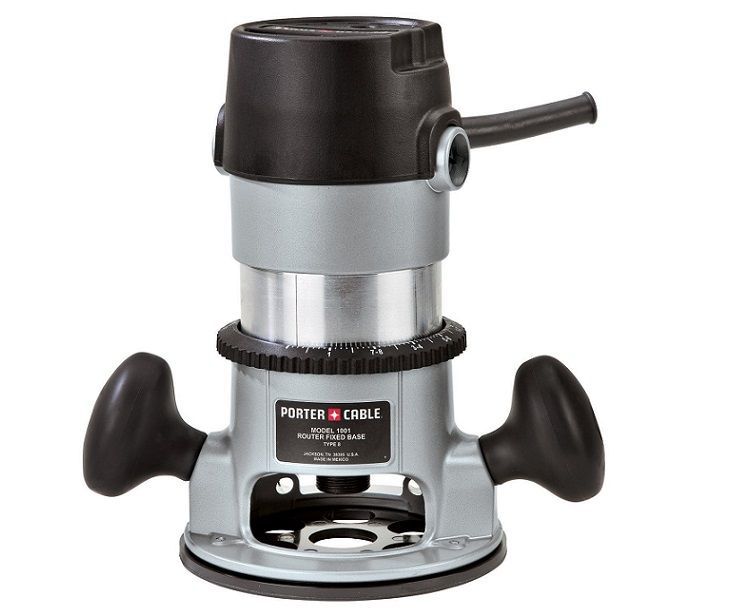 PORTER-CABLE 690LR Router Combines of Power and Efficiency
Review Summary:
With a 1-3/4 HP, Porter-Cable 690LR fixed-base router is a powerful and superbly efficient tool delivering a staggering 27,500 RPM for your precise cuts. It comes with collets that can fit both 1/4 and 1/2-inch shank bits just for extra convenience. Its ergonomic design, under-table stop, and easy bit removal guarantee comfort and easy use during all your operations whether short term or extended operations.
Check Price on Amazon
There are many factors to consider when buying a woodworking router. As a woodworker, you would like to have a tool that never disappoints when it comes to performance and efficiency. You would also love to have a router that is definitely worth its price. It is with this regard therefore that Porter-Cable has come up with the powerful and efficient Porter-Cable 690LR router that is designed to meet all these needs.
What make Porter-Cable 690LR high quality?
Power Capability: It comes with an 11-Amp powerful motor that has a peak of 1-3/4 Horsepower. This is sufficient power to "rout out" most home and workshop tasks.
Fixed base: This is ideal for tasks that require mounting on a routing table. It is a perfect router with options for the plunge and D-handle bases that can be bought separately. This is unlike other routers within the same category.
Consistent Rotation per Minute: Its single motor delivers constant 27,500 RPM that is perfect for achieving consistent performance in the entire project.
Bits size and Collets: Compatible with ½ and ¼ inch collets and bits making it so much easier to rout most tasks. It also comes with an auto-release feature that makes the process of changing router bits easy.
Micro-fine Adjustment: It has a micrometer depth adjustment system that helps when making precise and accurate depth adjustments. It can measure an accuracy of up to 1/128. This helps the user get accurate and precise cuts.
What make the product easy to use?
With its cam-lock lever it is very easy to release the motor.
The auto-release collet system makes it easy to change the router bits.
Its handles are well designed for stable, convenient and comfortable use.
It is lightweight weighing barely 9.4 pounds and thus easy to handle.
Some other key features:
Sealed power switch that prevents dust or particles from entering the system.
The tool has aluminum housing for the fixed base and its motor making it durable.
Has an under-table stop feature that helps secure the motor and prevent it from rotating out of scope.
For firm grip, it has been fitted with over-molded handles which cannot slip when operating the tool.

The Pros and Cons
The Pros
Auto-release collet system for easy changing of bits.
Comes with the standard fixed base that is compatible with other router types and models.
Sealed ball bearing and the power switch that block dust and other debris from entering the system.
Easy to control and get accurate performance since it has several easy-to-use handles.
It is single speed hence delivers consistent performance.
Cam-lock lever makes coarse height adjustment easy and fast.
You can buy separately different bases and the D-handles.
The Cons
Too small for some stile bits and rails hence limited in the number of applications that can be handled.
Not portable hence limits the user to one place.
Its power switch is placed on the machine which is not ideal.
Lacks a storage compartment hence making it hard to store router components.
Cannot handle heavy loads. It can only manage medium applications.
Lacks variable speed feature.
How to Use it?
The Porter-Cable 690LR has been ranked among the easiest routers to use. The most essential parts like the collets, shank bits, the motor and the base. This will allow you to swap through various bases and D-handles and also use ½ and ¼ inch shank bits depending on your application. The router is designed to handle applications up to a certain limit and seems to fail to handle heavy applications. You should refer to the safety instructions at all times when using this tool.
Maintenance and Minor Repairs
The router does not come with a storage case and this means that you need to be careful on how you keep it. You should once in a while uncover the switch so as to clean any dust that may have gained access to the system. Repairs may be quite tricky if you are not an experienced expert. You can contact customer service in case of any problems with the router or use your manual to troubleshoot the particular problem. Also, Read Bosch 1617EVSPK Fixed base plug router.
Conclusion
There have been different routing machines developed over the years. Some pay keen attention to the power output, while other focus on efficiency. The Porter-Cable 690LR has been able to combine these two attributes into one. Irrespective of the few disadvantages highlighted above, this is a router that comes with high recommendations. It guarantees excellent results in your woodwork projects.