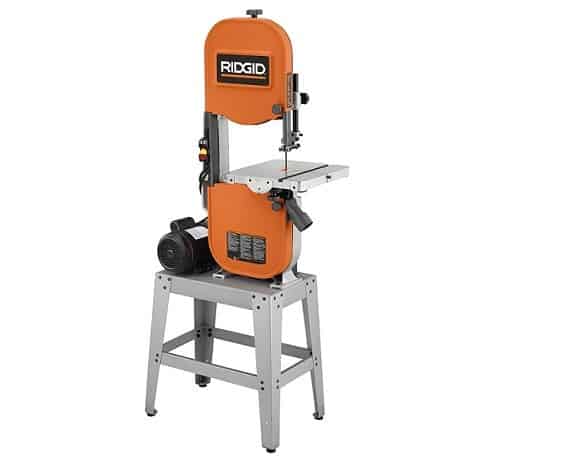 How Reliable Is A Ridgid Band Saw? Every DIYer Needs To Know
Are you a do it yourself (DIYer) that wants to know how reliable a Ridgid band saw can be? Then continue reading as I'll try to answer this question. Just like you, I have tried to search for the best band saw for my home projects until I discover this Ridgid brand.
I have tried many band saws already, but most of them perform below my expectations. Before I can buy spend my money on this unit, I tried to search for its reliability. Here are some facts that I discovered about this product.
Check Price On Amazon
Why People Trust Ridgid?
People trust Ridgid because of its reliability. All of its tools are made to withstand dust and extreme temperatures, that's why most construction sites use them for optimal results. One of the design factors for creating their tools is efficient operation
Ridgid tools are engineered to deliver a great ease of use and innovative features. Since the Ridgid band saw is part of its product line, it shares the same reliability that all the Ridgid tools possess. One of its popular models is the BS1400.
Features Of A Ridgid Band Saw
Here are some of the features that enhance the reliability of this unit.
Built-in 3/4 horsepower (HP) induction motor operates smoothly and quietly
Durable iron construction reduces vibration
Micro-adjustable blade guides provide accurate tracking
Wheel cleaning brushes keep the dust from accumulating on the wheels
Built-in dust port makes the work area clean from dust
Soft-touch knobs offer great ease of use
Blade guard is a safety feature that protects your hands from getting in contact with the blade
Blade tension knob allows you to increase or reduce the tension on the blade
Operating A Ridgid Band Saw
This band saw is made to cut wood only. Don't start cutting right away. Watch the saw run first and stop instantly if you feel an unrestrained vibration or atypical noise. These signs may mean that your unit is having some problems, so correct the problem first before you can turn it on again.
You can see how this unit works in this video here.
To cut properly, hold the wood rigidly against the table. When feeding the wood into the blade, use light pressure. Never hold very small pieces because your fingers might not be protected by the blade guard.
To make relief cuts or intricate curves, cut through a scrap part of the material to curve in pattern line. Next, gently back the blade out. For scroll cutting, push and turn the workpiece to follow the pattern marks.
How To Care For Your Ridgid Band Saw
If the tires have gone dusty, clean it with a fine wire brush. You can replace them by prying the old tire away from the wheel gently. You don't need to lubricate the unit because all the bearings are lubricated adequately with a high-grade lubricant.
All you need is to adjust or replace the brush built inside the saw casing. To replace the brush with a new one, pull the brush off by removing the screw. Next, put the new brush in the groove and secure it using the screw.
Never use solvents when cleaning the unit because the plastic parts may get damaged. Instead, use clean cloths to clean away the dust and dirt from the parts. For your safety, remember to wear safety goggles and a dust mask when blowing dust.
Check Price On Amazon
Tips Of Operation To Avoid Injury
Since you'll be dealing with a blade, injuries might happen if you're not careful. To prevent injuries from happening, here are some tips that you can follow.
Make sure that you operate in a leveled saw. The position of the saw should always be on a hard, level surface with a large room for handling and supporting the object to be worked on.
Before you move the unit into another place, make sure that you have turned it off and unplugged the cord from the electrical outlet.
Never use accessories that are not recommended by the manufacturer.
If you want to remove some loose pieces from the saw table, turned off the unit and wait for all the parts to cease moving.
Final Thought
A Ridgid band saw is a great addition to your tool shed because it can be used to cut large pieces of lumber. Its reliability lies on its several features, which includes a cast iron frame, built-in dust port, and micro-adjustable blade. If you're trying to buy one, you can consider this model.