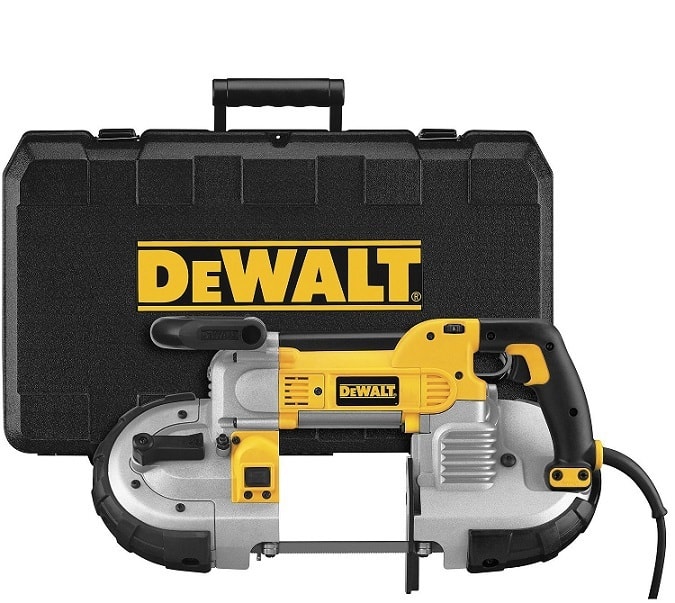 Best 5 Band Saw Roundup – 2018 Reviews and Buying Guide
When it comes to carpentry and general woodworking, the right machines and tools make all the difference. Sanders, drills, and chisels are all frequently used, but saws may be the most central tools.
There are numerous saws you can choose from, each serving their own purpose and today we will talk about band saws. When it comes to any cutting that needs attention to detail and precision, few are better than a band saw.
Band saws come in different sizes, from small Benchtop models to large industrial models. Most have two wheels, one below the work table on which a flexible blade is mounted and the other above. A tensioner and system of guides work together to prevent the blade from buckling or twisting under load.
Types Of Band Saw
According to Massachusetts Institute of Technology (MIT), a band saw is a versatile machine that is made to cut through materials, like plastic, metals, and woods. It also comes in various shapes and sizes, each designed for a special purpose.
1. Portable Or Handheld Band Saw
If you like to carry a band saw anywhere you go or just limited with space, then a portable or handheld band saw would be a suitable choice. This type of band saw shows versatility by cutting materials into straight, curved, or irregular shapes. Such performance is possible with its steady band of serrated metal designed along two wheels.
A portable band saw comes in handy if you'll be cutting a large material that even a regular band saw can't cut. You can also use it on material that can't be brought to your workshop. Due to its stable pressure, pipes and metal can be cut cleanly with fewer vibrations.
2. Vertical Band Saw
A vertical band saw has a blade that is positioned vertically. Normally, this type of band saw is powered by an electric motor. The belt is built to allow speed adjustment while the blade stays fixed as it rotates to cut through the stock. To make the cut, just move the stock against the blade.
Nothing beats the vertical band saw when it comes to versatility. As compared to other types of band saw, the vertical type can cut complicated shapes and lines as well as make precise straight lines. Typically, this band saw is built with brush wheels to ensure that chips don't get embedded in its metal teeth.
3. Horizontal Band Saw
A horizontal band saw is usually mounted on the floor. In contrast to its vertical counterpart, the blade of the horizontal type is positioned horizontally. This machine is primarily used to cut materials to length but maybe not ideal for making complicated shapes.
This type of band saw works more quietly than most saws. Although it may not cut curved lines precisely, it can cut straight lines with high precision and accuracy. The best thing about is it automatically turns off once the cutting is complete.
How To Pick?
Have no idea what band saw to purchase? Then you come to the right place as we'll show you how to choose the best band saw on the market today. For convenient selection, we offer five band saw reviews highlighting each of their pros and cons.
Just like you, I want to have an easy way to cut wood for amazing woodwork. However, if you want to buy a good band saw, you should prepare to spend a bit of money as many of these machines are not cheap. Before you make a big investment on a band saw of your choice, check the guidelines and our reviews below.
Best Band Saw Picks: Comparison Table
Image
Description
Cut Capacity
Dimensions
Power
Price
1. DEWALT DWM120K 10 Amp 5-Inch Deep Cut Portable Band Saw


** Editor's Choice - Best Band Saw **

5 inch
23.5 x 14.25 x 7.94 in
Corded
2. DEWALT DCS371B 20V MAX Lithium-Ion Band Saw


** Best Battery-Powered Band Saw **

2.5 inch
12.2 x 15.4 x 8.7 in
20V Lithium Ion
3. JET JWBS-14DXPRO 14-Inch Deluxe Pro Band Saw


** Best Vertical Band Saw **

12 inch
28 x 29 x 77 in
Corded
4. Rikon 10-305 Bandsaw With Fence
4.63 inch
35.5 x 18 x 13 in
Corded
5. Grizzly G0561 Metal Cutting Bandsaw
7 inch
51.25 x 18.5 x 42.25 in
Corded
Band Saw Product Reviews
#1. DEWALT DWM120K 10 Amp 5-Inch Deep Cut Portable Band Saw Kit
** Editor's Choice – Best Band Saw **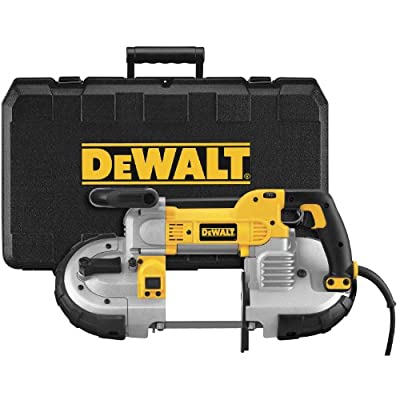 The DEWALT DWM120K cuts deeper than its predecessor, DEWALT DCS371B. At 5-inches deep cutting capacity, this portable band saw is one of the best 10-amp motor designed models in the market now. You can also modify the speed for particular materials by using its variable speed dial.
Built with a steel cover and rubber bumpers, this unit can endure any work abuse. Just like all DEWALT portable band saws, the DWM120K is built with an LED light to allow you to cut even in dark lighting conditions.
Other outstanding features include an adjustable material guide for maximum performance, integrated hook for easy storage, and a 3-year limited warranty.
Pros
Durable and powerful
Variable speed is amazing for cutting various materials
Makes deeper cuts quickly and nicely to steel bars, tubes, and pipes
Great price for its features
Cons
The rubber bands designed around the drive wheels easily slip off
The included blade doesn't cut well
The case seems to be cheaply made
#2. DEWALT DCS371B 20V MAX Lithium-Ion Band Saw
** Best Battery-Powered Band Saw **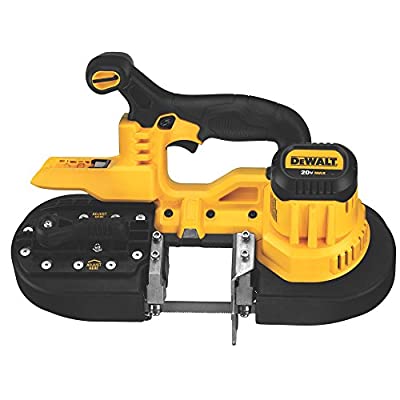 The DEWALT DCS371B is the cheapest model among these five choices. This battery-powered band saw is built with a 2-1/2-inch cut capacity to cut up to two inches of schedule 40 pipes. An ergonomically-designed centered handle position offers excellent balance and less fatigue.
For better accuracy even in dark areas, this portable band saw is made with an LED Work Light. Using its integrated hook, you can hang this anywhere for storage.
Several of its amazing features include a 3-year warranty, a special blade tracking adjustment for better blade tracking, and dual bearing guide rollers for enhancing durability.
Pros
Cuts rigid pipes very smoothly and fast
Has a comfortable handle
Compact and portable
Easy to store
Cons
Batteries and blade guard are sold separately
The blade may only last for a few cuts
Maybe very heavy at first
#3. JET JWBS-14DXPRO 14-Inch Deluxe Pro Band Saw Kit
** Best Vertical Band Saw **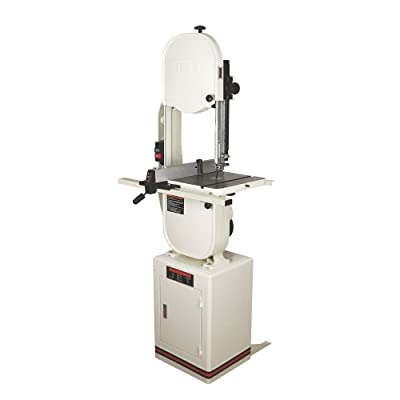 The JET JWBS-14DXPRO is the most expensive band saw model in this group of choices. It's built with a 12-inch saw resaw capacity to cut larger blocks of wood. Just like the Grizzly G0561, the JET is made of durable cast iron. What I'm impressed is its flexible work table that can tilt to certain degrees.
This vertical band saw is so versatile that it can cut small and large workpieces, thanks to its retractable blade. Most importantly, it features great bearing guides to help decrease friction. Other amazing features include a dust port, 5-year warranty, and 1.25 HP motor.
Pros
Very powerful motor
Durable cast iron construction
Versatile and very functional
Features are cut above the rest (e.g. quick-release blade tension, dust port, and blade guides)
Good warranty
Cons
Expensive
The base is not good enough to balance the weight of the saw
Doesn't include a fence
#4. Rikon 10-305 Bandsaw With Fence, 10-Inch

The Rikon 10-305 is made of solid steel, which is more solid than plastic frames. It has a cast iron table which offers a durable work surface. What I love is its nice removable rip fence which can offer accurate ripping operations.
This vertical band saw has a motor of 1/3 horsepower (HP), which can be enough to cut bowl and pen blanks. You may also get a stand to transform this unit into a floor model and a 5-year limited warranty.
Other great features include a 2-1/2 dust port for a cleaner work area, a fence, and a micro-adjustable guide post height.
Pros
Good warranty
Great functionality and features for its price
Small footprint
Works well on softwood and hardwood stock
Cons
The upper guide assembly seems to get misaligned a bit when being lowered
The fence is not adjustable for blade drift
Won't resaw anything bigger than 4-5/8 inches
#5. Grizzly G0561 Metal Cutting Bandsaw, 7 x 12-Inch

The Grizzly G0561 is a horizontal band saw which automatically shuts off after completing its task. It has the ability to cut 7-inch round stocks and 7×12 inches of rectangular stocks.
This mobile band saw features a hydraulic feed control which offers complete control of cutting rate. You can be assured of its durability as its frame and wheels are made of cast iron.
Some other great features include a coolant system to prevent overheating, a powerful 1 HP motor, and quick positioning vise.
Pros
Very durable and strong construction
The quick positioning vise is great for speeding up material modifications
Cuts through steel very well
Easy to assemble
Powerful motor
Cons
The feed cylinder may start leaking after a few years
The manual forgets to mention about the coolant feature
Lacks a slot modification for the motor tension
A bit pricey
When Is A Band Saw The Right Tool?
When Re-Sawing: Re-sawing means sawing a board along its width- it is like cutting a long reel to open it up. By opening, you get two pieces of similar inner faces that are "book-matched." They are so-called because unraveling them is like opening a book. The separated pieces can be used as a panel in a pair of cabinet doors as they create a great effect. They can also be used to make a box where the figure seems to run endlessly around the perimeter. Additionally, re-sawing can also be used to make thinner boards out of thicker pieces. This saves you from using thicker lumber, making the use of the wood economical and producing pieces with steady color.
When Resetting the Edge of a Board: Instead of using the edges of the boards as they come from the mill, it is often better to reset the edges so as to align the piece along its length elegantly. For instance, if you want to glue up a tabletop where you intend to have the edges of the boards coordinating, you need to re-cut the boards before gluing them up. Simply snap a marked line in the location you prefer, and saw freehand at the band saw. This is far easier and safer at the band saw than creating singular jigs at the table saw.
When Making Veneer: Working with thick veneer can help you come up with endless new designs. A board is sawed into multiple thin slices, which are then used as a set of a matched piece such as for a set of curved doors or drawer front faces. This will help you maximize the use of a highly figured board, and add a refined look to your piece. The band saw accomplishes this better than any other tool. With a quality band saw, you can saw thinner veneer.
When Resetting the Face of a Board: If you want to maximize the effects of a board and take more control of the grain in your piece, you need to shape them with curves. When the end grain design is oriented in a specific angle, let's say 45 degrees to each face, you will have multiple faces with a similar figure. You can also maximize the ray figure in specific species by severing to reorient the face of your board. A band saw excels at this sawing, which can elevate the uniqueness of your work beyond the ordinary.
When Processing Small Logs: You can use a band saw as a mini-mill to make small logs, such as those coming from your backyard. When processed on a small scale, this can be an exciting and fun way to discover nature treasures.
When Making Bent Laminations: A band saw is the most practical tool to saw thin laminates that comprises a bent lamination, a technique you can use to expand your design options. Similar to making thin veneer, the seals are sawed in sequence from a thick board the same way ash laminates are made. They are later attached together to a form using glue to produce a bent furniture part.
What To Look For Before Buying The Right Band Saw?
1. Sturdy Frame
To get the best support for the whole unit, you need a strong and sturdy frame. The frame should be durable and thick enough to withstand the vibrations and pressure generated from the machine when in use. The most common frame materials include die-cast, cast iron, and welded steel. If we talk about durability, cast iron is a much- preferred choice.
2. Heavy Wheels
To create a flywheel effect or continuous oscillations, you need some heavy wheels. The internal wheels of a band saw can be made of aluminum or cast iron. Between these two materials, the cast iron is heavier, making it preferable for more consistent cutting performance.
3. Built-In Dust Port
A good band saw should have a built-in dust port so it can keep your workshop clean. This feature works by connecting your unit with a reliable dust collection system. Without dust and debris, your unit will offer constant smooth cutting performance.
4. Removable Fence
For more accuracy, it would be best if a band saw has a fence included. This feature works great for accurate resewing and ripping operations. You should be able to remove it easily to make handwork freely.
5. Warranty
Since you'll be investing a lot of money on buying this equipment, a good warranty is imperative to extend its life further. Most band saws offer 3 years limited warranty, but a longer warranty is more desired. You need a warranty to repair and replace any defective parts for better cutting performance.
Wrap Up
If you are into carpentry or business of cutting wood, a band saw machine is something you should have in your workshop. They are ideal for small workshop use thanks to their low maintenance cost and high level of efficiency.
Based on the band saw reviews, there are several options depending on your need. Listed below is a reminder of our top picks.
1 – Best Overall Band Saw: DEWALT DWM120K 10 Amp 5-Inch Deep Cut Portable Band Saw
2 – Best Battery-Powered Band Saw: DEWALT DCS371B 20V MAX Lithium-Ion Band Saw
3 – Best Vertical Band Saw: JET JWBS-14DXPRO 14-Inch Deluxe Pro Band Saw