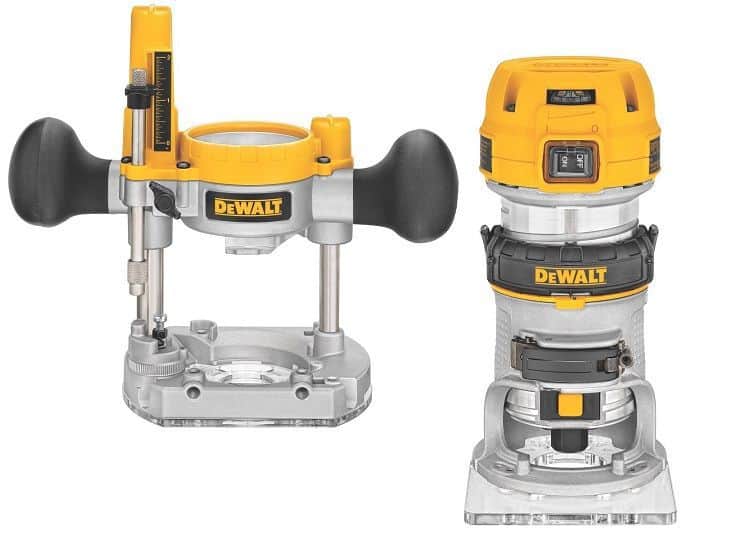 Best Wood Router Reviews 2018
If you're new to woodworking, or just want to get into more advanced work, choosing the right wood router is absolutely essential. Wood routers are used by the novice or skilled woodworker for making holes, trimming, shaping, and cutting the surface of woods.
There are several brands and different types of models to choose from when it's time to select a wood router. In this wood router review, we present everything you should consider to make an educated decision for choosing the best wood router for the money.
The market is flooded with many different models of routers. We have narrowed the choices for you to help with your search. With one of these in your hands, you'll be able to quickly and easily add accents and decorations to the woods that you cannot do with a traditional saw.
Best Wood Router Buying Guide: What to Look For?
When you're looking to make an informed purchase of a wood router, you'll want to keep your eye on a few specific qualities. Different tools are best suited for different jobs, but if you keep these simple things in mind you're sure to end up with the best one for your use.
Soft Start
Soft start is the absolute first thing that a novice wants to make sure they have. The motors in a wood router produce a high amount of torque, but with a soft start, a slightly misplaced hand won't end in ruining your project.
Experienced woodworkers generally want this as well, but it's of top priority to someone who has less experience using these tools.
Horsepower
The power of the motor important thing that many woodworkers will be looking at. Higher horsepower means more cutting power, but it also means the router will be heavier and has more torque.
For most light applications you'll want something under 2 Horsepower, but go over if you're planning on heavy work.
Variable Speed
Variable speed is absolute thing to someone who works with a wide variety of different wood types, especially for plunging applications. If you run things at too high of an RPM, you risk burning your piece of wood, but some harder woods might require it.
Go ahead with a single speed if you have some experience, but you'll be risking damage every time you use a new material.
Base Type
Simply put, even the best fixed base router won't be able to plunge. That's fine for edging applications, and for some light applications you'll even be able to make the starting hole with a drill and drop your router in, but it's completely unusable for some other applications.
Grips
You might be tempted to overlook something of going cheaper, but wood routers can be hard on your hands and wrists. Cheap ones with bad grip will wear you out quickly. A good set of grips is also vital for precision purposes. All you need to remember here is that grips aren't just an aesthetic feature, they're your direct connection with your tool.

Best Wood Router Reviews: Comparison Table
Image
Description
Power
Dimensions
Rating
Price
DEWALT 1.25 HP Compact Router Combo Kit


** Editor's Choice - Best Wood Router **

1.25 HP
8 x 8 x 12.12 in
9.5
Bosch  12 Amp 2-1/4-Horsepower Router Kit
2.25 HP
5.25 x 5.25 x 12.75 in
9.0
DEWALT 12 AMP 2-1/4 HP Router Kit
2.25 HP
6.3 x 6.3 x 12.62 in
8.8
Bosch MRC23EVSK 2.3 HP Combination Plunge & Fixed-Base Variable Speed Router Pack
2.3 HO
6.3 x 6.3 x 11.4 in
8.2
DEWALT DWP611 1.25 HP Max Torque Variable Speed Compact Router with Dual LEDs
1.25 HP
7 x 7 x 13 in
8.4
PORTER-CABLE 690LR 11-Amp Fixed-Base Router
1.75 HP
5.25 x 5.25 x 12.75 in
9.0
Makita RT0701C Compact Router
1.25 HP
6.75 x 6.75 x 13.5 in
9.0
Hitachi KM12VC Variable Speed Fixed/Plunge Base Router Kit
2.25 HP
6.63 x 6.63 x 11.38 in
8.1
PORTER-CABLE 7518 Speedmatic 15 Amp Fixed Base 5-Speed Router
3.25 HP
9.0
Best Wood Router Reviews:
We have presented here, five of the best wood routers available on the market. Each of them is good for a range of things, and also stands out in a specific area.
Find one that will suit your work exactly, no matter what's your experience level!
1. DEWALT DWP611PK 1.25 HP Max Torque Variable Speed Compact Router Combo Kit Review:
** Editor's Choice - Best Wood Router **
The DeWalt DWP611PK is an excellent addition to your line-up of power tools. It's good choice for almost anyone, but novices will find it almost perfect. If you're just starting out and looking for a router that's suitable for beginners, look no further.
This compelling router comes in with 1.25 Horsepower, so it's probably not the strongest one you'll be able to find but it's packed with the features that make it easy to use for anyone just out of the box. The low Horsepower is actually a bonus for beginners, it'll still cut most things in the wood you'll need and it's sure not to fly out of your hands.
The essential newbie-friendly feature here is a soft start although, the router will gradually come up to speed over a few seconds allowing you to adjust your grip. Even a smaller horsepower motor packs a lot of torque, and this can be a bit jarring for a new user.
It also comes with a variable speed, so you'll be able to get the RPMs exactly where you want them in order to get a clean cut. Change the speed between 17,000 and 27,000rpm for a wide array of purposes.
With both a fixed and plunging base router, you can preset the cut depth quite easily. The addition of dual bright LED lights is just a bonus and the user will absolutely love as the option of clearly seeing their workpiece without the need of extra lighting.
There are some drawbacks, mainly for more advanced users. It's a bit light to be suitable for really heavy work. Those who are seeking to use a router table might also not be inclined to make the purchase of this particular router. It simply doesn't have the horsepower most users would want for that kind of work.
That said, it comes in at under 200 dollars and got our vote as a first choice because of price and usability. It comes with a 3-year warranty so you won't have to worry about manufacturer errors causing failure.
The more advanced craftsman will probably want something a bit heavier and more powerful, but the DeWalt DWP611PK is absolutely perfect for a beginner, and within its price range it simply refuses to be beaten.
The Bosch 1617 EVSPK is a powerful, mid-sized router that comes with an impressive 2.25HP. If you're looking for something that's best for workshop applications, this is a respectable choice and might just be the right tool up to your alley.
Apart from the higher horsepower, this product comes with both a plunging and fixed base which offers versatile function. The quick-release function can switch the motor over quickly and efficiently. Both of the bases feature great handles which will allow you to operate the tool deftly.
It also comes out of the box with two different sized collets. With both a ¼" and ½" collet you'll be able to use a wide variety of bits with this model. The more bits you can use, the more function you'll be able to get out of it, and having the extra options makes this one a great way to get your workshop started.
It comes with the normal features to make it friendlier for use as well, including a soft start and variable speeds ranging from 8,000 to 25,000 RPMs. It's not the lightest tool on the market, but for the size and power, you'll find that, it's still easy to maneuver at just under twenty pounds. It also comes equipped with Constant Response Circuitry, which will keep your RPM level stable even when you make contact with the wood you're cutting.
This router is tough and meant for heavy use. You shouldn't have any problems with the longevity of your purchase. It also comes with a one-year limited warranty from the date of purchase, so be sure to register it just in case. Manufacturer error is pretty unlikely, but it's always nice to be well protected. That's why we've selected it in this woord router review article.
The only real drawback to this router is its weight. It can be a bit heavy if you're trying to just free-hand everything, but if you're working on a solid surface it shouldn't be a problem to handle for most competent woodworkers.
When you're using a router in your workshop, but not on a table just yet, you want something versatile and fairly lightweight so that you'll be able to make use of your tool for almost any purpose. The best quality wood router for your purchase might just be sitting in front of you here, and it's available at a fairly low cost.
3.

DEWALT DW618PK 12-AMP 2-1/4 HP Plunge and Fixed-Base Variable-Speed Router Kit:
The DeWalt DW618PK is a superior router for around the home usage. It comes in with an impressive 2.25 Horsepower and makes for a superior, compact wood router for your around the home needs. It offers some of the best quality you'll find anywhere and can make those projects around the home a whole lot easier.
This router comes in with the features that you'd expect in any high-quality tool, including soft start and a variable speed control. The variable speed will allow you to go from 8,000 to 24,000 RPMs in order to match things best with your individual project.
It comes with both a standard and a plunging base. You'll be able to do almost anything you need with this router right out of the box, add in a couple of different sized collects to allow for a range of bits you can use and you are the winner!
For home needs, it's rather important to have a versatile machine that can fit almost anywhere but still has the power to get through tougher woods and let you really make the modifications you need. The DeWalt DW618PK has you covered for home use, whether your needs are aesthetic or strictly practical.
Anyone who's worked with a cheap router knows how much of a pain it can be to clean up afterward, they simply send saw dust everywhere. A dust collection system is a completely necessary feature for any router used indoors, and especially in your home.
While the DW618PK's system won't completely eliminate dust, it can help you keep things down to a manageable level that you'll be able to quickly clean with a shop-vac.
Of course, no power tool is actually perfect. This model is a bit heavy but not unmanageably so. They also seem to have sacrificed some of the durability in order to make a router that's easy to handle and fits the hand well, so it's not suited for a workshop setting where it will see extremely heavy use. It does come with a one year warranty, though, so if something happens quickly you'll be able to get it fixed or replaced.
All said and done, however, the DeWalt DW618PK is the best all around router for home use. If you're looking to buy and need something for occasional use to touch up items around your house, you're looking at the right tool to get the job done. Best of all, it offers a great value for your money.
The Bosch MRC23EVSK is a powerhouse, coming in with a substantial 2.3 Horsepower it's suitable for all but the heaviest tasks you might have for a router. If you're looking for a heavy-duty, durable tool to use for your profession, you could do a lot worse than this unit.
This excellent router from Bosch offers a surprising amount of utility, and it's the best router for router table in order to maximize the use you'll receive from it. It has all the standards allowing for easy use, including ergonomic grips, soft start, and a variable speed motor which can run from 10,000-25,000 RPMs.
It also comes with an always-on LED lighting system. This makes for a fantastic way to keep your eyes on your project without the need for an additional work light.
This router is one of the best heavy duty options available to the consumer. With the high horsepower and Bosch's great quality you'll soon have it up and running. It will be more than ready to tackle anything you might want to throw its way.
Even if you're not quite ready to commit this powerful tool to a router bench, you'll find that it's one of the best combo routers available. This isn't one for a beginner, however, the higher horsepower will lend itself to lots of torque which can make it a bit unwieldy for those who aren't used to using a wood router. The experienced craftsman shouldn't have any issues here, though.
If you are ready to commit it to a bench, though, this is a professional quality tool which is sure to serve you admirably for a long time to come. It also comes with a one year warranty, so you can put it to use immediately and get it fixed in the unlikely event of manufacturer error. Once you have it going, you just might wonder how you ever got by without it.
There aren't many disadvantages to this model except for the fact that it's not the most user-friendly option on the market, and really isn't suited for someone without a bit of experience. It also weighs a bit over twenty-five pounds, so it's not really suited for freehand use by those who aren't sure of themselves.
If you have the experience and the money and you need a tool which is perfect for the professional craftsman, the Bosch MRC23EVSK is a fantastic addition to your shop.
The DeWalt DWP611 is undoubtedly the best router for the money of its type. Coming in at under 150 dollars, it's a compact, high-quality wood router that should set a gold standard for compact routers in general, let alone something in for such a low price.
It comes with all the standard, high-quality features you'd expect: soft start, variable speed, and a motor coming in at 1 ¼ HP. Its construction makes it highly durable, and if you need a compact or trim router on a budget it cannot be beat. It's simply an amazing tool.
Not everyone has a whole lot of money to invest in their tools, and we often settle for something cheap in order to cut costs. With the DWP611 you don't have to make this compromise, and you'll be more than pleased with it's capabilities for all but the heaviest of tasks.
Its light weight and high durability make it an easy-to-use, long lasting addition to the toolkit of the home craftsman. You'll find that it quickly makes tasks that seemed hard with a lesser wood router easy.
On top of being an overall high-quality router, it has a few additional features which make it stand out. One of the best of these is the fact that the clear base will easily allow you to see the piece you're working on. This can be quite vital for truly precise work.
If your workshop has sub-par lighting, you'll also be delighted with the LED lighting. The DWP611 has two powerful LEDs which will allow you to easily see your workpiece in all but the darkest of environments.
If you're an amateur craftsman on a budget and looking for a superior quality wood router, definitely take a close look at this one. If your budget allows, you may want to consider the upgrade, but either is a solid addition to your bag of woodworking tricks.
If you're willing to spend a little bit more, the Dewalt DWP611PK is also available. This package deal is the same router, except it includes a plunge base as well as the standard fixed one. This will allow you a lot of additional versatility for a small increase in cost.
Whether or not you think this is worth it depends on what you plan on doing with your router. Someone who's looking to do more detail work will definitely find it to be worth the additional cost, but if you're just planning on edging it's not really necessary.
6.

PORTER-CABLE 690LR 11-Amp Fixed-Base

Router

:
Whether you love to show your artistry by building some workpiece or mending an existing stuff, PORTER-CABLE 690LR wood router would greatly fit your toolbox essential. Starting from the common uses like decorative edging and trimming, this router can do more than what you can expect from a fixed-base one.
It's also worth noting that accurate cuts within no time will be a regular phenomenon when you'll start working with its 11-amp and 1- ¾ HP motor. Some other brands will restrict you from experiencing smooth routing for an extended period. But this 8.0 lbs. model has got 2 ergonomic handles deliberately designed to prompt comfy and smooth performance.
As an added trait, the kit embodies collets to make the working process less complex. However, one thing to bear in mind, the collets receive only ¼ inch and ½ inch shaft bits.
While operating a router, the work flow, i.e. the continuity is the thing that the carpenters or passionate DIYers look for. Luckily, this 12.0 x 5.50 x 8.62 inches tool owns the cam-lock lever. This feature allows uncomplicated coarse height settlements so to run your work unfluctuating.
Aiming for exactness during bobbing is not a new thing. Its micro depth adjustor works really well in terms of making sharp curves within 1/128 inch.
Toughly structured, this aluminum motor housing and foundation become more effective in keeping your work zone fresh. No doubt, its dust sealing parts- the switch and ball bearing- have practical value.
These segments also protect the whole device from the ensuing ravages of time and make it ready for productive use in the industrial territory as well. Best of all, it conveys a 3-year limited warranty, a 1-year agreement for free assistance and 90 days money back guarantee.
7.

Makita RT0701C 1-1/4 HP Compact Router:
Makita RT0701C is hands down one of the best performers in the wood router industry. It's lightweight, well-schemed and finely assembled. In fact, its 10 x 8 x 6 inches framework is the ideal size for travelling in-between places.
The changeable speed limiter in it allows you to adjust the speed according to your requirement. Capable of adapting 10,000 to 30,000 RPM, it grooves more evenly than the other brands can.
The quick release cam lock system is the most convenient to use when depth adjustment is the issue to deal with. During the base mounting or removing, you'll also see this system very much pragmatic.
If you're willing to get a tool that can assist you to trim the hard to reach areas, purchasing this one won't be a regrettable option. Because pairing it with the offset base, you're allowed to route as close as ¾ of an inch of the wall.
The supplements included with the package are ¼ inch collet and straight guide. Besides, the template guides that the device takes are of industry standard.
Comparatively more powerful than any other router coming with the similar price, it's the best device when you're willing to develop quintessential profiles. You can create bull nose profiles, classic and corner beads with it.
Talking of versatility- using this apparatus, you can trim or make designs on laminate as well as wood materials. But what will impress you most is the gentle rack and pinion- a serviceable feature to provide precise depth adjustment.
Last but not the least, longevity is induced in the product by manufacturing the motor housing with sturdy aluminum. So, whatever you're planning to do, be it a dadoing, inlay pattern work or mortising, the Makita RT0701C would be your best and affordable companion for years to come.
8.



Bosch MRC23EVSK 2.3 HP Combination Plunge & Fixed-Base Variable Speed Router Pack:
While buying a router, choosing one option from either plunge or fixed base has become old-fashioned. It's high time you upgraded yourself by accepting Bosch's great invention Bosch MRC23EVSK – a router with both preferences.
As for other features, you can access to the trigger control while using any of the bases. So, the idea of having a power switch in their handle is no wonder of course.
Creating accurate cut again and again with this router will never be tiring to anyone. Because its 2.3 HP 15-amp robust motor supplies ultimate strength to the device. Similarly, the adaptable speed setting makes every cut creation easier following your need. What's more, the stable response circuitry along with the soft-start trait relieves the user of the stress of excessive work.
Surprisingly, Bosch's offer doesn't rest here. The soft-grip handles have been engineered to ensure ceaseless ease of control even after continuing the task for a longer period of time.
As an added feature, it includes the always-on dual LED lighting that helps you get a better view of the cutting line. Witnessing the bit area with that brightness is not an impossible thing either.
Some woodworkers view the firmness of motor while adjusting cutting depth. Featuring the cord swivel, this kit prevents such unwanted rotation. A great relief indeed!
Extensions that accompany the motor with its fixed and plunge bases are listed here- a ¼ in. and a ½ inch self-releasing collet, a hex and two-bit wrenches and three M4 screws (that you can use to ascend the device on the table top).
Apart from all these a carrying case comes with it to make your transporting the router easier and secured. Above all, you're going to enjoy a 30-day money back guarantee as well as a 1-year warranty against the manufacturer's fault.
9.

Hitachi KM12VC 2-1/4 Peak HP Variable Speed Fixed/Plunge Base Router Kit Review:
In the market for a new router? Which one you prefer- fixed or plunge base? We know that buying two routers with different base system will loosen your wallet's health. Fortunately, Hitachi has landed like an angel to provide you with the convenience of both bases.
So, completing your tool collection with Hitachi KM12VC means a master solution to all problems related to trimming or remodeling. Depending upon your need, you can use them interchangeably.
Its 11-amp motor has Hitachi's electronic speed control in possession. What's special about it? Its revolutions per minute won't alter with the changes you make during your forming well-ordered pattern cuts.
Unlike other routers, Hitachi KM12VC isn't synonymous with high volume noise. To provide you with a serene routing performance, this model yields just 79- ½ dB sounds. This tolerable limited noise, thankfully, intimidates unnecessary trembling. Ergo, without missing the mark, it ends up dispensing clear and accurate chamfering that results in refined and meticulous grooving.
Since it comes with two distinct base choices, the question of delay arises while switching from fixed to plunge base and vice versa. But accompanying a 2-stage motor-release clamp, maintaining rapidity in swapping between two options is a snap. Appreciably, this feature seems relevant while you need to adjust the depth of the cuts too.
The router shows adaptability in receiving the bits measuring ½ and ¼ inches. And you would be delighted to know that the package comprises the collet chuck. So, changing the bits wouldn't be a nuisance anymore.
Fashioned for easy transporting, the fixed base is kept only 7.3 lbs. and the plunge one only 9.9 lbs. Plus, to make your moving with these bases from one place to another relatively trouble-free and undamaged, a protective case comes with the package.
A lot of accessories such as ½ & ¼ inches collet chuck, 7 template guides, 16-mm, 23-mm & 10-mm wrenches, lock nut, 4-mm hex-bar wrench, centering gauge, 10 hex socket HD bolt M5x10 etc. have made KM12VC motor's (with Fixed and Plunge bases) price tag reasonable.
10.

PORTER-CABLE 7518 Speedmatic 15 Amp 3-1/4 HP Fixed Base 5-Speed Router Review:
Thinking of purchasing a wood router that will be able to keep up with your obsession for speed art? Then you'll find no other model but PORTER-CABLE 7518 best to suit your skill. Its 5 different speed variations ranging from 10,000 to 21,000 rpm will allow you to nab any speed you prefer.
Sophisticated design on woodworks demands spending a lot of hours. Hence, a lot of cognoscente usually feel discouraged to give the touch of aestheticism in their woodwork. But with this router forming deep cuts accurately is a task of few moments.
You'll like its soft-start trait which allows you to enjoy slick operation from the very beginning of your handwork. The logic behind such ease is the decreased amount of torque. The best part about its 15-amp motor is that it can assert perpetual speed under load.
Economize your time as well as effort with the auto-release collet system. It helps to eradicate the bits after the completion of the project.
When you look at the motor housing and base, you'll be astonished to see its aluminum structure. Evidently, it not only lends sleek outer look but also boosts the whole set with an excessive amount of endurance to fight coarse or uneven situations. So, be sure to the fact that this tool in your kit box is a long-term investment.
In preserving the essential constituents from unwanted dust particles, the contribution of tight ball-bearing design is priceless.
However, if you still find the product less satisfiable, consider PORTER-CABLE's 5-year warranty upon this gracefully designed router. Hopefully, you'll start talking high of the product like many of its previous users.
This 11 x 7 x 11 inches fixed base router weighing 14.5 pounds comes with a bunch of equipment- a motor, a ½ in. collet, a collet wrench and the instruction book. All these make your act of carpentry hassle free and you can start trimming with it immediately after receiving it at your doorstep.
Types of Wood Router
The router might seem like a relatively simple device, after all, it's just a motor attached to a shaft which holds cutting bits, right? The thing is, these simple tools are used in a huge variety of applications and come in more specializations than you'd think at first glance.
There are three main types of router which you'll want to be aware of:
Trim Routers
Trim routers are the smallest of this family of multi-use tools. They typically come in light horsepower and don't always have a plunge base available. They're mostly suited for edge work, and a beginner in woodworking will definitely want to start with one of these.
The best one we've reviewed here is definitely the DeWalt DWP611PK, it's suitable for any light purpose and any user no matter their level of previous experience. It also comes with a combo of base kits, so you'll be able to get more versatility out of the tool. This is the reason why we have selected it in this woodworking router reviews guide.
Mid-Sized Routers
A bit bigger than trim routers, but smaller than the full sized ones. These are primarily useful for work in the medium range of things and make for a great tool for your workshop or around the home. They're able to handle more work than a smaller router, and most are even suitable for table mounting if you want to go that way.
The best one of the above is the Bosch 1617EVSPK, it's durable, sturdy and has a manageable weight. If you're starting to get serious about using a router, it's the product for you.
Full Sized Routers
These are the big workhorses that novices should definitely stick clear of. Most of them are heavy enough to be a bit unwieldy for free hand use, although some of the smaller models might still be able to be used freehand over a solid workbench or table. In reality, though, these are best mounted on a router table in order to be able to maximize their potential.
The Bosch MRC23EVSK is a fantastic option if you're going to take the leap and get a full sized router. It comes in light enough weight to not be unrealistic to use freehand, but once it's mounted to a table you'll be able to quickly and easily do whatever you may need.
Base Types
There are two options available for routers when it comes to the base, although plenty of routers come with interchangeable bases. Make sure that you have the one that's most suitable for your uses.
Fixed bases
are primarily used for edging applications since you can only move the bit up and down by changing the height of the base. They're fantastic for most easy, around the homework but fall a bit short when it comes to some applications.
They can hold a precise depth quite a bit better as well since you won't have to worry about accidentally pressing too hard and changing the height your bit is at.
Plunge bases
Plunge base are much more suitable for work in the "interior" of a piece, and allow for a greater variation of techniques when it comes to cutting depth. They can be a bit more difficult to use as well, but its well within reach of a few hours of practice for even the most inexperienced woodworker.
If you're not quite sure which type of base you want, you'll be glad to know that there's a ton of combo kits out there that will let you quickly and easily change the motor between bases as your needs may dictate.
Related: Best Wood Lathe for the Money
Picking the Right wood Router for Yourself
Now that we've got the basics covered, let's talk about how exactly to pick up the best wood router for your purposes so that you don't have to make a costly mistake. It's easy to just list the different variables that go into making a tool, but it can be a bit different trying to tie everything together.
First, you'll need to consider your applications. If you're looking to start building a whole new ​home accessories set, your needs will be completely different than someone who just wants to clean up a bit of wooden or laminate paneling.
For paneling, or even just making a nice edge on a piece of wood for a project, a trim router is the way to go. Don't be fooled by it being the "smallest" of the bunch, trim routers are still extremely powerful and versatile tools.
If you're planning on running grooves or notches into the piece you're working on you'll also want to get something that comes with a plunge base.
If you're starting to get into woodworking in a big way, your best bet is something heavier. Plunge cutting functions are even more essential here, and you'll want heavier horsepower to handle hardwoods with ease.
Variable speed is another important piece of this puzzle, a lot of us work with different types of wood even within the same project and each different variety will have different tolerances before it gets damaged. The greater control over your speed can help keep things clean and unblemished as you go.
Of course, a lot of us still need to keep on budget. If you're not dead broke, you may still want to avoid dirt cheap options, replacing a $100 router three times a year still costs more than buying one that costs $250 once.
The latter is also likely to last for a long time to come. Price is certainly an important consideration, but try not to go too cheap or you'll just end up with junk.
Wood Router Accessories
Anyone who uses power tools on a regular basis knows that the cost is rarely just the initial investment. You'll often end up needing specialized components to keep you going through all the functions you need to take care of.
Woodworking routers are no exception, but let's break things down a bit and talk about the kinds of things you might be interested in.
Router Bits
The bits for routers come in an absolutely huge variety. They range from things as simple as differently sized bits for grooving, to specialized bits which are used to make amazing, complex edges with a single pass.
Try to avoid high-speed steel bits, they simply don't stay sharp for long. The ones that you definitely want to keep an eye out for carbide edged ones, these will last for a long time and stay sharp with proper maintenance.
Router Tables
For the serious woodworker, a router table is essential. They come in a variety of sizes, so pick one that'll fit your needs and budget. They'll invert your router and allow you to gain a level of function you simply aren't able to achieve if you're still holding the tool in your hands.
Buying a router table is one of the fastest ways to improve your ability to modify and shape pieces of wood in your workshop and the investment is always well worth it.
Jigsaw and Guides
Jigsaw and guides are important for times when you need to make precision cuts. There's a large variety of high-quality ones available. Guides are generally used to keep edges straight, particularly for interior work, while gas chainsaw are for getting the joining edges of a project perfect.
If you're the type who loves antique techniques like dovetails, these accessories can make sure that you get the perfect cut every time.
D-Handle Bases
Most routers with an interchangeable base have a D-handle variant available for use. If you're working freehand often, you might just find one of these to be a great investment, as they allow for a unique grip that allows for a wide variety of techniques which can be hard to achieve with normal grips.
Wood Router Maintenance: Tips For Better Service
Just like any other machine that uses power, it's always recommended that you take great care of your wood router. This enables it to perform well at all times- to continue creating carpentry wonders- and for extended periods of time.
The following maintenance tips for the wood router will help you keep your valuable investment at its best always…
PS: before you carry out any maintenance routine on your wood router, ensure you unplug it from the power for your own safety.
Wood Router Maintenance Tips:
1. Regularly Inspect Your Router
Proper maintenance of your router starts by conducting a thorough inspection on it to establish the presence of any damages.
Assuming you've already unplugged the machine, start your inspection with the blades. If you come across any damages blade, replace it ASAP. In case of loose blades, don't hesitate to tighten them on the spot. When doing the blades inspection, you'd want to be extra careful to avoid hurting your hands.
You should focus your inspection on the cables. Check the entire lengths of the cables to see if there are any damages present and fix them on the spot. Try turning and twisting your cables- inch-by-inch- to easily discover damages that your eyes might not easily spot.
In case of a damaged cable, you can opt to replace the whole of it or by cutting out the damaged part and replacing it with a piece of a similar color.
2(a). Give The Machine A Thorough Clean
Yes, you heard it well; for your machine to reach its maximum potential, you'll also need to clean all its part.
The process is simpler than you can think and doesn't involve the soap and water combination. You just grab a pressurized air can (or a blow gun) and start pushing out all the dirt, dust and sawdust pieces present on the tool's surface as well as on all its interior parts (including the plunge, motor, and collect).
To ensure you entirely remove the undesired elements from the inner compartment of your router, consider unscrewing it first (consult your user manual on how to dismantle your machine easily. And ensure you store your screws in a safe place).
Did you know that accumulation of dust, dirt and other particles into the interior of your machine leads to overheating of your machine?
Don't skip this vital step of cleaning your machine.
(b). Clean The Collect Too
As you know, the collect play an essential role in holding your router bits. Thus, it also needs special care.
Ensure you clean it as well; use a nylon brush or small brass to clean its interior as well as all its outer parts. You can also dip into a solvent solution to help soften all the dirt and dust that has accumulated it.
Remember that accumulation of dust and dirt in your collect gives you a hard time removing the bit and the collect.
3. Keep The Blades Sharp
As an experienced carpenter, you already know that any wood cutting machine has blades that get dull with time due to the cutting friction.
If you don't check your blades and sharpen them regularly, they'll not give you the fine and smooth cuts you expect. Besides, dull blades pose a hazard to you.
So, how do you maintain the sharpness of your router?
You just need to sharpen your blades (look up your manual for a procedure on how to do this).
If your blades have lost their effectiveness, however, you can go ahead and replace them with new ones to continue getting the best out of your wood router.
4. Inspect Your Wood Router Brushes
After you're done with the blades, go straight to the brushes…
Open the brush compartment in your router and carefully inspect them. Look for any signs indicating they're losing effectiveness. For instance, if you discover that the motor produces sparks when the router is running, that's a red flag! You'll need to replace the brushes immediately.
Ensure you regularly visit your brushes to see how they're fairing.
Discovering the brushes are malfunctioning at the last minute or the middle of the job isn't a good experience.
5. Lubricate ALL The Moving Parts
Another critical step in the maintenance of your machine involves lubricating its moving parts. This ensures that your machine operates smoothly.
Lubricate the blades and all the mechanism surrounding it as it's crucial for the blades' proper functioning. But don't pour your lubricant all over the place…a better way to do it involves applying the grease on a small cloth and applying it on the inner circles of your blades.
As a side note, avoid using inappropriate lubricants on your tool as they might result in damage. Use the lubricant recommended for your specific router.
You might also want to use some rust prevention spray on the moving parts to keep off corrosion from damaging your machine.
7. Store Your Machine Correctly
Lastly, you'll need to store your machine correctly.
This is the easiest step and involves storing your machine properly and securely. Be sure to store in a place that's free of dust, dirt and even rust.
Ensure the place you store it in is also completely dry.
If you keep your router in such an environment, you can rest assured that it'll maintain its quality and functionality even after many months (or even a year) after staying idle.
Bonus Tips:
Frequently Asked Questions About Wood Router
Question: How many wood routers do professional woodworkers need?
Answer: As it's a power tool for workshop, it quite depends on the variation of works. In a general sense, a professional woodworker needs two or three wood routers, based on the horsepower or base of these.
Question: How can I find various bits for my router?
Answer: In practical sense, you may need an unlimited number of bits in order to work with woods. A better idea is to partial profile of two or more bits. But applying partial profiles of bits, you can literally create an unlimited number of bits for use.
Question: How can I reduce router tear outs?
Answer: This had been quite a problem for woodworkers around the globe. The first advice against this would be to buy one router from solid brand. Secondly, you can try by reducing the frequency at which such tear outs occur.
Question: How can I find the right rotational direction of my wood router?
Answer: I have seen this mistake in many of the users who buy a wood router for the first time. What you can do to avoid misdirectionrotation is to rotate the router against the rotation of the bit. This would also give you full control on the job.
Question: How to deal with narrow and small moldings?
Answer: While you are working on narrow or small moldings, it's hard to save it from chattering. Advice is to rout the profile on a wide board. It will be safer and wider. You can cut off the edge with a table saw later on.
Question: How can I do with a damaged power switch of the router?
Answer: Routers from reputed brands are quite durable in performance. But the power switch seems to be a problem for many of users. It happens when the on/off switch wears out, and you should immediately replace that.
Top Wood Router Brands Currently Available on The Market
1. Dewalt
In the world of tools and handyman supplies, Dewalt is one unbeatable brand. They use to produce a lot of tools including wood routers. They are made in such a way that they ensure optimal safety and flawless performance. From experts to novices- everyone puts a smile after their experiences with the brand.

Here are some of the popular wood router models from Dewalt-
1. DEWALT DWP611PK Variable Speed Compact Router
2. DEWALT Router DW618PK Plunge and Fixed-Base Variable-Speed Kit
3. DEWALT DWP611 Variable Speed Compact Router with LED's
4. DEWALT DW618B3 Plunge Base and Fixed Base
5. DEWALT DW618 Variable-Speed Fixed-Base Router

2. Bosch
Based on the variation of usage, Bosch had been the most favorite brands of woodworkers worldwide. They are good in horsepower, soft in the start and offers a lot of variants in bits. The routers from this brand are both Based-Plunge and Fixed-Base type. So, from a wide list of products, you can choose your own.
Let's have a look at the most popular models of Bosch wood routers-
1. Bosch 12 Amp 2-1/4 Combination and Fixed Base Variable Speed Router
2. Bosch MRC23EVSK 2.3 HP Combination Plunge
3. Bosch 12 Amp 2-1/4 HP Variable-Speed 1617EVS
3. Hitachi
Hitachi had been one of the brightest stars of the universe of tools and kits manufacturing. For 15 long years, they had created some of the finest handyman kits ever. Some of my favorite wood routers come from this brand. They are good for the price, are for professional uses and rich in features.
Some of the best Hitachi wood routers are-
1. Hitachi km12vc
2. Hitachi m12v, 3 ¼ hp, plunge router
Others
Apart from the above mentioned three, there are numerous other brands such as Hiltex, Makita, MLCS, Porter-Cable, etc.
Final Verdict​​​​
Regular maintenance of the best wood router is a necessary ritual- regardless of whether you use it for carpentry or recreational work. The maintenance process involves paying attention to all the parts that make up your router, ensure all of them function well.
The critical maintenance tips I've just shared with you in this article will help you sufficiently take care of your machine and keep it functional for many, many years to come.
Remember to unplug your router before you start the routine maintenance.
Check the manual for additional maintenance tips specific to your machine.