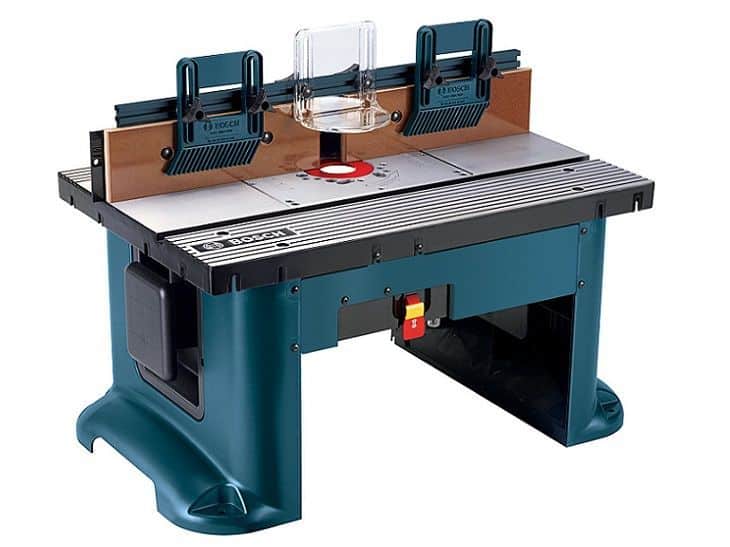 Best Router Tables: Reviews & Buying Guide (2018)
The purchase of a wood router is generally the first step most amateurs take when getting into woodworking. The next step is getting a router table to use as a stationary tool which makes a whole lot of things possible that you'll never be able to do freehand.

With one of these vital tables at your disposal, you'll easily be able to perform tasks you'd never dream of with the router held in your hands. Take your hobby to whole new levels with the addition of the best router table on the market.
In addition to safety and simply making some tasks easier, a dedicated router table can be absolutely essential for some types of woodwork, including shaping the edges of wooden pieces and planning perfect edges and grooves into boards. The cost of entry is pretty low, so why not keep reading and find the perfect table for the money!
What Is A Router Table And Why You May Need It?
Woodworkers need to be precise in their work and a router table aids in that. It is basically a stationary machine with a flat bottom and a spindle right in the middle of it. This spindle is vertically oriented and spins at a high speed.
The bits and heads of the router are mounted in the spindle chuck located on the workspace. A piece is fed in the router and the cutter helps to create its profile. The workpiece also has a vertical fence for precision and accuracy of cuts.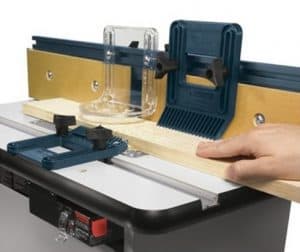 In the beginning, router tables were simple and basic. Their only purpose was cutting and there was no rocket science involved in learning how to use a router table. Now, these machines are extremely advanced, come in many types and with various accessories, and are a great addition to any workshop.
Here are a few reasons why every woodworker should buy the best router table for the money –
Working With Stocks Of Any Shape – A lot of woodworkers use a handsaw to cut their stocks. This works well for a beginner. However, as a woodworker grows in skill and attempts bigger and better things, the hand saw can seem a bit lackluster and ill-equipped for the job.
This is particularly true for stocks that are not of the perfect shape – they are too narrow, too small or too long. In order to cut these stocks in a precise manner, the woodworker needs a router table.
Working With Templates – The importance of precision in woodworking cannot be emphasized enough. It is what makes woodworking such a controlled art. One of the things woodworkers have to work with are templates. The best router tables currently available in the market make this job a lot easier.
The workspace is stable with great tables and this makes working with templates not only precise but also, a joyful activity. The added precision is just a bonus that can be seen in the final results.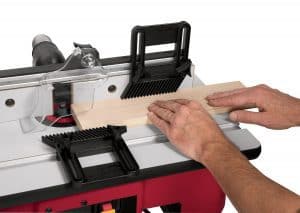 Working With Different Cuts – When a woodworker begins the work on a project, they do not think about the cuts from the get go. Why should they? The project and the final results are all that matter.
However, when the initial planning begins, that's the point where the discussion and the choice between cuts surfaces. Certain projects have dadoes, others have stopped cuts, some others have slots or grooves. A router table allows the woodworker to comfortably account for all these cuts.
Working On Joints and Locks – Some projects need the woodworker to go the extra mile. Especially if a woodworker is making a living out of their creations, the work needs to look professional. People go to woodworkers because they have an idea in their head and need the final results to match that idea exactly.
Even for hobby woodworkers, there are projects that need to be beautiful and elegant at the end. These projects often make use of drawer locks, finger joints, and dovetails. With a best value router table, achieving these is a breeze.
Best Router Tables for the Money – Comparison Table
Image
Description
Dimensions
Weight
Price
Bench Dog Tools 40-102 ProMax Cast Iron Router Table


** Editor's Choice - Best Router Table **

32.2 x 21.7 x 5.1 inches
60.8 pounds
Bosch Benchtop Table RA1181


** Best Value Router Table **

27-inches wide by 14 1/2-inches high by 18-inches deep
30 pounds
Bosch Cabinet Style RA1171 Router Table
25-1/2 x 14-1/2 x 15-7/8 inches
42 pounds
Kreg Bench Top PRS2100 Router Table
19.2 x 30 x 4.8 inches
28.4 pounds
Bench Dog ProTop 40-001 Benchtop Contractor Router Table
24 x 16 inches
40 pounds
Kreg PRS1045 Precision Router Table System
41 x 32-1/4 x 24 inches
85 pounds
SKIL Router Table RAS900
27.7 x 17.7 x 9.5 inches
32 pounds
Craftsman Router and Table Combo
334 square inches
28 pounds
MLCS 9767 The Flatbed Horizontal Router Table
26.5 x 20.5 x 7 inches
31.6 pounds
Grizzly Router Table G0528
Main table surface: 30 3/4" x 9 7/8".
Sliding table surface: 30 3/4" x 12 1/4"
102 pounds
Trim Rockler Router Table
3/4'' x 11-1/2'' x 15-1/2''
6.7 pounds
Best Router Table Reviews:
We're here to show you some of the great options available on the market today. One of these is sure to meet the need of every carpenter, professional or amateur.
1. Bench Dog Tools 40-102 ProMax Cast Iron Router Table Extension
** Editor's Choice – Best Router Table **
For those who are more serious about their work, but also want to save on some space, the Bench Dog Tools 40-102 is one of the best products you'll be able to find. This router table expansion hooks onto your existing table saw and provide a sturdy cast iron surface to work on.
Less Maintenance Required
While it's a bit heavier than the normal aluminum, the cast iron surface offers some surprising advantages. Aluminum has a tendency to burr, and if you're working on a piece that's already been sanded or stained these burrs can create unsightly scratches.
You simply won't have to worry about the extra maintenance step of making sure aluminum is smooth with a cast iron top.
Fence
The fence is also covered in wood, so you can slide without worrying about troublesome damage to your product. It's simply a well-engineered extension to the capabilities of your shop, and it's sure not to let you down.
Table Saw Connectivity
The most attractive part of this table is definitely the ability to connect to a table saw. This makes it the best for a small shop without a doubt since you'll be able to take it off the saw and stow it away easily. Depending on your personal storage set-up, this may even save more working room than a bench router table. Attractive and low profile? Yes, please.
What's really great about this extension is that you can even get some extra space for your table saw. This table has the capability to increase the versatility of two of your power tools at once. It's made of the highest quality materials as well, leading this to be one of the best options.
Versatility
It might also be best for home use as well. A lot of people who are handy around the homework out of their garage, and the modular design recommend it. You can easily move it around depending on what you're working on. This one's sure not to let you down whatever you're doing.
The point is that the Bench Dog 40-102 is simply a fantastic expansion to two of your favorite tools. With one of these you'll be able to use both in a fashion that's much better than before, and the capabilities of your workshop can be greatly expanded with a single purchase. If that isn't a great argument for making this your choice of router table, I don't know what will!
[su_list icon="icon: check-square-o" icon_color="#e05c00″]
Especially For Table Saws – This table is especially meant to be used with table saws and it also has an excellent compatibility record with most table saw models.
ProFence Feature – The ProFence feature is one of the best fencing features in the market which offers multiple side working capability and enables quick dismounting for the router.
Sub Fences Made From MDF – Alignment and support is greatly enhanced because of the tool free adjustment of the sub fences that are made from MDF.
Good for Small Spaces – If you have a small workshop and are looking for something compact, you should look no further and get this extension router table by Bench Dog.
[/su_list]
2. Bosch RA1181 Benchtop Router Table Review
** Best Value Router Table **
The Bosch RA1181 is possibly the best portable router table for the money. It'll easily accept a Bosch router or a DeWalt router, or really pretty much anything. It's obviously best suited for Bosch products, but don't be discouraged if you own a different brand as you'll be able to fit almost anything.
Whatever you're working on, whether it's designing a frame or engaging in a niche hobby like guitar making, this router table will be a welcome addition to your workshop. There's definitely a reason why this is the best-rated router table around.
Suitable for Most Home Use
It's a solid piece, there's no question about it. It also offers a pretty impressive work surface of 27" by 18" so it's suitable for most home use.
The work surface itself is made of aluminum though, so be sure to periodically check it for spurs that may scratch the wood you're working on. A few seconds with a fine metal file will easily sort it out though and as long as you stay aware you're unlikely to do any serious damage.
High Quality Fence
The fence was obviously well thought out and makes for a fairly unique look as well. The aluminum gate is high so you'll be able to easily finesse taller pieces of wood.
The real draw here though is the MDF front to the fence, which will allow you to slide pieces along without even thinking of picking up a scratch.
Accept array of Accessories
The RA1181 router table is simply a fantastic buy for the money. It even has some awesome extra features like dual-vacuum ports for the best dust removal you'll be able to get. If you're serious about your woodworking, you'll be glad to know that this router table also accepts a bewildering array of accessories to make your work easier.
Warranty
Bosch offers a year warranty on this product as well, so you'll be able to be assured that any manufacturer error is covered. There's also a 30-day money back guarantee for those who aren't sure it'll meet their needs.
The Bosch RA1181 really is one of the best bench top router tables you'll ever find. If you're looking for a router table for home, there's no excuse not to just order this one now. Once you have it in place in your home workshop you'll come to regard it as essential.
[su_list icon="icon: check-square-o" icon_color="#e05c00″]
Great Size – The size of this router table is ideal. It measures 27×18" which makes it perfect for any project.
Aluminum Body – The body is extremely durable because it is made from aluminum and so are the other parts including – mounting plate, 4 ⅞" fence, and ¾" slot. This also ensures that the router is fit for wear and tear.
Dust Port – This model comes with a dust post measuring 2 ½" and there for collection of dust.
Storage Pocket – A great feature of this router board is the storage pocket that can keep all the accessories and bits of the router in one place.
[/su_list]
3. Bosch RA1171 Cabinet Style Router Table Review
Those of us who are familiar with Bosch will be pleased to know that there's a cheap and high quality router table they offer for the carpenter on a budget. The Bosch RA1171 isn't quite as awesome as its cousin but it's the best option for the amateur with a tight budget.
Cabinet Design
This one has a cabinet design, which makes the surface a bit less steady than something with some good, strong legs like the Bosch RA1181.
That's not to say that it's unsteady, but for heavier use it's generally preferable to have the contact area of the router table with the bench to be outside of the bench itself with outward leaning legs.
Lower Price
The design of up-top is quite similar to the other offering from Bosch. The biggest problem here is that it simply isn't as durable.
You're sure to receive use for years out of it, but it's not the kind of router table which is destined to last a lifetime. If you're not using it on a constant basis though, the lower price point may make it an attractive option.
The main draw here? The Bosch RA1171 comes in at under $200, which is a cheap price to pay for the amount of use you'll get out of it. It's perfectly suitable for cabinet making or any other task you set your mind on. For the woodworker on a budget this is the one to buy.
Dust Removal
It's compatible with a few accessories as well as possessing twin vacuum ports which will allow you to remove the dust generated by your router quickly and efficiently from the surface and air. This is especially great for those who prefer to work indoors, as you'll be able to breathe and see a lot easier during longer jobs.
Even better, it might actually offer more dust collection capacity than the RA1181 due to the cabinet design which makes the whole process more efficient.
Finally
If you take care of this piece of equipment, though, it's sure to become a favored part of your tool kit. Only a professional should steer clear of this one, it's suited for almost any hobby or home use. If you're just starting, you're destined to go through a few tables over time anyways so why not get something high quality for cheap?
If you're looking to take your carpentry to the next level without putting a hole in your wallet, the Bosch RA1171 definitely has you covered.
[su_list icon="icon: check-square-o" icon_color="#e05c00″]
Great Compatibility Score – If you are worried about your router not being compatible with the table, you can go for this one because it has an excellent compatibility record with most models.
Cabinet Design – The cabinet style design looks extremely good, especially considering the price of this table, but what makes it really impressive are the adjustable plates and the aluminum fencing system.
Dust Port – The dust port is a handy feature that ensures your router table is always clean after the most vigorous of woodworking projects.
Dual Outlets – This table comes with a power cord that is 6 feet long and it also has double outlet switch that enhances the safety of this table.
[/su_list]
4. Kreg PRS2100 Bench Top Router Table
The Kreg PRS2100 is probably the best small router table you'll find anywhere. It's sure to fit into all but the smallest budget as well, since it comes in at under $300. It is the affordable one on this list, but that's for good reason.
Work Surface Design
The work surface of this one is composed of MDF, and so is the fence guard. What does this mean for the user? A smooth, burr free surface which will allow you to easily move your work piece over the router bit without fear of scratching. That alone would make up for the increased cost of entry, but there's a bit more.
What is the Drawback?
Before we continue though, there is one drawback to this router table. The work surface is a bit smaller than the other options, measuring only 16"x 24". If this small size makes it unsuitable for your intended projects, you'll have to look elsewhere but for the vast majority of home carpenters this might just be one of the best options around.
High Quality Materials
They didn't skimp on the materials here. The stand is made of high-quality steel, meaning there's pretty much no fear of structural damage here. The paint should also keep unsightly corrosion away from the table for a long time to come.
It also comes with a set of high-quality levels that will make sure that you get the perfect angle when you mount your router. If you're mounted level, you're sure to make the cleanest, most precise cuts which is especially valuable for joinery.
Smooth Performance
This one might just be the best for beginners as well. Experienced craftsmen are often used to with the quirks that come with having a metal top and unconsciously compensate for them, but with the MDF surface, each and every piece will slide smoothly every time.
Dust Collection Port
It also has a dust collection port, which can make the entire affair much more convenient. There is a lack of storage, however, but that's a small consideration in the grand scheme of creating your amazing home workshop.
It may be a bit more costly, but some of us don't consider our workshop's vital inhabitants as toys. Making the investment in a high-quality router table is… well, it's an investment. The dividends will pay you back in ease and amazing projects.
That alone is enough to make a bold argument for the Kreg PRS2100. Your workshop deserves only the best, and this is it. Don't hesitate.
[su_list icon="icon: check-square-o" icon_color="#e05c00″]
Extra Large Top – The top is quite large at 24×16" and even if you have a big router, this model would be able to support it quite easily.
Cam Clamps – The cam clamps present in this router table ensure that locking and customizing is a breeze.
Steel Stands – The stability of this table is quite good, thanks to the steel stands measuring 15.5" and vibration reduction because of the rubber at the bottom.
Good Compatibility and Accessories – The compatibility score of this table is pretty great and it comes with dust tray and bit guard.
[/su_list]
5.Bench Dog 40-001 ProTop Contractor Benchtop Router Table
Bench Dog 40-001 ProTop Contractor Benchtop Router Table is a very compact but absolutely universal type of bench top router table, which may easily deal with the full range of woodworks, not less effectively than the router table stations.
The bench top type of router tables provides more safety and stability than the handholding routers.
Fence Included
Router tables are usually supplied with the fence which provides exact precision and control over the cutting process. You should always check that the working surface is clean and does not have any frictions. The router table is working in the way that the piece of wood is moving along the router surface.
Easy Setup
The setup of this router table is really easy. The accessory miter track made of aluminum provides compatibility and easy adjustment with most of miters.
There are additional t-slots where you may mount switches, feather boards and much more. With this model you may deal both with large work pieces and with the precise and detailed tasks.
Portability
The bench-top router table is mounted on the working bench surface with legs' assemblies. And the feet of it are clamped on the table surface.
In this case the router table may be portable. If you want it to be stationary, you can simply use the holes, which have been already pre drilled and screw the bench top to the working body.
Sophisticated Design
This unique Bench Dog 40-001 ProTop Contractor model has the modern design, its top surface is made of laminate plastic and the inserts are made of acrylic.
This router table is compatible with most of the routers. It has the spacious working surface, double position of fence from both sides and the router is located in the offset forward place.
Heavy Duty Work
This model of Bench dog router table may deal with heavy duties and from the other hand it does not occupy much space and can be easily moved. Machine is supplied with large number of additional slots, which makes it possible to organize the working surface in the best way.
Dust Collector
This bench top router table has the last generation type dust collector, which provides clean surface and healthy environment for woodworking. The power cord is long enough to make the working process easy.
The machine is not very noisy due to the whole panel construction and it has the low vibration due to the rubber legs underneath. Using of the double steel rail provides extra stability and support.This router table has the light weight – something around 40 pounds. It has two years manufacturer's warranty; it deals with most of the routers.
This router table will satisfy the needs both of the professional woodworkers and the amateurs.
[su_list icon="icon: check-square-o" icon_color="#e05c00″]
Compact Size – Some people might think that at 24×16", this router table is too small but it is actually compact and excellently designed with the plastic laminate giving it a kitchen countertop look.
Double Steel Rails – To ensure extra strength and stability, the router is kept in its place with the help of double steel rails which is a unique feature introduced by Bench Dog.
Dual Slots – The dual slots ensure that the router can be mounted off center or at the back, if you want to use it by flipping it over.
Dust Port – Any shop vacuum or dust collection system can be connected to the 2 ½" dust port that is present in this router table.
[/su_list]
6.Kreg PRS1040 Precision Router Table System
Kreg is not just a name, it's the confidant of thousands of woodworkers. Take a look their PRS1040 Router Tableand you'll know the secret behind the fame of this carpenters' armament maker.Whether you consider itsfabulous fence, sturdy stand or dust collection port – in every feature it outshines other models.
Preciseness
In terms of providing accuracy, it's a pure work partner.
No matter you're trimming the edge of the planks or just giving a final touch to that intricate design,it's always ready to go with the flow. Even when you're in a hurry, thinking of getting a sharp flawless pattern on your chest of drawers is no myth.
MDF Table Top
Finding it difficult to work with one hand and still avoiding to mount the router on the table? We know how obnoxious the grooves can be on a trembling table.
For a change, Kreg PRS1040's table top is edge-bended and made of stout MDF that ensures a less noisy routing experience. In addition, its surface allows smooth gliding of the board. The role of 2 steel support strutsagainst any sort of twisting is also awesome.
Auto Squaring
Kreg PRS1040's fence comes with T-square fashioning mode. It preserves the fence stably analogous to the miter slot and consequently,aids squaring in a natural manner.
Upholds Large Chunks
Its inventive fence is constructed out of astonishingly stiff,fully-enclosed aluminum expulsion and offers extra room for huge lump placement. You can also witness its efficiency in generating a vacuum cell that manages to keep your work zone neat and tidy.
Adaptable Steel Stand
Stable foundation is offered on this 41 x 32¼ x 24 inches Kreg PRS1040 table. You can trust its strong, alterable steel legs. Their height is also controllable. You can change it from 31 – 36 inches to meet your need. Want to test more of its variability? Kreg 3' dual-locking casters are always in the market.
So, whenever you're aiming for an accurate woodworking, grab Kreg PRS1040 table and let its staggering number of advantages astonish you. And not to mention, its speedy performance will help you complete the project within your target time.
[su_list icon="icon: check-square-o" icon_color="#e05c00″]
Vibration and Noise Absorbent Top – The top is the best feature of this table because it is extremely smooth and is made from MDF coated with micro dot.
Innovative Fence – The fence has been designed in such a unique way that you will always find it perpendicular to the miter slot which makes this the best table for pro users.
Independent Adjustment of Faces – If you want to use this router table as a vertical jointer, you can do that because both the faces can be adjusted independently.
Customizable Insert – No matter which router you have, it would work with this table because of the customizable insert.
[/su_list]
7.SKIL RAS900 Router Table
Expensive router tables may have more features and functionality, but the SKIL RAS900 Router Table has exactly what most carpenters need.The containers for storing appurtenances are a good add on. The cabinetmakers, who haunt roomy table to work on, will find it very comfortable. Besides, your tools won't be misplaced anymore. Two easily detachable feather boards liberates you to choose from the same of other brands.
Simple Set up and Accurate Cuts
Any passionate wood workers would be impatient to terminate those long hours that come between your unboxing the newly arrived router table and mounting the router on it. To feed your impatient mind, SKIL has used the bit height gauge in it that makes its setting up process very straightforward. Further good news is that the gauge will allow you to make the cuts more accurate.
No Fuss of Leveling
What's great about this router table is that you can easily ascend the router with a firmer level of support and grip for a clear, exact cut. Simple bit changes also help you curtail the fret of leveling according to your needs.
Reliable Grooving on Crooked Borders
This table is nearly unrivaled in treating you with a dependable routing and ultimate finish.Its starter pin and guard assist you holding the structure in place while trimming overly complicated areas.So, completing extremely detailed artwork with it won't be any unthinkable task anymore.
Affordable(Some Minor Defects)
Blowing the competition out of the water, it accompanies a lot of top-notch features that you would hope to find in highly priced models only. However, as expected, you'll need to welcome a set of flaws with this cheap product. Learn to cope with its- Feeble Plastic Design, Short Cord, Not Downloadable Handbook (provided on their website), Awfully Careless Measurement Lines etc. So, it's better to plan light-duty projects only.
Customer Service
Though warranty service is not available with SKIL RAS900, there's a record of its making the customer fully satisfied. The manufacturers give serious attention to get their buyers' problems solved. Undoubtedly, it is a proven product from a proven manufacturer.
Essentially, the pricey models are great for the users with heavy wallets, while this one will appeal to the tight budget joiners who give importance to easygoing router mounting and precision. But keep your search going on if you're dealing with any heavy object. Otherwise, its collapsible legs can make you regret later.
[su_list icon="icon: check-square-o" icon_color="#e05c00″]
Collapsible – If you are always troubled while moving your router table from one place to another or simply transporting it, you would love this table with its collapsible features.
Quick Clamp – Most router tables have screws and it takes a lot of time to detach the router. This model, on the other hand, is equipped with a quick clamp system which is safe and time saving at the same time.
Great Accessories – Some accessories that are included in this table include bit height gauge, guard system, starter pin, 2 featherboards, and miter gauge, all of which offer great value.
Storage – If you are forever losing your accessories, you would love this router table because of its storage space.
[/su_list]
8.Craftsman Router and Router Table Combo
If there are 3 words that could describe a good routing episode, they are durable router,spacious desk and meticulous cut. And Craftsman Router and Router Table Combo has owned the trio aspects.Fortunately, many customers rate this model a bit higher than the average router tables, which means that it's pretty decent.
Router with 27000 RMP Thrust
If you love design but lack the budget, a 9.5-amp router powered by 1- ¾ HP motor is a good place to start. Its revolutions per minute are 27,000 which is certainly more than enough for the novices.
Those who underestimate its router (since it comes as a complementary), know that,its motor is going to serve for a long period of time. The lubricated and sealed ball bearings are its chief components behind it.
Dust Departing Duct
To award your sense of tidiness, it is designed with a dust collecting equipment. Without interfering with your router's adjustments, the dust guard and the port protect the works pace from spreading the particles all over the places.
However, one thing to keep in mind, when you're bobbing at a significant distance from the fence, it may not collect the chips and dust 100%. But during your handling the router with your hand only, it'll perform a marvelous job.
A Complete Workshop Solution
Unless you're a well-heeled joiner, purchasing all the kits separately is quite hard. Moreover, lavishing your workshop with the right pieces of tools require a lot of knowledge on each particularity. Anyway, this combo pack behaves like an asset for the amateur as well as the persons with a modest budget. Because, even if you clip the router from the set, you'll still lost in numbers with all the supplement arise such as- the collet, 2 feather boards, wrench, miter gauge, fence, 3 insert rings, hardware and an instruction book.
Precision – Adjustable Fence & Miter Gauge
Almost all the tables claim to provide precise cut but a few can keep up their words intact. Going through around hundred Amazon's customer reviews, you'll know realize that it belongs to that minor yet honest group.
After all, more than 50% five star rated acknowledgments can't go false. Adjustable fence and 60° rotatable miter gauge are in charge of supervising the accuracy issues.Apart from these,you can make subtle changes by locking down the micro-fine levels.
To conclude, this combo pack stole the hearts of nearly all of the users.A true craftsman's table, it has everything you'd need and nothing more.
[su_list icon="icon: check-square-o" icon_color="#e05c00″]
Extremely Powerful Router – The router is extremely powerful with a motor of 1 ¾ HP and 27,000 RPMs. This means that the motor is strong enough to work with extremely tough and stubborn lumber such as hickory. At 9.5 amp, the router also has the permanent lubrication feature which, along with the ball bearings that are sealed, makes the router quite durable and long lasting.
Great Accessories – The accessories that come with this router table combo include collet of ¼", insert rings, miter gauge, 2 featherboards, a dust guard, wrench, and fence. There is no need to buy anything else with this combo in your shop.
Adjustable Fence – You can ensure that the bit clearance is proper with the adjustable fence feature of this router. This feature is also present for extending the outfeed and infeed up by 2".
[/su_list]
9.MLCS Woodworking FLATBED Horizontal Router Table
Time and time again, the MLCS Horizontal Router Table was the table where we reached for to quickly form the raised sheets. It surpasses every other contender in most categories and helped to create perfecttenon-mortise joints. At a potentially killer price, it provides flagship specs.
Small Router Works Fine
All tables don't take a small router as a right fit. But if you somehow manage to mount it on the table, operating it smoothly becomes another nuisance.
This 24″ x 20″ x 25″ table supports smaller router.Moreover, the boxed set constructed out of 4-piece vertical raised panel bits is exceptionally practical. The bits are also subject to keen adjustment which is 1- 1/16 of an inch per turn.
Innovative Design
One of the reasons why it's a hands-down our favorite router table is its revolutionary framework. The flat horizontal board has given it an unmistakable charm.
The other features include 3/4″ solid MDF core, polyethylene plastic edges and enduring melamine surface. So, carve smooth, sharp cuts on your picture frames or oak chest anytime.
Easy Setup
Many users see the easiness of assembling the router table before they own one for themselves. And MLCS has taken care of this trait very minutely. You'll also find the tough plastic router ascending plate reasonably effortless to organize.
Downsides
Manual is not complete in itself. It contains a few lines which fail to explain the whole assembling process comprehensively, especially to the beginners. Besides, it seems that, the manufacturers have become confused while choosing the bolts on certain places.They forgot that hex bolts and t-bolts are two different things.All these phenomena make its rating a little strange.
Finally, you'll love its versatility, elegant yet unconventional look,solid structure and unparalleled performance.And since it avoids the exclusion of supplementary fences, jigs or feather boards, you're saving a bunch of cash for investing on other kits.
10.Grizzly Router Table G0528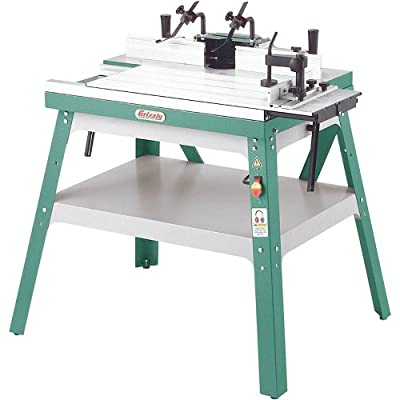 There is a reason why this is considered to be the best router table for the money because with its amazing features and quintessential Skil craftsmanship, it is a wonder it is so affordable and budget friendly –
[su_list icon="icon: check-square-o" icon_color="#e05c00″]
Collapsible – If you are always troubled while moving your router table from one place to another or simply transporting it, you would love this table with its collapsible features.
Quick Clamp – Most router tables have screws and it takes a lot of time to detach the router. This model, on the other hand, is equipped with a quick clamp system which is safe and time saving at the same time.
Great Accessories – Some accessories that are included in this table include bit height gauge, guard system, starter pin, 2 featherboards, and miter gauge, all of which offer great value.
Storage – If you are forever losing your accessories, you would love this router table because of its storage space.
[/su_list]
11.Trim Rockler Router Table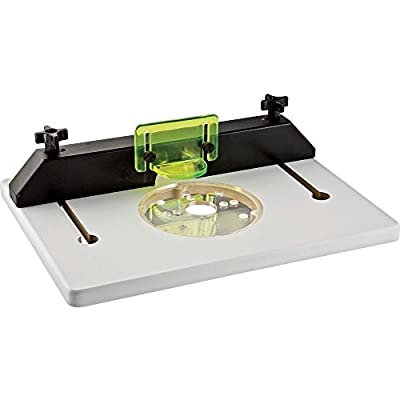 This router table is by Rockler and it is the best one they offer. What's great is that you can get it for a very reasonable price, especially if you are a beginner at woodworking –
[su_list icon="icon: check-square-o" icon_color="#e05c00″]
Meant For Compact Routers – Beginners tend to have compact routers and if you are one of them and are yet to invest in a full sized routers, this petite table would be ideal for all your projects.
Extension Style Table – This router has clamps on the side, allowing you to clip it to your workbench, tailgate or any place in your workshop, especially if space is cramped.
Best Fencing System – This table is particularly known for its fencing system which is even more impressive considering its price and affordability as compared to higher end models.
Dust Port – The dust port is in-built in this table and can be connected to most dust collection systems.
[/su_list]
Router Table Buying Guide: What To Look For?
There's a lot to consider when looking into the purchase of a router table, so let's go over a short breakdown of what you'll need to determine which router table is the best suited for your own work.
Size
Always know the size of the table, this seems like something easy to keep track of, but compare it to the work you'll be doing. Smaller ones may be more portable, but they're not exactly ideal for particularly large pieces and it'd be a shame to have to resort to the freehand use of your router.
Fence
You want a sturdy fence that will offer you a sturdy edge to push your pieces against. A shoddy fence can lead to ruined projects and even serious injury.
Stability
You might find yourself exerting a lot of force on a workpiece at some point. If the router table you've chosen isn't quite stable you risk tipping the table over.
It's important that both the legs and work surface aren't going to fail you with normal use.
Dust Collection
It's not quite essential, but it's very nice to have some dust collection capability. Routers pulverize a lot of wood at once and can produce massive amounts of fine sawdust in a very short amount of time.
Storage
Another non-essential quality, but some router tables offer storage underneath. This can be quite handy, as a job often requires multiple bits in order to be done properly. It can also save you some shelf space if your workshop is challenged in the size department.
Keeping this in mind, there are three main types of router tables that you'll need to decide between in order to make sure you get what you need.
Bench router tables are undoubtedly the most popular for hobbyists. These handy tables are of the right size to place on a bench for easy use. They'll take up less room and are usually quite portable. They are generally on the small side, for obvious reasons, and someone who works with larger pieces frequently will want to go with one of the other options.
Free-standing tables are exactly what they stand like. They'll lift the piece to a suitable height for working without the need for a bench or other stable platform on which to be placed. These are better for professionals and those who work with larger pieces.
There are also router table extensions, which can be added onto an existing table saw. These are generally quite high in quality and are a great option for someone with limited space. They can readily be removed and stowed somewhere that doesn't take up floor space.
What's Best for Me?
This depends on what you're choosing to do with the router table and wood lathe. A free-standing table is nearly always preferable, but they're not always ideal for the individual's space requirements. If you're a professional or working in a shop environment though, a free-standing table with all the bells and whistles is definitely what you're looking for.
For the amateur just getting into more serious woodworking, a bench router table is something to seriously consider. These handy, portable additions to your workshop add a ton of versatility to what you can do with your router. The limited space they take up is an easy sacrifice for the great amount of additional work you'll be able to get done.
For the more serious hobby woodworker, router extension tables are a great idea. They can be a bit trickier to setup than the others, but the ability to just attach them to your existing table saw is a temptation that's almost too good to give up. They're also useful in shop situations since you can cut and immediately route the wood you find yourself working on.
Whether or not you take a look at extras depends entirely on your budget. Storage and dust collection ports are the main things you'll be looking for here, and if you're careful about your selection you can end up with some pragmatic additional features for your day-to-day working. The ones with extensive features tend to be a bit more expensive, however, and a carpenter with a lesser budget won't be missing out on too much with a lack of storage space.
For the individual consumer there seems to be a bewildering variety of choices, but if you're careful about your selection you'll be able to find the best table for the price, and for you. All it takes is a little bit of study and it's probably the best investment for woodworking you'll ever make.
Top Router Table Brands Reviews
Bosch Router Tables
When it comes to professionals, Bosch is the leader in the industry, as evidenced by every bosch router table review –
[su_list icon="icon: star" icon_color="#fef529″]
Both Routers and Router Tables – Bosch manufactures both routers and the best bosch benchtop router table as well. The brand knows what woodworkers want.
Innovation and Professional Touch – Innovation has always been a stand out point for Bosch and it has particularly manufactured a number of tables for pro users.
Unique Enhancements – Some unique enhancements and features of Bosch tables include precision centering, depth adjustment after-lock and above table, microfine accuracy, and quick release clamps.
[/su_list]
Recommended Models – Some top models by Bosch include Bosch RA1181, Bosch RA1171, and Bosch RA1165 router tables all of which have rave reviews from people who have used them.
Bench Dog Router Tables
Bench Dog is a brand that is easily one of the most popular brands for its benchtop tables, as proven by benchtop router table reviews for Bench Dog –
[su_list icon="icon: star" icon_color="#fef529″]
Reliability and Durability – Bench Dog router tables are extremely reliable because they perform what they promise. These tables are also quite durable and last for a long time.
Easy To Use For Beginners – Beginner woodworkers who are just getting into woodworking and want to polish their skills can get maximum results out of the best router tables by Bench Dog.
Affordable – Bench Dog tables are quite affordable, especially considering the features that the brand offers with its fairly priced tables.
[/su_list]
Recommended Models – Some recommended models by Bench Dog include Bench Dog 40-001, Bench Dog 40-102, and Bench Dog 40-300.
Craftsman Router Tables
There was a time when Craftsman was the most popular brand and that's because the company commands the respect of woodworkers all over the world, especially USA –
[su_list icon="icon: star" icon_color="#fef529″]
Trusted Brand – The title of being the most trusted brand in America rests easy in the hands of Craftsman because craftsman professional router table models are simply the most reliable.
Best Quality – Every craftsman router table review agrees on one fact and that is – the quality of this brand's router tables is unmatched by any other.
Tools and Tables – Not only does Craftsman manufacture some of the the best benchtop router table models and combo options, the brand also offers various sundry tools.
[/su_list]
Recommended Models – Some recommended models from Craftsman include the Craftsman Router Plus Table Combo and Craftsman Router Table.
Kreg Router Tables
With the kreg precision router table system, this brand established itself as the best of all worlds and it offers every quality that woodworkers need from their router tables –
[su_list icon="icon: star" icon_color="#fef529″]
Precision – Every kreg benchtop router table is a masterclass in precision that veteran woodworkers love and beginners adore to work with. The accuracy is amazing with these tables.
Innovation – Over the years and after much experience, it is the innovation displayed by this brand that ensures great and positive kreg router table review from every customer.
Simplicity – Despite precision and innovation, Kreg has not forgotten that its tables are easy to use and simple enough for both beginners and professionals.
[/su_list]
Recommended Models – A few recommended models from Kreg include Kreg PRS1040 and Kreg PRS2100.
JessEm Router Tables
JessEm has a variety of amazing woodworking tools and equipment, and router tables are one of them –
[su_list icon="icon: star" icon_color="#fef529″]
Router Tables and Accessories – Apart from quality router tables, JessEm also offers a variety of essential accessories like fences, featherboards, stock guides, remote switch, steel stands, inserts and lifts.
Table Tops For DIYers – For people who want to create their own DIY router table, JessEm also has quality table tops with pre-drilled undersides and laminated phenolic.
Experience and Reliability – JessEm is known for the reliability of its tables and tools. The company has ample experience in the industry and caters to all woodworkers, no matter what their experience level may be.
[/su_list]
Recommended Models – Some top rated models by JessEm include the Mast-R Lift Excel II Router Table and their Master Router Table.
Skil Router Tables
Skil is a great brand that is particularly known for its innovative designing technology that makes life easy for router table users –
[su_list icon="icon: star" icon_color="#fef529″]
Affordable – The price of Skil router tables is extremely affordable for the average users, particularly because the brand offers a host of amazing features for the price.
Pre-Assembled Options – Skil has a variety of accessories and tools available but it has special pre-assembled options. It not only makes the best router table for the money but also helps to reduce the assembly woes of users.
Storage Space – Many Skil router tables have ample storage space underneath them so that users can store accessories and woodworking paraphernalia all in one place.
[/su_list]
Recommended Models – Some recommended models from Skil include SKIL RAS900 and SKIL RAS800, both of which have amazing reviews from customers.
Rockler Router Tables
Rockler is the ideal band for DIY lovers because their tools, parts, and accessories are made from top quality material:
[su_list icon="icon: star" icon_color="#fef529″]
DIY Or Complete Set – Trim is a router table that functions efficiently and is amazing. People who want to build their own table can definitely choose this brand for procuring accessories, router plates, fences, dust ports, speed control, lifts, plate inserts, micro adjusters, and steel stands.
Reliable And Durable – Both the table and accessories of this brand are extremely durable and long lasting. The material of the tables is of high quality and lasts for a long time.
[/su_list]
Recommended Models – The Trim Router Table by Rockler is one of the best router tables in the market, especially because of its unique design and cost effectiveness.
Festool Router Tables
This is a high end brand that might cost a bit more but it still makes the best tables in the market, as shown by a large number of positive Festool benchtop router table reviews –
[su_list icon="icon: star" icon_color="#fef529″]
Worth The Price – For people who just want to make a lifetime investment in a router table that would have all the features they desire, Festool is the best brand to go for because it has everything for everyone.
Professional Grade – The router tables of Festool are highly priced because they are professional in nature. However, beginners can also buy them to learn the value of efficiency early in their careers.
Variety and Accessories – There are a variety of router tables and related accessories available with Festool.
[/su_list]
Recommended Models – Some top router table models by this brand include Festool P00111, Festool P00109, and Festool MFT/3 table.
Dremel Router Tables
Dremel is a brand that is more popular for its router attachments and accessories than for its router tables. It is only of the top brands when it comes to woodworking tools –
[su_list icon="icon: star" icon_color="#fef529″]
Reliable – As a brand, Dremel has proven its reliability by coming up with a number of durable utilities for woodworkers. Their accessories are made from top quality material.
Affordable – If you are looking for an affordable brand that does not compromise on quality, you should probably go for Dremel because it has years of experience in the industry.
[/su_list]
Recommended Models – Dremel has only one router table model that functions as a shaper cum router table. Dremel 231 – this is the best router table for the money if you are just looking for something basic, cheap and compact.
Porter Cable Router Tables
Like various other top brands, Porter Cable too prefers to have one excellent model that does all the talking for the company's efficiency and quality –
[su_list icon="icon: star" icon_color="#fef529″]
Affordable Brand – Porter Cable is an extremely affordable brand, especially if you are going for a router table that would be in the medium price range and will fulfill all of your basic requirements.
Easy Online Availability of Parts – One great thing about Porter Cable is the availability of parts. You can buy any accessory or tool online without having to leave your house.
Ideal For Beginners – For beginners who want to try their hand at a bunch of new projects, this brand is affordable enough to facilitate that.
[/su_list]
Recommended Models – The only router table model by Porter Cable is the 698 table of the brand that is a benchtop router table.
Grizzly Router Tables
Grizzly is another brand that has router tables priced on the higher side. However, these tables are beautifully designed and would light up any workshop –
[su_list icon="icon: star" icon_color="#fef529″]
Great Designing – For the price the brand charges, it also offers some amazing router tables with pro-grade features and excellent craftsmanship.
Variety of Tables – There are regular router tables available with the brand but Grizzly has some great extension tables for people who have space problems in their workshop.
Reliability and Quality – The brand is a reliable one and all the materials, parts and accessories are high quality in nature.
[/su_list]
Recommended Models – Some top models by Grizzly include Grizzly G0528, Grizzly H7507, and Grizzly T10432.
Wolfcraft Router Tables
Wolfcraft makes cheap and affordable router tables that are available to everyone –
[su_list icon="icon: star" icon_color="#fef529″]
Fun and Quirky Designs – The designing of Wolfcraft tables is quite fun and well done. They would appeal to younger woodworkers.
Great Stability and Durability – Despite their cool designs, Wolfcraft means serious business because their router tables are extremely stable and can sustain any amount of wear and tear.
Affordable – A lot of features are offered by Wolfcraft in their tables and other tools but the price is always affordable.
[/su_list]
Recommended Models – Some top models by Wolfcraft include the Wolfcraft 6113404 and Wolfcraft 6146404-404.
Woodpeckers Router Tables
This is another brand that makes better tools than most other names in the market –
[su_list icon="icon: star" icon_color="#fef529″]
Ideal For DIYers – For DIYers who want a variety of options and choices at their disposal or those who want to make their own router table from scratch, this brand is the ideal choice.
Extremely Affordable – The prices for Woodpeckers may be on the lower side but the brand has seldom compromised on quality in any of its products.
Durable – Almost everything made by Woodpeckers is long lasting and extremely durable in nature.
[/su_list]
Recommended Models – Router tables are available with the packages of Woodpeckers and among the 5 packages, the phenolic one in the PRP4 package is the best.
Veritas Router Tables
Veritas is a brand that is quite famous among woodworkers for its excellent tools and equipment –
[su_list icon="icon: star" icon_color="#fef529″]
Easy Set Up – It is easy to set up the router table offered by Veritas, especially by the prime audience the brand caters to – professional woodworkers.
Professional Users – There are a variety of features and utilities added to the tables of Veritas that professional users would love.
Top Quality – The quality of material from the smallest to the most expensive of parts in the catalog of Veritas are made from top quality material.
[/su_list]
Recommended Models – The Router Table System by Veritas is one of the best options for pro users in the market.
Ryobi Router Tables
With the features and quality offered by Ryobi, people assume that the prices would be high. However, this brand caters to intermediate users who desire affordability –
[su_list icon="icon: star" icon_color="#fef529″]
Balance Between Quality and Price – Just because Ryobi is a budget brand does not mean that it compromises on the quality of its products. The features are nicely balanced with the price.
Durable and Long Lasting – Top quality and durable materials are used for manufacturing the router tables and other parts by Ryobi.
Unique Design – The design of this brand is a particular stand out point between Ryobi and its competitors in the market.
[/su_list]
Recommended Models – The top model by Ryobi is the Ryobi ZRA25RT02G.
Types of Router Tables
If you have been creating wooden marvels without a router table so far and are now considering this investment, you should understand the different kinds of router tables available in the market. As technology has advanced, various kinds of router tables have appeared in the market. They have different kinds of features for different user levels – beginner, intermediate, and expert.
When you are comparing different types against each other, you should balance your requirements with the type. Whether you are looking for a large router table, horizontal router table or a sliding router table, most of the designs you find online would fall under the following three types –
Benchtop Table
A benchtop router table is easily the most popular version to go for. Here are some of its top features –
Adaptable and Versatile – No matter what kind of router you may have, this router table would easily adapt to your requirements because of its versatile nature.

Models Available With Popular Brands – Almost all the popular brands like Kreg and Bosch have a benchtop table available which makes availability and replacement parts a breeze to obtain.
Portable – The portable nature of this type of router table makes it a hit among both hobbyists and professional woodworkers.
Useful Parts – It has useful parts like built in cord, adjustable MDF plates, aluminum fence, mounting hardware, mounting plates, and starter pin & guard that come in handy during intricate projects.
Floor Standing Table
This is another fairly portable router table which has become popular with people who have a small workspace or hobby shop in their garage. It has the following features –
Easy to Mount – You can simply mount this router table on your bench and it would stay perfectly stable without causing you any hassles.

More Storage Space – Because this type comes with additional drawers, you can store the bits and accessories of your router and router table in those drawers.
Floor Space Saver – People who have space issues would be extremely satisfied with the floor standing table because it takes up very little space in the workshop and also helps to save additional space.
Useful Parts – With useful parts like dust outlet, mitre guide, and featherboards, this option can transform your results.
Extension Table
If you have very little space, you go for the floor standing or benchtop option but when you have no space to spare, you can invest in a extension woodworking router table. It has the following features –
Extension To Your Workspace – This is essentially a router table for table saw that you can get installed on either sides. It comes with deep top and standard fencing.

Useful Parts – This router table comes with useful features like T-track slots made from aluminum, split fence, T slot, router and high split fence, wooden frame, safety guard made from durable material, and measuring tape.
No Need For Resources – If you are someone who just wants an affordable, no-frills option that wouldn't need too much investment of resources, this is the table to go for.
Advantages and Disadvantages of Using Router and Router Table
If you have been pursuing woodworking for some time, you would know that every machine in your hobby shop comes with its own set of pros and cons. Your job is to balance those advantages and disadvantages against each other and make the right choice. With router tables, you should understand that the pros far outweigh the cons. Here are some advantages and disadvantages of using router and router table in your workshop:
Advantages: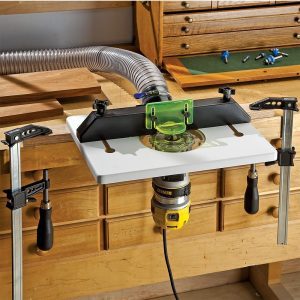 [su_list icon="icon: check" icon_color="#06b500″]
Precision – As you continue to get better at woodworking and nail down the basics, your work would largely consist of honing the skills you were gifted with. The primary thing you would learn is how to be precise. A router and router table can help you with that.
Time Saving – There are some old school thinkers who believe that people learn more without using router tables. But if you have access to modern technology that saves time, why not use it?
No Installation – Most top rated router tables available in the market require little to no installation on your part. You just get them, assemble the pieces, and get to work.
Quick Results – With a router table, the more you practice, the quicker you get efficient results. In the beginning, there might be a learning curve but it is a fast moving one. If you want to get quick results in your project or are working on a deadline, investing in a router and routing table is the best thing you can do.
Long Term Benefits – There are, ultimately, long term benefits of using a router table. You get to learn greater number of things and work on a variety of projects in a short time and this helps you grow as a woodworker.
Good For Learners – For people who are just starting out in the field of woodworking, a router table is a great option. With a bit of investment in the beginning, you can get everything you need in one, compact machine.
Different Options – There are different types, styles, and options available in the market for people who are looking for a router table. The more you research, the more you will realize that the world of router tables is large and full of choices.
Space Saving – Ultimately, if you have a small amount of space to work with, you can go for an extension or floorstanding router table that would allow you to make the most of your workspace. This is the reason why people with small workshops prefer router tables over any other woodworking equipment.
[/su_list]
Disadvantages:
[su_list icon="icon: times" icon_color="#c80108″]
Additional Expense – The only major disadvantage to a router and router table is the initial expense plus the two additional accessories you need to buy – lifts and fence. However, as you keep using your table and router, you would notice that you not only recover the investment but also end up making a bit more.
Noise – Because of the cutting operation and the electric motor, a router and router table ends up creating a lot of noise. It has been known to cause hearing trouble in a few people.
[/su_list]
Factors & Features To Consider When Buying a Router Table
How can you make sure that you buy the best router table on the market? Is the model and brand chosen by you the best router table for the money? What is the best router table to buy? The only way to answer these questions is by considering the following factors when you go through the reviews of professional router table models –
Quality and Stability of Surface
Even if the surface has little problems like skewering or unevenness, you would not be able to get the precise results that you hoped for. Thus, look for a stable surface that is inflexible around the middle. A budgetary material is MDF while phenolic resin is pro-grade.
Durability of Base Plate
Solid phenolic and aluminum base plates are the most durable and no matter how heavy your router is, these materials would be able to support that weight. There are various base plate types and if you go for the most common – one size – then you would be ensuring that compatibility is never an issue. A levelling system is another feature to watch out for when it comes to base plates.
Ease Of Use Of Fence
The fence allows the main part of the router table to be completely locked and it should be quite rigid and straight. Fences can be either one-piece or split (two piece). However, if you want to best of both worlds, go for a router table with one-piece fence and split type sub-fence.
Strength Of Base
When it comes to bases, you can go for a cabinet base which would offer you more storage space for keeping your bits and accessories all in one place. You can also go for a simple table base. The main thing to watch out for here is how strong the base is and how stable it can remain. The best router tables have strong frames made from steel and locking capabilities.
Advanced Clean Up System
When you go through the best router table review lists on online shopping sites, you will notice that all the models have one thing in common – an advanced cleaning system. Modern router tables have a dust cleaning system that can be attached to the vacuum in your workshop.
Accessories Available
The accessories allow you to try out different projects and most of them come with the router table itself. As such, when you are making your purchase, make sure that you get as many accessories as possible. This especially includes attachments and stops, T-slots for featherboards, and miter gauges.
Assembly and Installation Requirements
If you are in the process of buying your first router table, then you should make it a point to go through the assembly steps in the router table review. The assembly needs to be simple if you are a first timer.
Brand Name
Some brands are simply better than the others. The models from these brands would always be made from strong and durable material. More than anything, it is craftsmanship you are looking for in your router table and you cannot go wrong with the top brands like Bosch, Bench Dog, Craftsman, Kreg, Jessem, Skil, Rockler, Festool, Dremel, Porter Cable, Grizzly, Wolfcraft, Woodpeckers, Veritas, and Ryobi.
Safety
Woodworking can be hazardous with an unsafe and cheap router table. As such, you should always prefer a table with safety features like secure base and safety switch. If you have kids at home, look for a child lock.
Price and Affordability
Always balance the price with the features you are getting in your table.
Router Table Combo
A router table combo basically refers to a router and table combo where you get router and table combo set. There are obvious pros and cons to buying a router combo but usually, if you go for a good brand, you can get a great deal without sacrificing on quality. Here are some things you can enjoy if you get your hands on the best router and table combo –
No Need To Buy Router And Table Separately – When you look for a router table, you have to make sure that the table and the router you already have are compatible with each other. The surface of the table and the area you have are, thus, balanced against the features your router is offering. When you buy a router and router table combo, however, you can do away with all the hassles of looking for compability.

All Accessories Are Included – Majority of accessories are included in the combo set because that is the basic purpose of buying both the router and its table together. All major brands equip their combo models with a variety of features and add in as many accessories as possible so that you can undertake any project without worry.

Prices Are Lowered Considerably – If you go out to buy a router and table separately, the cost would be a bit too much. When you go for a combo, this cost is considerably lowered. Thus, if you are operating on a budget, you should go for a combo because it would be beneficial to you in the long run. Also, router combos frequently have a huge discount during the sale season because of their popularity.
Good For Beginners – For people who are just getting into woodworking, a combo is the best thing because they do not have to waste time to look for a router and then a table separately. They would also appreciate the lowered cost and variety of accessories that come with the combo. Even the most basic combo sets allow beginners to undertake various projects with ease.
Compromising On Quality – Unless you are going for an amazing brand and model like craftsman router table combo or skil router table combo, you would have to make allowances somewhere down the line. For instance, the router may not be the model you want but you would simply be going for it because it is available as a combo. This is why you should always look towards the top brands when you go for your best portable router table combo set.
Recommended Models – Some top combo models include Craftsman router and table combo and Ryobi R163RTA Combo.
Accessories For Router Table
You cannot make the most of your router and router table without some essential router accessories. The two basic but important router accessories are – Lifts and Fences. Here are the important things you need to know about these two accessories –
Router Lifts
When you climb up the skill ladder of your woodworking experience, you can only undertake a few projects after you have learnt how to mount your router on the table. However, doing so creates problems of height adjustment. Even changing bits becomes harder when your router in under the table upside down.
The space also becomes cramped. With the help of router lifts, you can ensure that the vertical height is exactly what you need to be and adjustments are easier with the bits. When you go out to buy a router or table, you should definitely add this accessory to your shopping cart.
Recommended Models Of Router Lifts – Here are two recommended router lifts:
Kreg PRS3000 Router Lift – Kreg is an extremely popular brand and apart from its routers and best router tables, the brand also manufactures this excellent router lift. The accuracy with this model is pretty great and it is simple enough to be used by beginner woodworkers. Some top features of the PRS3000 include 1/1000" accuracy, spring assisted wrench, no crank bit change, and thumb wheel with micro adjustments.
JessEm 02120 II Mast-R-Lift – Mast-R Lift is quite popular in the market because JessEm has combined excellent technology with a great price. The 02120 is the latest innovation in that line. Apart from the original model's amazing features, this model also has some added surprises like enhanced accuracy, easier use, and simpler height adjustments. This brand created the first router lift in the year 1999.
Router Fences
The vertical height adjustment is not the only thing you need to care about when you are mounting your router on the router table. The horizontal adjustment is equally important and is facilitated with the help of router fences. If you invest in the best router table for the money, you might wonder if you even need fences when you already have 2 slots. However, a fence would offer much better, precise control which would enhance your woodworking experience to a large extent. Thus, it is important to invest in quality router fences.
Recommended Models Of Router Fences – Here are two recommended router fences:
Kreg PRS1010 Router Fence – With its T-square design, this router fence is in a league of its own and works extremely well to ensure that horizontal positioning is effortless, extremely accurate, fast, and quick. Kreg is a great brand and the PRS1010 is the only kind of fence with this unique design. It moves smoothly on its track and comes with a lockdown mechanism that ensures the miter slot is accurately perpendicular to it all the time.
INCRA LS17 Router Fence – Every professional with a router table would vouch for the LS17 by INCRA because this is the last word in router fences. This model is accurate enough for professionals and comes with a variety of features. It is made using the patented technology of INCRA.
Tips on Choosing the Best Router Table
Here are some tips for those people who want to make the best use of their router table:
Understand The Dust Extraction System Of The Table – If you spend enough time researching or pick one of our top router tables, you would get an advanced dust extraction system that would make life much easier for you. Thus, always spend time understanding how it works – usually, you just need to connect your vacuum's hose to the dust extraction outlet of your table.
Start With Light Cuts – This is an important tip for you if you are a beginner at woodworking or have recently acquired a router table. Make sure the cuts are light at the start. This reduces chances of a massive mistake happening. As you establish more control over time, you can go for flamboyant and confident cuts.
Ensure The Power Button Is Close By – A lot of woodworking injuries occur because the power button is so far that it is too late by the time professionals reach it. As such, you should always make sure that you can turn the router on and off using its power button at a very short notice.
Understand Movement Procedure Of Pieces – You should know that an anticlockwise direction is followed by the router bit. If you want a lot of precision and control, make sure that the wood pieces go from right to left. This would also help you with the flow of your work.
Never Work Without Safety Equipment – The safety equipment primarily consists of gloves for your hands, ear muffs and other protection equipment, and safety glasses to shield your eyes. You should never work on your router table without these important tools or it could be extremely unsafe.
Woodworking Experience Is Not Related To Router Table Experience – Even if you have been practicing woodworking for decades, a router table is a different ball game altogether. It works in a different manner and you should never operate it before you have read all the instructions thoroughly. Spend the first day just going through its guidelines and checking out various features before you start an actual project.
How to Build a Router Table – DIY Router Table
If you are a woodworker worth your salt, you are used to making everything you need with your own hands. Moreover, you can also end up saving a lot of money if you are up to the task. If you want to make your own router table, you would need an old countertop from your kitchen and your diy router table would be created under $50. Here are a few steps on how to make a router table:
Things You Need:
Old Countertop (6 feet)
Metal Rails (6 ft 1" angle)
Eye bolts (⅜")
Washers (⅜")
T nuts (⅜")
Vacuum Port (or rubber hose adapter from vacuum)
Pattern router bit with top bearing (½")
Insert plate
Thread screws (coarse, ½", 1 ¼", 2")
Wood Glue
Step By Step Method:
Step 1 – Cut up to front edge (that has a laminate finish) along with the backsplash using a table saw or circular saw. Always cut when the laminate side is facing up to prevent the wood from chipping. Use sandpaper to dull the sharp edges. Finish cutting the table to size.
Step 2 – To insert the plate later, cut a hole and create a ½" thick guide around the back edge by placing the plate around 3 ½" away. The thickness of the guide is ideal for 1" bits. Set the depth of the router bit using your router and finish the hole.
Step 3 – Build your fence using a template that you should create beforehand and assemble it using glue and screws. The vacuum hose with its stepped end cut off would become the dust pen hole. Use this fence base for drilling the T-nut holes later when you are building a router table.
Step 4 – Choose the right plate by going for the best quality ones that don't cost over $30. Make sure they are absolutely flat before you build router table.
Where To Buy A Router Table?
If you looking for a router table that would satisfy all your needs, you can go to your local store and buy router table from the options they offer to you. However, if you want to get a table that you have carefully selected after much research, your local store would not suffice. You need an avenue where the best router tables are available – online stores like Amazon and manufacturer websites. Here are a few benefits of exploring online options:
Free Shipping – Online sites like Amazon frequently offer free shipping when your order amount exceeds a certain limit. With a router table, you can rest assured that this would be the case.
Sales and Discounts – Discounts are big when you shop online, especially if you keep an eye out for special seasons like Nov – Dec or the 4th of July sale.
Easy Comparison – It is easy to compare different top models against each other and buy the best cheap router table at a fraction of its MRP.
First Hand Reviews – Sites like eBay and Amazon, and even manufacturer websites frequently have first hand reviews from people who have actually used the table and are sharing their experience. You cannot get this kind of feedback from local stores.
Router Table Maintenance: Our Top Tips
You don't want to be left with a clogged, dirty and damaged routing table, right? So, make sure you're all aware of what it takes to maintain a routing table that would last for years after years.
For making it easy-to-understand, we've spat this maintenance guide into three sections- Routing Table Maintenance, Router Bit Maintenance and Router Fence Maintenance.
Let's navigate through each of them-
Maintaining the Routing Table Surface
Due to day to day use, there can be a lot of wood chips and debris left over on the router table surface. And as a sincere handyman, you should never let it be. Keep the table surface clean and vacuum it if necessary. Make sure no sawdust or wood debris is left on the table after each use.
Also, you can use a wet or damped cloth once in a week to make it even cleaner. This would help to get the dust that the vacuum cleaner can't get. While wiping the surface, start from the center of the router table. On an important note, don't let any water get into the machinery. This may cause serious malfunctioning or damage to the machine.
Router Bit Maintenance
Next on, as your surface is taken care of, look at the router bit by the fence. The bit is the key-part that ensures proper functionality of a router table. So, it's important to keep it tip-top.
A regular practice of router table bit maintenance is to use lubricant on a bi-weekly basis. It will grease up the parts of the device, and also bring on smoothness inpersonae.
On the normal conditions of the bit, you can go for regular cleaning with wet clothes. As told before, this works for sawdust or grimes that regular vacuum cleaners can't reach. Still, use a vacuum as you are done with the wet wiping.
While clearing the bit of a router table, make sure you have cut off the power line. As you can't clean it well when it's in place, bring it out from the base plate. Then vacuum both of the base plate and the bit itself. After you are done, place the bit in its former position.
Maintaining the Fence
A fence is the part where the router table is mounted and partially immersed. As a part of maintenance, you need to regular checkup and cleaning on a regular basis. A clean and useful fence can assist the cutting process with ease.
Make sure the edges of the fence are always smooth. In case it gets damaged, use a saw or the router itself to cut the fence off. When the damage goes beyond repair, replace it with a new one.
There are some fasteners that hold up the fence. Check out the performance of the fasteners and use lubricant to smooth them up (if necessary). Also, have a glimpse of the rail that holds the fence itself. In case there are wood chips or something, remove that with hands or with a vacuum cleaner.
Some Tips for An Efficient Router Table
Lastly, let's take your handyman ship to the next level with some advanced tricks-
Frequently Asked Questions About Router Table
Question: How does a routertable work?
Answer: This process is quite complicated to express in limited words. It has a vertically oriented spindle that can spin within a range of 3000 to 24,000 rpm. The spindle protrudes from the table surface. And with the help fo a bit and a fence, the entire setup helps to do precise cutting jobs.
Question: Can I shape end grains with a router table? If yes, what's the benefit?
Answer: Yes, you can. And with shaping the end grains with a table router, there are some advantages. The first one is, you're not guided by those hard nut bearing-guided bouts. Secondly, both of the narrow and wide pieces are a good fit for a table router. Thirdly, in case of a grain shaping, the chipping plays a prominent role. Using a table router may lead to precise elimination.
Question: How many types of table saws are there in the market?
Answer:So far, we are concerned, there are three different types of table router. The types are- Small bench tables, Table saw, and accessories enabled table routers, and floor standing tables. All of them has their own expertise, based on use, job size and budget.
Question: What are the advantages of router tables over handheld ones?
Answer:There are a lot of them. But the most important one is- there are many methods of using router tables that suit specific applications. Of course, that's quite impossible with handheld ones. Also, handheld routers can't take over small workpieces.
Question: Should I use a vacuum cleaner to clean the router table?
Answer:In some cases, of course. Especially while dealing with wood chips and debristhat are left over after works, are supposed to be cleaned with a vacuum cleaner. But when it comes to sawdust or something similar, you may not be able to use a vacuum anymore.
Question: What are the most popular woodworks with a router table?
Answer: As a router table is dedicated to wooden works, I can't mention the entire list here. But some of the everyday chores that handymen do with it are- planning the plywood edges, Removing the saw marks from the ripped board edges, straighten the edges, and many more.
Question: How should I deal with the workpiece to stay safe?
Answer: You need a workpiece to work on a router table. And the job or workpiece can be held based on its size and petition. When you've kept it against the net, take it right to the left. And the workpiece is larger a should be shaped, move them to counter clockwise centering the piloted bit.
Making The Right Decision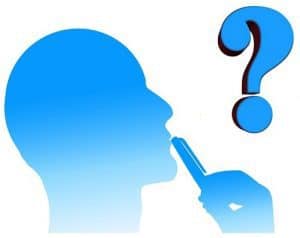 Do you want you work to be more precise? Do want your woodworking results to be like those of a professional? If you have read this entire review and buying guide, the biggest question on your mind right now must be – what is the best router table?
Is the one that is cheapest or the one with most features? Should you invest in a table that is way over your budget? The answer is simple – there is no one best router table for the money.
Go through all the router tables reviews available on this website and also consult the customer reviews on sites like Amazon before you make your final decision.
Final Verdict
We hope that we've helped you to the answer to "What is the perfect router table- that suits you best. The ease and additional safety which comes from one of these valuable workshop additions is immense, and you'll wonder how you ever got by without one before.
If you're still on the fence about purchasing a router table, here is a reminder of our top picks.
** Editor's Choice – Best Router Table ** – Bench Dog Tools 40-102 ProMax Cast Iron Router Table
** Best Value Router Table ** – Bosch RA1181 Benchtop Router Table
It won't take long to see why they come so highly recommended by professionals. Once you make the purchase, you'll love it.