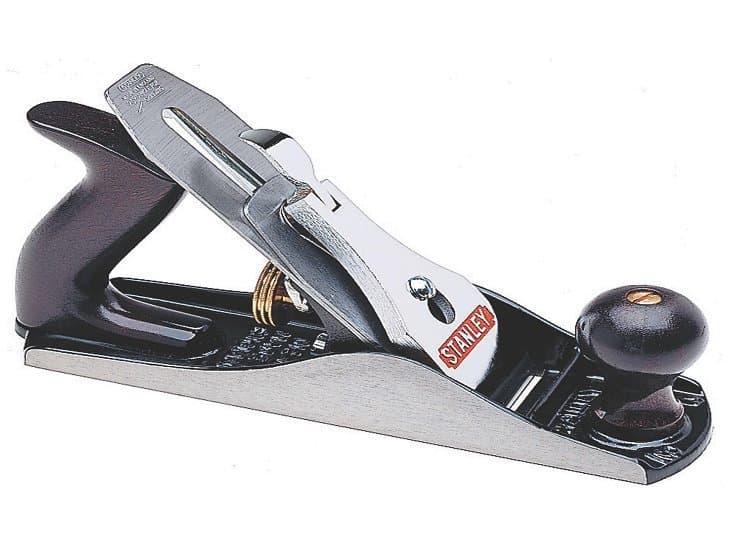 10 Best Block Plane Reviews and Buyer's Guide
You are at the point in your project where you need to apply some finishing touches - to smooth out the end grains a bit, gloss your edges, and give corners a rounded look. You may go for power tools - which may be too much for the task or reach for sandpaper - which may be too tedious and not smooth enough for the job.
What Is A Block Plane?
A simple way to explain block planes is to define them as tools used by carpenters to plane across the wood's end grains. To elaborate a little, the block plane is a small planing tool that is designed with its blade set at an acute angle, normally with its bevel up, to cut end grains in the wood. Any plane that is approximately seven inches or less in size qualifies as a block plane. A quick test of the best hand planer is to check whether you can comfortably use one hand to operate it. If you can (never mind the actual size of your hand), you are holding a block plane!

Block planes are typically used to pare end grain on wood and are usually passed over the wood at an angle, even as much as 45 degrees, to achieve the most efficient shavings. You can also use block planes to smooth board edges, remove glue lines, chamfering, which is to angle square edges and to clean up parts of your wood fittings to enable a fit within fine tolerances.
To start here is a comparison table of the top recommended block planes.
| | | | |
| --- | --- | --- | --- |
| | 1. Stanley 12-404 No. 4 Adjustable Bench Plane | | |
| | 2. Woodstock D3831 Adjustable Block Plane | | |
| | 3. SENKICHI Kanna 65mm Japanese Wood Block Plane | | |
| | 4. Stanley 12-220 Block Plane | | |
| | 5. Japanese Wood Block Plane | | |
A block plane which, more often than not, is just the right tool to complete the woodworking project without too much hassle - and saw dust! Indeed, you can't go wrong with any of the best block plane for woodworker options that are available today.
So, what should you consider when selecting the best block plane for the money?
What to consider in choosing your Block Plane
Your Project:
You may wish to consider the job you'll be using your block plane for. Typically, block planes are ideal for small jobs that other tools may be too large or awkward for. Smoothing end grains, chamfering, smoothing board edges and other similar tasks are ideal for block planes. Whichever of the best manual hand planer you choose should allow you to quickly and efficiently perform these small woodworking tasks. Block planes are not ideal for larger jobs.
Size:
This consideration is mainly for comfort as well as efficiency. The block plane you choose to use should be small enough to hold comfortably in one hand and operate efficiently. For block planes, small is good! It should also be lightweight but still sturdy enough to glide over wood and shave it down to whatever level you desire.
Depth of cut:
How deep an angle your block plane can go is a crucial consideration if you want to achieve the smoothest and finest planing. There are various options to choose from and your final choice could very well be determined by this consideration. With the best hand planer, you can adjust your depth of cut to within a hair's length for the finest and most glossy effect.
Durability:
Although your block plane will be used for most small jobs, you would still want this tool to be durable and long-lasting. This condition is determined by the material out of which your block plane is made. Metals are generally found to be quite durable although you can also find hardy wooden block planes that are just as long-lasting.
Adjustability
To be fair, this consideration shouldn't be the last one to take. The ability to adjust the block plane to achieve your desired shave is just as important as other considerations on this list. Not all block planes are designed with the ability to make certain fine adjustments. So, you'll need to check whether the block plane you are considering comes with adjusting knobs that allow you to change the angle and alignment of your blade, and widen or narrowing the mouth opening of your block plane.
Now that you have a better idea of what a block plane is and what to consider in choosing one, we are now ready to look at ten of the recommended options in this block plane review.
Top 10 Best Block Plane Reviews
1. Stanley 12-404 No. 4 Adjustable Bench Plane with 2-Inch Cutter
To start this block plane review off, let's consider the Stanley 12-404 No. 4 Adjustable Bench Plane with 2-Inch Cutter. With all the extra features to fine-tune and trim wood of all types, this block plane is made to perform easily and efficiently on all your tabletop projects. It consists of a base made of grey cast iron, and a bottom and sides that have been honed for smooth and accurate performance.
To ensure that this tool lasts as long as possible, it has been coated with durable epoxy and is equipped with a tempered and hardened steel cutter. No matter how uneven or hard your cutting surface really is, you can trust this as the best hand planer to work easily through it. This is possible with its precise and easy to use controls that allow you to fully adjust the cutter's alignment and depth of cut.
You can also easily remove the blade with the quick release cam-lock. For better grip, the contoured handles and knobs made with polymer are a good addition to the block plane's design. Count this as a durable and versatile block plane that will allow you greater efficiency in completing any chamfering and wood smoothing task in your workshop.
2. Woodstock D3831 Adjustable Block Plane, 1-3/8-Inch Blade
What about a block plane that has a low blade angle – say around 12 ½ degrees? That's what you can expect from the Woodstock D3831 Adjustable Block Plane which has a 1 3/8 -inch blade. If you do a lot of furniture and cabinet making work, this will be a handy tool for you to trim and smooth rough edges, plane difficult wood and shave end grain. Its body is made of cast iron and the blade is made of high carbon steel.
This candidate for the best manual hand planer is a solid and hefty block plane that also feels stable and well balanced in your hand. This block plane is made for precision and accuracy and you can achieve even an arm hair shave with the easily adjustable blade and throat opening. Trust the heavy bronze lever cap and adjustment knobs for an accurate alignment of the blade. Planes are generally required to be tuned before you can use them, but this Woodstock adjustable block plane can be used right out of the box with minimal tuning.
A great feature of this block plane is its highly polished and smooth sole that allows for easy gliding over the woodwork. It also fits comfortably in your hand so working with it is not a problem.
3. SENKICHI Kanna 65mm Japanese Wood Block Plane Carpenter's Tool
For anyone familiar with the Japanese style of block planes, this next option is no stranger. The Senkichi Kanna 65 mm Japanese Wood Block Plane carpenter's Tool is designed for easy use on most wood. This block plane is made of oak which is a tough wood that will last. You'll be surprised at how well-made this best block plane for the money really is.
The blade comes already sharpened but you may choose to hone it a little more to get that hair shaving effect you desire. Although the blade is set low enough to make a cut, you may need to adjust it even further to get your desired depth of cut. If you are a novice, this block plane is just right for you and once you get the hang of adjusting the Japanese style block plane you'll be satisfied with the paper thin shaving this block plane is capable of.
You may, however, need to sharpen and hone the blade frequently for this block plane to hold it's cutting edge. The dimensions are 10.7 x 3.1 inches with a blade width of 2.5 inches.
4. Stanley 12-220 Block Plane
Here's an option from Stanley that you may be satisfied with, especially if you are new to woodworking and are just starting out. The Stanley 12-220 Block Plane is designed with a cutter that can rest at 21-degree angle, which is quite low. You are, however, able to adjust it to achieve even the slightest shave from the wood.
The base of this block plane is made of grey cast-iron and the bottom and sides are grounded to precision. You can expect this best block plane for beginner projects to last for a while, thanks to the epoxy coating that has been applied for greater durability. It's simple to use and can fit comfortably in one hand. For greater control and comfort, you can rest your fingers at the front of the plane. Of course, you'll have to prepare the plane the first time you are using it but once this is done, you'll achieve amazing planing results.
Although the metal that makes up this block plane is not high end, it is solid enough to serve the purpose for small, finishing tasks and the occasional use around the workshop.
5. Japanese Wood Block Plane KANNA 40mm Carpenter's Tool
Here's another Japanese style block plane that may suit your chamfering and wood smoothing needs. The Japanese Wood Block Plane KANNA 40 mm Carpenter's Tool Double Edge Senkichi is simply designed with the blade wedged into the wood for a tight fit. There are no pins and adjustment knobs to fuss with. Simply tap the wood to set the blade the way you want it.
To get the best results out of this best block Plane for woodworker option you need to pull rather than push it against the wood. As with other planes, you'll get a smooth and glossy finish on any edge you are working on. On top of that, this block plane is capable of producing a no tear-out and non-fuzzy finish. It is simple to use and works surprisingly fast.
You may find it a little annoying that without chip breakers, this block plane is prone to having wood chips jammed in the edges which you'll have to manually remove. So, if you need only to do small chamfering or finishing tasks, this Japanese wooden block plane is just the tool to use.
6. Power Tools 3pc Micro Brass Block Plane, Bullnose & Scraper 4 Wood Working Craft Planar Tool
You may actually prefer the Power Tools 3 piece Micro Brass Plane to give you top performance in your woodwork shop. With this best hand planer option, you have the flexibility of choosing between a 23 and a 25-degree angle for your blade. This block plane is made of a combination of hardwood and solid brass and is equipped with a blade that you can adjust.
Expect peak performance from the carbon steel blade which can retain its cutting edge. Small and lightweight – just three inches and less than one pound, this block plane is easy to use and comfortable in one hand. Also included with this Block plane are a Scraper plane and a Bullnose plane to make all your edge smoothing and chamfering jobs that much easier.
7. E.C. Emmerich 649P Adjustable Block Plane
Light and small enough to carry around in your pocket, this next block plane is a must-have in your workshop. The E.C. Emmerich 649P Adjustable Block Plane is made of rock solid Lignum Vitae which is just as durable as metal block planes. This is also made for precision and despite its light weight is quite an efficient shaver and smoother for your projects.
Unlike other wooden block planes, this best manual hand planer comes with a blade you can adjust with a screw. It also comes equipped with an adjustment knob which you can use as a palm rest for extra comfort. Not only is this a great tool for your workshop, it's also a perfect gift for collectors and woodworkers. Make no mistake, this wooden block plane offers a real alternative to mass-produced metal block planes. Even after years of heavy use, this block plane can stand up to the demands quite well. You'll continue to enjoy smooth and efficient gliding over any woodworking task you put it through.
8. Sheffield 58452 3 Inch Block Plane
Imagine a three-inch block plane you can easily hold in one hand to get the best performance out of it. That's what you'll get with the Sheffield 58452 3- Inch Block Plane. You won't need another tool for smoothing board edges, shaving end grains, and chamfering once you have this block plane.
This best block plane for beginner tasks is designed for accurate cutting and its sharp blade is guaranteed to get the job done. Its die-cast body allows durability and its contoured shape makes it easy to grip. It comes equipped with a one-inch wide cutter which you can easily adjust. You will certainly enjoy using this block plane for precise smoothing of cabinets, models and other small woodworking jobs.
9. Stanley 12-136 No. 4 Smoothing Bench Plane
Also from the trusted Stanley brand comes a highly recommended best hand planer for your chamfering and edge smoothing jobs. The Stanley 12-136 No. 4 Smoothing Bench Plane comes with a blade that is thicker and is made of tough, durable A2 steel. This means longer retention of its sharp edge for every job you'll give it.
The adjustments are so easy to use and you won't have difficulty in setting your blade the way you want it. The Stanley No. 4 Bench Plane also comes with a lateral adjustment locking feature that is unique to this brand. Certainly, you'll need to tune up your plane before using it but this task is actually easy to do. All it takes is a few quick strokes to get your cutting edge going.
It's practically usable straight out of the box! You'll also appreciate its heft, which feels reliable and sure in your hand. You'll also get smooth shaving results with this flat sole tool which comes with a limited lifetime warranty from its manufacturers.
10. Great Neck Saw C2 Block Plane
If all you're looking for is a tool to do a little chamfering with, then the Great Neck Saw C2 Block Plane is all you'll need. Made of cast iron and steel alloy, this best block plane for woodworker tasks is hardened and tempered for extra strength and durability. It also provides a 1-9/16 -inch wide cutter that is a tough, razor sharp blade. Measuring 6 ½ inches, this block plane is just right to use with one hand.
It's so easy to control and you'll get the smoothest results once you make the necessary adjustment to the blade. To ensure extra control of your tool, this block plane also comes with a front handle. You really don't need to make frequent adjustments to your blade, once it's set, you're good to go. Working with this block plane is really smooth and easy, thanks to its polished bottom. You won't regret this handy block plane for those small edges smoothing jobs in your work area.
What Is A Block Plane Used For?
The block plane was initially made as a plane that could be easily be held by one hand as the user planes across the grain. Some carpenters referred to the work as 'Blocking in' and hence the name block plane.
Certainly, there are few more versatile woodworking tools than the block plane. This handy little plane is not only versatile enough to carry out all kinds of shaping and cutting but also, small enough to fit in your tool pouch. Whether wooden or metallic, a block plane can shape, flatten, clean up, curve or chamfer a piece of stock.
What Is a Block Plane Used For?
A block plane handles almost every task, including some tasks that would be unsafe to perform with power tools. With a block plane you can:
It's normal for machine milling marks to remain on timber. But with a few passes of a block plane, the wavy machine milling marks will be wiped out leaving a satin smooth. Sawing out your stock may leave a few saw marks, but you can rely on the block plane to eliminate them.
Need to chamfer edges? Turn to the block plane, particularly for short and narrow pieces. You only need to draw a few guidelines before you plane to them. For even better results, perform several passes to angle the plane across the edge. In fact, planing bevels by use of the hand is as fast as with a machine if you consider the time you need to set it up. In fact, it's quieter than routing them.
A majority of woodworkers, when sawing a tapered part, find it better to cut slightly outside the layout line before sanding down to it. However, you can try shaving down to the line using a plane and come up with a great looking surface as well as a truer edge.
Fit doors and other parts
Imagine you have built a small cabinet with a door hung on it, but it binds a bit. It's maybe too much work to take the door off and rework on it. Luckily, you only need to mark the high spot and shave it off using your block plane.
You may be tempted to turn to a knife to sharpen a pencil but what about a block plane? Well, this tool is easier, quicker and neater than a knife, some woodworkers even use it to sharpen flat pencils, but you must ensure that you brush off the graphite part prior to planing light-colored wood.
You can tighten miters by trimming the excess part with a sharp block plane. Begin from the short side to the long side as this helps to prevent planing against the grain. Angle the plane to slightly target the backside of the miter to ensure that the face of the miter fits fine.
Round off corners and ease edges by use of the block plane. You need to set the plane for a light cut and make the initial pass at a 45-degree angle to assist in shaping the board. Then make a few passes on either side at 22½ degrees. Keep doing it until you achieve the desired results. You may use sandpaper to smooth out the curve.
Trim a proud dovetail and tenon joint
A 'proud' joint here refers to parts of the joint that have been stuck out slightly after assembly. Typically, this is not a mistake, but just a way to ensure that the parts fit perfectly after running a few block plane passes over them.
​For the past decades, more and more woodworkers have been introducing power jointers and planners into the shops, and this has seen some hand planes pushed into dusty corners. But a block plane still remains to be one of the handiest hand planes for a majority of woodworking activities.
However, the key to properly using this tool is keeping it sharp otherwise the tool won't operate as effectively as it should. Additionally, ensure that the sole is flat, the blade and mouth are perfectly adjusted and enjoy all almost every woodworking project. How do you use your block plane?
How To Use A Block Plane
A block plane is one of the most useful tools for a carpenter. The most common block plane is made of strong wood that has a blade fastened at the bottom. This metal piece glides over a wooden surface removing thin layers on the wood thereby revealing a clean, flawless surface.
If you are a beginner, you need to learn how to use a block plane efficiently so as to create perfect wooden items. Here are a few tips on how to efficiently use a block plane;
Get to Know the Basics Parts of a Block Plane
A block plane has several parts, and each part has its function. For instance, block plane handle offers a place to hold on as you move it on a wooden surface. The blade, which is located underneath and made of steel, is used to shave surfaces.
There is also an opening near the blade where the pieces of wood shoved off comes out. This opening can also serve as a viewing place to check the wood surface. Most block planes are made of wood, but there are versions made of tempered plastics that are easier to handle and lightweight.
Know the Surface You Intend to Work On
Different types of wood have different grains, surfaces, colors, qualities, and textures. You need to know all these before you start as some are easy to prepare than others. Some may only need a few strokes to get a flat, clean result while others need multiple, deep strokes to get the best surface.
You might need some time to understand different wood surfaces and types, but eventually, you will fully learn how to handle all of them.
Learn How to Hold a Block Plane Well
Here are a few tips on how to hold the block plane;
Move and glide over wood surfaces
Avoid mishaps and accidents
Control the tool slowly
Use the tool for its intended function only
Hold the handle with your dominant hand in a firm manner. This hand will apply primary force that will move the tool across the wooden surface you are working on. Your other hand should hold the front part of this tool to control its movement.
Assume the Right Position
A block plane is a one-handed tool, and therefore, you can use it almost anywhere. However, before you try using it in a cramped space or on a ladder, familiarize yourself with the tool and seize the workpiece firmly in a stable place.
Ensure you assume a balanced stance when using a block plane with the plane held firmly with one hand, and the workpiece in the other.
To make your work easier, work on your wooden surface horizontally or downhill. Trying to plane upward can be harder for beginners.
You can test your block plane on a scrap that resembles the surface you intend to work on to see if the blade extends too far. If it has overly protruded, it will choke greater chunks of stock, and if it is too deep, you will remove no shaving. Adjust it so that only thin flakes are removed.
To remove thin surfaces of the wood, you should plane lightly over your wooden surface. You don't need to apply a lot of force using your dominant hand to smoothen your surface. This amount of force is applied when removing a small flawed area on your workpiece. To quickly skin the wood or remove a rough surface, apply a stronger force. Pressure should come from your main hand while the other should only be used to steer the plane in place.
A block plane is a useful tool that you will need in almost all your woodworking projects. It is a tool that you you will often use from the start of a project till the end. You use it to create a flawless surface or skin wooden surfaces. It also gives woodworking projects a great finishing by removing any irregular surfaces that may prevent easy application of paint or varnish.
Using a block plane in the right manner takes time, and you need a lot of practice to master it. However, with the above techniques and tips, you will find it easier to do a professional job. It serves as a basic woodworking tool that any beginner woodworker need to learn how to use.
Final Verdict
Choosing a block plane is not really a hard task once you know what you are looking for and why you need to use one. This best block plane review has shown you ten of the most popular and recommended hand planers you can use for yourself.
Whether the best hand planer for you is a wooden Japanese style block plane which does not require much by way of adjustment or a block plane with more features from trusted brands like Stanley, there is no shortage of options to choose from. Your final choice is entirely up to you. You can trust this block plane review to make your choice that much easier.