Finding The Best Belt Sander – 2018 Reviews and Top Picks
When it comes to woodworking, having the perfect level of refinement and attention to detail are major criteria under which such products are judged. It's, therefore, no surprise that a majority of the woodworking time is used in the preparation, shaping, and finishing processes.
This is where the belt sander comes into play, unlike traditional sanding paper which requires you to vigorously scrub each surface before seeing any significant progress, the belt sander is powered by an electric motor, which makes this work easier and quicker. As a result, you stand to save a great deal of time versus performing the same task manually.
However, before using a belt sander, there are several things you should know about it.
What Is a Belt Sander?
It is a piece of equipment primarily used for sanding flat surfaces such as wooden doors and furniture. Basically, this tool comprises of a belt sandpaper encircled around two spinning drums.
Belt sanders are fast. They save you a lot of time getting your project done than if you were to use sandpaper and complete the project by hand. This is a huge benefit to you, as it allows you to finish your work quickly so you can use the wooden item you just created. Many belt sanders come with a cord, while some are cordless. Either way, having a heavy duty machine that runs on its own is a timesaver.
Belt sanders are also used for multiple purposes. You can use it on one project to level out the surface and use it for another to simply trim the wood down to a scribe line. It comes in handy for a variety of woodworking needs.
Common Uses of a Belt Sander?
When it comes to woodwork, there's no other tool that will quickly and neatly grind down wood as fast as the belt sander. As such, it has numerous applications ranging from DIY projects to carpentry.  What's even better is that the tool can be repurposed for other jobs by removing the sander belt and replacing it with other attachments such as a polishing belt. Some of its applications include: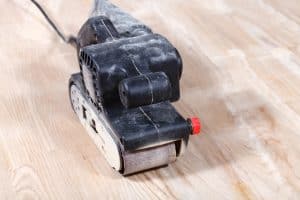 Reducing Thickness of Stock – Chances are that none of the pieces of timber that you might be working on are of the perfect thickness. A belt sander offers the benefit of reducing this thickness without sacrificing the quality of the whole piece. It's recommended to use a flat surface when carrying out this task so as to spend less time having to move your equipment around.
Buffing and Polishing – This involves removing scratches and scuffs from your surfaces so as to give them a cleaner and smoother look. When working with hardwoods, this can be somewhat daunting which is why it's recommended to use a belt sander. Also due to their mobility (in-line belt sanders), these machines will save you a lot of time when dealing with large surfaces such as floors.
Sanding Rough Stocks – This involves using the sand belt to remove stocks from wood aggressively. The machine offers an exceptional level of consistency across the surface, so you don't have to worry about some places getting more chipped off as you are sanding. This technique is preferred when dealing with dry hardwoods.
Dressing Up a Poorly Done Saw Cut – The teeth of a saw usually leave some rugged chips on all wood surfaces, to evenly smoothen out the wood surfaces, you need to use a belt sander.
Many home projects featuring wood cannot be reasonably completed without a belt sander. This useful tool helps to level out porous surfaces and make them smooth to the touch. If you do not have a belt sander laying around, it is time for you to get one. This article is here to help you find the best belt sander.
Top 5 Best Belt Sander Comparison Table
Image
Description
Power
Motor
Dimensions
Price
Makita 9903 8.8 Amp 3-Inch-by-21-Inch Variable Speed Belt Sander


** Editor's Choice - Best Belt Sander **

Corded
8.8 Amp
5.63 x 11.63 x 6.19 in
WEN 6321 7-Amp 3 in. x 21 in. Corded Belt Sander


** Best Budget Belt Sander **

Corded
7 Amp
6 x 12 x 6.5 in
PORTER-CABLE 371K 2 1/2 by 14-Inch Compact Belt Sander
Corded
5 Amp
9.25 x 15.4 x 7.25 in
POWERTEC BD4600 Woodworking Belt Disc Sander
Corded
4.3 Amp
22 x 11 x 13 in
Astro 3036 Air Belt Sander
Air
90 psi
14 x 4.2 x 2.5 in
Top 5 Best Belt Sander Reviews
1.Makita 9903 8.8 Amp 3-Inch-by-21-Inch Variable Speed Belt Sander with Cloth Dust Bag
** Editor's Choice – Best Belt Sander **
The Makita Belt Sander comes equipped with a powerful motor that runs at 8.8 AMP. The 3-inch belts are the ideal size for many home projects, with a 21-inch length that ensured I could accomplish a lot of sanding.
You can match the speed to your needs by using the speed control dial. The power cord extends past 16 feet, which allowed me to move with ease as I used the sander. It never got in my way.The included dust bag helps keep dust and debris cleaned up and out of your way, as the materials are harmful to breathe in. The Makita is one of the quieter sanders on the market.
Pros
[su_list icon="icon: plus-circle" icon_color="green"]
There is an auto-tracking belt system.
It comes equipped with a speed control dial.
It offers a front grip design to make the operation more comfortable.
A dust bag is included.
There is a long power cord included.
[/su_list]
Cons
[su_list icon="icon: minus-circle" icon_color="red"]
There is only a one year warranty.
It weighs over 9 pounds.
[/su_list]
2. WEN 6321 7 Amp Heavy Duty Belt Sander with Dust Bag, 3″ x 21″
** Best Budget Belt Sander **
The Wen Heavy Duty Belt Sander comes complete with a dust bag. This helped me keep the dust and debris out of my face while using the machine. There is also a lock-in feature that allowed me to continue sanding without having to keep a good grip on the starting trigger.
I am happy to see that this sander comes with a two-year warranty. Many seem to come with only one. The 7 AMP motor keeps the sander running quickly at 13 feet per second. It gets the job done quickly when needed. Weighing only 6 pounds, I was able to hold the Wen easily without my hands getting overly tired.
Pros
[su_list icon="icon: plus-circle" icon_color="green"]
It includes a dust bag.
There is a two-year warranty.
A lock-in feature is included.
It has a compact design.
The belt rotates at 13 feet per second.
[/su_list] [su_list icon="icon: minus-circle" icon_color="red"]
Cons
There is only belt included.
It is not ideal for heavy-duty work.
[/su_list]
3. PORTER-CABLE 371 2-1/2-Inch by 14-Inch Compact Belt Sander
The Porter Cable compact belt sander offers a small design with a lot of power. The belts are two and a half inches by fourteen, which is on the smaller side for sanders, but it works well for my basic home projects.
This sander has a rubber grip that helps hold it in place and keep it secure while I am sanding. There is also an auxiliary handle that can be removed so it works better for me during two-handed use. The machine is only six pounds, making it easy to maneuver.
I am happy to see a three-year warranty on the porter cable when so many other sanders have a shorter warranty timeframe.
[su_list icon="icon: plus-circle" icon_color="green"]
Pros
There is a non-slip surface that allows for better grip.
It can be used for professional applications.
The removable handle makes it easier to hold with two hands.
It only weighs 6 pounds.
There is a three-year warranty.
[/su_list] [su_list icon="icon: minus-circle" icon_color="red"]
Cons
There is no dust bag available.
It does not have a speed control dial.
[/su_list]
4. POWERTEC BD4600 Woodworking Belt Disc Sander, 4 x 6-Inch
The POWERTEC belt disc sander is a heavy duty machine. It works well on a large variety of my home project needs. The 4.3 AMP motor keeps the sander running well, while the cast iron base ensures it stays in place. It comes equipped with a 100-grit disc and belt.
I use the quick-release belt tension lever whenever I need to change the belts. It makes the process go smoothly. The belt platform can also be adjusted easily to change from a 0-degree angle to a 90-degree angle. This lets me work horizontally or vertically.
The belt can even be put at an angle, up to 45 degrees. It allows for more precise angled sanding. A variety of woodworking needs can be met easily with the POWERTEC.
Pros
[su_list icon="icon: plus-circle" icon_color="green"]
The cast iron base keeps it in place.
There is a quick-release belt tension lever.
Horizontal and vertical sanding are both possible.
[/su_list] [su_list icon="icon: minus-circle" icon_color="red"]
Cons
It is extremely heavy at 41 pounds.
There is no dust bag included.
It is very loud when ran.
[/su_list]
5. Astro 3036 Air Belt Sander 3/8″ x 13″ with 3 Belts #40, #60 & #80
The Astro 3036 Air Belt Sander is a valid option for small projects. The ⅜" belt is smaller than most projects require, but it still provides enough space to get a job done.
This sander comes with three belt options, including 80 grit, 100 grit, and 120 grit. This gave me the opportunity to work on various projects with different intensity levels. All belts are 10mm wide by 330mm long. The Astro weighs just over 2 pounds, so it is not hard to hold. I could use the sander for as long as needed without getting tired of holding a heavy item.
Pros
[su_list icon="icon: plus-circle" icon_color="green"]
It comes with a speed control lever.
There are three belts included.
A non-slip grip handle allows for better control.
It gets into tight spaces.
It works on hardwood.
[/su_list] [su_list icon="icon: minus-circle" icon_color="red"]
Cons
The belts do not last very long.
It is a small sander.
[/su_list]
What Are the Types of Belt Sanders?
Belt sanders can be broadly classified into two.
Transverse sanders are well known due to their design whereby the motor is transversely mounted across the width of the tool. This places it right above the belt; this arrangement enables it to drive more power to the belt through the toothed belt. The machine is equipped with a set of reduction gears that are used to reduce the speed to manageable levels for thorough work.
Although the upper mounted motor does make the machine heavier to lift, the design makes it way much easier to control compared to other belt sanders. The sanding frame (optional) will further help in controlling the sander on flat surfaces and in the elimination of gouges.
The In-line belt sander is characterized by its minimal built; one that often becomes an added advantage due to the increased stability. This can be attributed to the low center of gravity hence less prone to tipping. That said, the sander is still easy to operate because it does not require a lot of lifting.
The motor in this sander seats parallel to the belt and is connected to the sanding belt by a set of drive down gears. The platen is responsible for supporting the belt release lever as well as the sanding area. If you need to work on a workbench, then the flat top will come into play as you can now use it upside down without having to worry about stability.
Belt Sander Operation Overview
Prerequisites for Using a Sander
Not just anyone can pick up a sander and use it with ease. There are some prerequisites you need to meet in order to use a sander appropriately. It is highly important that you at least have some experience working with a sander, or have knowledge of how one works. You also need to be aware of how to clean the sander after you are done with it so that it stays in optimal condition.
Knowledge of sanding safety is also important to know before working with the machine. The correct grit levels are needed for the job, as well as the right type of material. It is also important to note that small wood pieces should not be held by hand. A mechanism should be used to hold the wood in place, so your hand is never in the way of the sander. Wear the correct clothing while sanding is also necessary.
What to Wear When Sanding
You cannot simply start sanding while wearing your everyday clothes. There is certain attire that should be worn to help keep you safe while completing your project. Safety glasses are the number one item you need while sanding.
They will protect your eyes from debris, such as dust and particles that come off of the wood while you are working on it. It is also necessary to wear a dust mask. This keeps dust and debris out of your mouth and nose, preventing you from breathing in the harmful materials.
Jeans and a long-sleeve shirt are ideal when sanding. This protects your body from getting poked with sharp wood pieces that may fly off while the sander is in use.
How to Choose the Best Sander Belt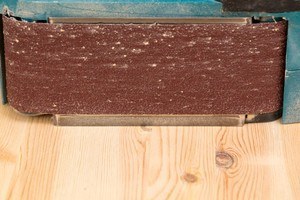 There are two main types of belts used on a sander. One is a zirconia option, while the other is made from aluminum oxide. Zirconia is more aggressive and is ideal if you have a large project to complete. Grits coarser than 80 should use zirconia.
Small projects and simple sanding will do well with the aluminum oxide choice. It is the most commonly seen option. There are a cheaper khaki-color version and a brown premium kind.
Most belt sanders come equipped with a three-inch belt. This is the standard size that most home projects require. A smaller two and a half inch wide belt is meant for a one-handed sander that handles small projects. This may be all you need at home if you know the work is minimal. Four-inch belts should be left to the professionals.
The level of grit also needs to be chosen carefully. An 80-grit belt is one of the most common. This level works well for basic woodworking needs. A 120-grit is also available, offering much more power. Some do-it-yourselfers use this option as well. A 50-grit is much too coarse for most projects, and can really just be avoided in most cases. It can leave deep scratches if you are not extremely careful.
You might think that you have to push on the sander to make it move and work. This is actually not the case. Pushing on the machine is a surefire way to develop gouges and create mishaps in your work. The sander should simply be guided with your hands. It will do the rest of the work on its own. Using the proper technique will help the sanding go smoothly, and prevent mistakes from happening. It is best to go slow and avoid changing speed or direction quickly. You should also keep the cord out of your way, simply by placing it over your shoulder so it is not left to hang in front of the sander.
Final Roundup
Out of these five choices, the winner is the Makita Variable Speed Belt Sander. It meets the qualifications of an ideal home project sander. With 3 inch belts, a speed control dial, and a dust bag, the Makita is top of the line. It works on a variety of surfaces and is designed with the user in mind. The Makita is also quieter than most options, making the work easier to manage and handle for a long timeframe.
Leave us a comment to let us know what you think about the best belt sander. Was it your top choice? Share the article to let others find the perfect belt sander for their home project needs.